Swifty Frisco in the house like fire-damaged salvaged furniture at your mom's. You know we broads like to talk about fashion staples – those items that are simply must-haves, garments as essential as a rape alarm if you're planning to work with Kevin Spacey. And what comes more indispensable than a natty pair of jeans? That timeless mix of style, comfort and necessary roughness balances form and function like Moses himself brought them down from Mount Sinai after asking the Almighty for the perfect pair of strides to get through Exodus and exile. I don't care if you're prime Beyoncé or sub-prime Kenya from mid-nineties no-hopers MoKenStef, you will need minimal one pair of these in your sartorial arsenal.
Yeah, no shit Swifty. But just like the crispy bacon on your breakfast table and the dead blonde at the foot of Oscar Pistorius's staircase, that pair of skinny Wranglers you've been rocking the last three years comes with an ugly and bloody history, one only a dirty goddamn fool would ignore. So what are the major ethical issues with denim production? Listen to the kid and learn a lesson today.
The sewing needle and the damage done
The first immutable truth of cotton production is it requires a lot of water. Like those guys who hang out outside the 7-Eleven, it's thirsty. According to a Greenpeace report, it takes 7000 litres of water to squeeze out one pair of jeans. That's the worst risk-reward ratio since Reeva Steenkamp said "Hey stumpy! Get me a drink while I'm sexting my ex-borefriend, will you?"
Then there's the contamination. Documentary 'The RiverBlue: Can Fashion Save the Planet?' estimates that 70 per cent of Asia's rivers are contaminated by 2.5 billion gallons of wastewater from the textile industry. Distressed denim in particular is a culprit, with its intense use of chemical dyes. Check out this documentary and see the rivers frothing with toxins and the decimation of the communities dependent upon them for drinking and bathing. China's Pearl River is now a sickly indigo blue because of the dyes. It's a real popcorn moment.
As if that wasn't enough, workers' rights in the industry have historically been pretty shitty. That distressed denim turning River Ganges into a psychedelic hellscape? It's also behind the epidemic of silicosis running through Chinese garment workers like Jeffrey Epstein through a cheerleading squad. Imagine risking your life, working 15-hour days just so some subhuman Western shitsack could get distressed jeans for £2.76 less. If that's not job satisfaction….
So what to do about it? I'll tell you what to do – support some of the outfits making a difference with their technology, supply chains and innovations. That would be a thing, right? Carruthers, we may be onto something!
---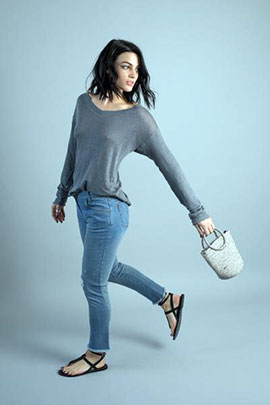 Ethical chops: 100% organic cotton, SMETA audits, water-saving laser wash technology
Location: London, England.
Price: £75-95
VILDNIS being a British company with Danish roots may well give you pause. You will of course associate the Danes mainly with pig murder, medieval sexual violence and adulterous drunken oaf sidekicks to sexually attractive autistic Swedish detective savants in BBC Four's flagship Nordic Noir of the summer. And the British are a nation of dentally challenged cow torturers masquerading as animal lovers, ranting about vegan sausage rolls through impenetrable regional accents. Can we fully trust anything they "say"?
Please put your disgusting racist assumptions to one side though because VILDNIS are cut from quite different cloth. All their manufacturers must adhere to the VILDNIS code of conduct and have passed a SMETA audit or its equivalent. Founder Ulla Vitting Richards explains "I have a strong belief that all fashion can be made in an ethical and eco-friendly way without compromising on style or quality – and this is what we are aiming to demonstrate with VILDNIS".
These five-pocket frayed hems mid-blue jeans could be just the ticket for that impromptu pillaging weekend.
---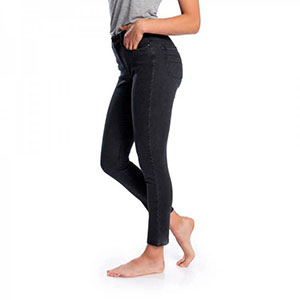 Ethical chops: PETA-approved Vegan, GOTS-certified, majority of products herbicide, pesticide and pollutant free.  
Location: Helmbrechts, Germany. 
Price: €50–100
German indie outfit Bleed are one of an elite few to have received PETA's official vegan endorsement so you can be fairly certain they take their ethics seriously. Beyond that, they insist on fair payment, holidays and health insurance for employees in their supply chain, visiting their factories several times a year to ensure that standards are being maintained. With an eye to the future, founder Michael Spitzbarth is big on innovation, recently developing a climate-neutral outdoor jacket made from 100 per cent recycled materials.
Maybe a pair of slim-fit mid-waist PETA-certified vegan strides could be what's missing from your life? Stranger stories have been told.
---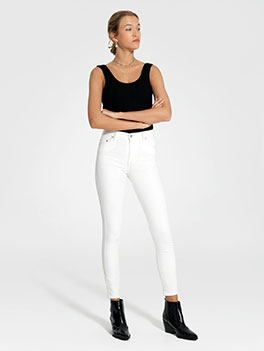 Ethical chops: Local manufacturers, ECA accredited, work with Sustainability Victoria.
Location: Melbourne, Australia.
Price: $160-240
If you have spent more than 3/10ths of a second around Australian culture you will know that the continent is drier than any given heterosexual woman on the planet whenever James Corden's face appears. Irrigation and water conversations come as naturally to your typical Australian as systemic abuse of aborigines and that my friends is considerably.
So it should come as no surprise that Melbourne-based Nobody Denim have already reduced the water use in their store by 50 per cent since 2017 and are currently exploring stream recapture. And check out their supply chain which is shorter than Jason 'Mayhem' Miller's fuse – their factory, laundry and retail store are all within a 6-kilometre radius of their head office, reducing their carbon footprint to frankly laughable levels.
They err towards the swankier edge of the market so you can forget about mom jeans unless your mom is literally Alexa Chung. But if you have a couple hundred dollars to spare and are waist size 32 or under then these white skinny ankle crops will crush competition like a stampede at Mecca.
---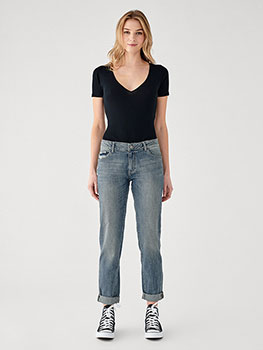 Ethical chops: (EIM) software from Jeanologia, solar power, on-site recycling plant.
Location: New York City, USA.
Price: £70-215
You likely probably know Jessica Alba as the sexually attractive actress known for her collaboration with Richard Rodriguez, playing sexually attractive stripper Nancy in Sin City. A collaboration you may be less familiar with though is her hook up with premium denim brand DL1961 through her Honest Company ethical project.  Alba is the face and ass of the DL1961's 2016 Fall collection, attracted by their solar-powered facilities, Environmental Impact Measurement (EIM) software from Jeanologia and eco-friendly fibre combinations that consume less dye, water and energy than their traditional counterparts. The New York-based outfit is bang in the middle of Manhattan's Garment District, just up from Madison Square Garden. Although we keep hearing that the garment district is dying, DL1961 is thriving, averaging 15 per cent growth a-year since its launch in 2008.
Choose from skinny, straight, wide leg, boot cut and boyfriend cuts but be aware some of the prices will be eye-watering. You might want to try founder Sarah Ahmed's Warp + Weft spin-off label whose prices are significantly less suicide-inducing.
---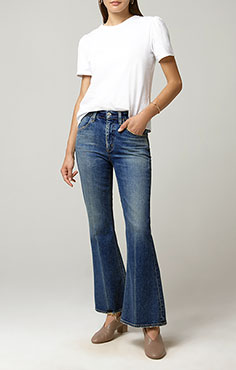 Ethical chops: Use of laser technology, high-efficiency dyes, subject to California's Transparency and Supply Chains Act.
Location: Los Angeles, California.
Price: $98-348
First popping up in 2003, Citizens of Humanity are now 19 years old which is ancient in fashion years (and also in Leonardo DiCapreteen girlfriend years). Founder Jerome Dahan bounced around Paris and Montréal before establishing Citizens of Humanity in downtown LA where the HQ, laundry and manufacturers are all within a 10-minute radius of each other, giving them a smaller carbon footprint than the one you leave doing your coffee and sandwiches run. Citizens have also highlighted the plight of rape survivors in the Congo in their Humanity magazine. Dahan has been described as "the godfather of modern denim," so watch your horse around this weasel. Dahan left a few years back and current CEO Amy Williams has been conspicuously silent on horse mutilation. A coincidence? Probably, idk.
In any event, if you happen to be after a pair of responsibly sourced jeans that will financially cripple you as well as potentially leaving you sterile these high-rise vintage flares are the mothereffing shiiiiiit. Seriously, look at them.
---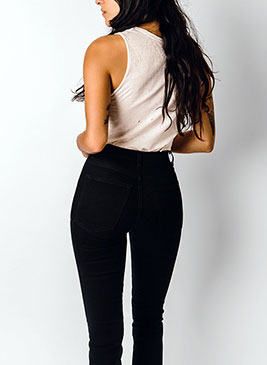 Ethical chops: Factory within one hour of HQ, use of durable selvedge denim.
Location: Nashville, Tennessee. 
Price: $165-278
Looking, sounding and acting exactly like a Bensonhurst lo-fi indie duo who narrowly missed out on appearing on the Girls soundtrack because Lena Dunham was distracted by kidnapping dogs or shoving Lego blocks up her sister's fanny, Imogene and Willie are the brainchild of married couple Matt and Carrie Eddmenson. The original Imogene + Willie were Carrie's grandparents and while nobody asked them if they could name their 21st-century fashion brand after them, it is a racing certainty that if you asked them their opinion on hipster lowrise jeans they would respond with some authentic frontier gibberish, followed by threats of fatal gun violence should you not remove yourself from their land immediately. Life was simpler back then.
As you might expect from a mom-and-pop outfit, Imogene and Willie's ethical cred come from being compact and small and making things that last a lifetime. That said, they do ship internationally and offer free repairs for the first year. These natty Indigo stretch high-rises are just one item in their sturdy women's collection.
---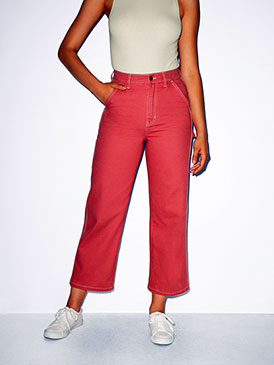 Ethical chops: Highest-paid garment workers in the US, sweatshop free, solar power.
Location: Los Angeles, California.
Price: £36-71
It's safe to say that American Apparel has had a colourful recent history in the bankruptcy courts and elsewhere. It all started out with Canadian founder, Supreme Court ever-present and white psychopath Dov Charney chimp wanking in front of reporter Claudine Ko and went downhill from there.
Nevertheless, its nonce-enabling days are largely behind it and today it survives and thrives in an online-only incarnation, its intellectual property owned by Gildan Activewear. As befits a California company they have a transparent supply chain keeping slavery and human trafficking to a responsible minimum, are committed to being fur-free and even their critics will concede they have unusually highly paid textile workers.
And you know what? You could do worse than take a chance on these cropped carpenter jeans in dusty rose. They look pretty goddamn neat and are not financially ruinous like, I don't know, a sexual harassment suit.
---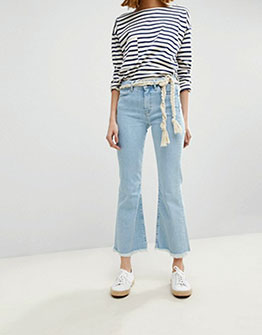 Ethical chops: Carbon neutral, strong on workers' rights, good systems mitigating against forced labour abroad.  
Location: Online. 
Price: £10-265
"WE ARE AUTHENTIC, BRAVE AND CREATIVE TO OUR CORE" screams the ASOS website homepage like a dribbling ALLCAPS ment. It is exactly the kind of fake ass buzzword string that defines the fashion industry but let's not judge a book by its cover just this once.
The online-only e-tailer became the first fashion outlet to become carbon neutral in 2010, scored well on German NGO Earth Link's child labour scorecard and got a B grade in the Baptist World Aid Australia's 'Ethical Fashion Report 2019'. So, they are actually QUITE GOOD despite ALL THE SHOUTING.
And let's talk true facts: the flared cuffs on these midrise boot-cuts will have everyone in the squad saying "look at the Achilles tendon on that!" assuming they are low latent inhibition types.
---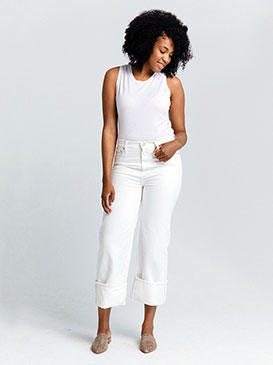 Ethical chops: Train and employ former sex workers, factory that recycles 100 per cent of water, uses eco-friendly Liquid Indigo dye.  
Location: Nashville, Tennessee. 
Price: £80-148
OK, these dudes are definitely not your ordinary. Fashionable, Inc. were set up to help out the only group of women who work harder for their money than those in the garment industry – sex workers. If sucking sex tourist cock for coins is the family business then that is indeed a grim vista. Able founder Barrett Ward saw this first hand when he lived in Ethiopia and now actively trains and employs former sex workers to give them the option of picking up the loom and putting down the disgusting three-inch peckers of morbidly obese cracka-ass crackers. ABLE's factory also pays workers 30% above the working wage requirement which goes some way to halt backsliding into poverty, penury and the dingus industry.
A noble cause indeed and you could do worse than slip into these 100 per cent cotton wide legs that rest high on the waist while significantly reducing the risk of some banker's fuzzy nuts resting on the forehead of a 14-year-old girl who really should be busy watching The Kardashians.
---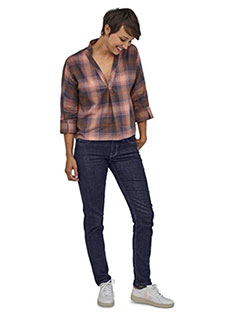 Ethical chops: Fair Trade Certified™ jeans, 100% organic cotton, energy and water efficient dye processes.
Location: Ventura, California.
Price: $99
Patagonia may have started out flogging climbing equipment and have outdoor apparel at their core but since 2015 they have set their sights on what they call the "filthy business of denim" which unintentionally makes it sound a lot sexier than it is.
Their eco-efforts have since earned them a B grade on the tough-to-please Rank a Brand, who note their membership of the Fair Labor Association, ambitious climate targets and chemical management. You'll also find them sponsoring grassroots activists who protect habitat, wilderness and biodiversity. Putting your moolah where your maw is never hurts when it comes to the credibility check.
All very laudable but not as laudable as you if you can fit your bony ass into these stretch skinny low rises. No lie, there should be a statue. Not all heroes wear standard fit.
---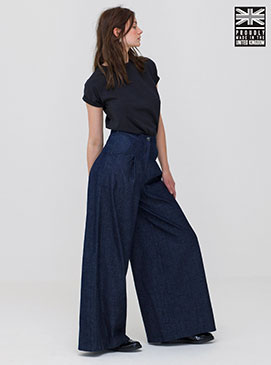 Ethical chops: Minimalist manufacturing chain, organic certified materials, transparent on suppliers.
Location: Brighton, England.
Price: £175
Spend some time navigating the sustainable fashion sphere and you'll encounter some pretty tight manufacturing chains. None though can compete with Zola Amour's which consists of founder Emily Evans getting her mam to make the clothes for a living wage. It's tighter than a choir boy's sphincter reflex every time Jonathan King walks past and Zola also take great pains that their wider supply chain is fully transparent. They also do their bit on transparency (with a webpage specifically set apart to give information on their manufacturers), work with GOTS-certified organic cotton and educate their punters on the importance of saving water.
A pair of statement denims like the adjacent fulfil that slinking down the ave like some sailor from a 1930s Busby Berkeley routine while still looking so fly you may need a pilot's licence. Zola are happy to custom fit the leg length for you which could help take the edge off the eye-popping price tag. Remember, it's called slow fashion because you'll never be able to afford to buy another pair of jeans again. ThinkAboutItReaction.gif
---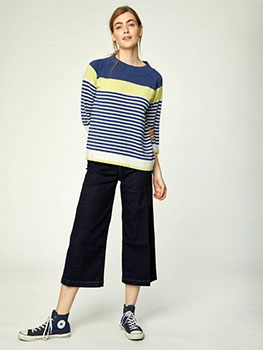 Ethical chops: Sustainable and biodegradable cotton, hemp and wool, working conditions code of conduct.
Location: London, England.
Price: £60
The artists formerly known as Braintree Clothing first manifested themselves in 2002 in a series of pop-ups on Camden Lock and Portobello Road set up by co-founder John Snare. Years of hustling now find their collection in 1000+ shops internationally and unlike that filthy skunk Steve Jobs, they haven't achieved their success on the backs of suicidal Chinese workers. Their code of conduct for manufacturers ensures a living wage, reasonable hours and safe working conditions.
Thought also make extensive use of hemp, cotton and rayon without resorting to the kind of pesticides that leave your dog brain-damaged and drooling like Jimmy Savile every time he visited Leeds General Infirmary morgue.
Figure you can pull off some funky high waist cropped cotton numbers? Kid, if you have the cankles for it, have at it.
---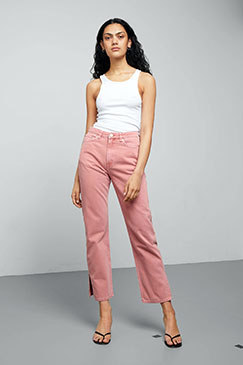 Ethical chops: Re-Made sustainability project, 90% of cotton products organic, Fair Living Wages Program.
Location: Stockholm, Sweden.
Price: £30-110
Coming under the H&M group umbrella, Stockholm stalwarts Weekday have been kicking around since 2002. You will of course associate the Swedes mainly with socialised healthcare, flatpack furniture and sexually attractive autistic detective savants with adulterous drunken Danish oaf sidekicks in BBC Four's flagship Nordic Noir of the summer.
In spite, or perhaps because of those particularly Swedish inclinations Weekday donate to UNHCR, Civil Rights Defenders, RFSU (the Swedish Association for Sexuality Education), and are committed to going 100 per cent recyclable or compostable plastic with their packaging by 2025. If Swedes were capable of showing recognisable human emotion they would be beaming with pride at the very thought of it.
Nabbing a pair of these pink upcycled straight leg row jeans would set you back a mere £55 which is less than your mom charged that basketball team who ran through her back in the day. I really don't know what it is with that broad.
---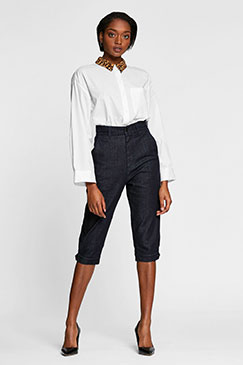 Ethical chops: 5% of sales are donated to WaterAid, low water consumption, low CO2 emissions.  
Location: London, England. 
Price: £130-200
Having only popped into existence in 2016, One Denim are just a rookie in this game so, while founder and CEO Firas Kamourieh does have over 20 years' experience in the rag trade, they can't at any point claim to be trailblazing pioneers.
Which is not to say that they are not making moves. One Denim jeans consume a stingy 645 litres per jean throughout their life-cycle, compared to the 11,165 litres industry standard (a 91% saving) and cause 21.33 kilos of CO2 emissions compared to the typical 54.48 kilos (a 64% saving). This is only possible because of their use of laser washing and their policy of using 100% recycled materials in their denim. They also have a hook up with the One Tree Planted organisation, planting a tree for every pair of jeans sold.
If stealing your actual boyfriend's jeans isn't an option you could make do with these dark slim boyfriend cut jeans that will, given that they are made from selvedge denim, in all likelihood last about 70 years longer than said boyfriend. The lesson is: premium denim >>>>> ur borefriend.
---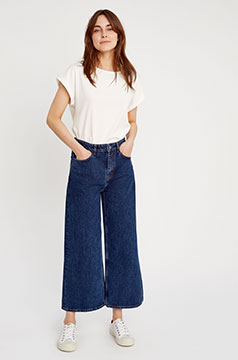 Ethical chops: Uses 87.2% less water than conventional denim production, orphanage building, fair trade initiatives.  
Location: London, Tokyo. 
Price: £95
We've bigged up People Tree before and fully intend to do so again. Social entrepreneur Safia Minney MBE founded the company in Tokyo in 1991 and it's been making waves ever since. They were the first company to be certified by the World Fair Trade Organisation.
Minney also literally wrote the book on modern slavery by literary writing the book Slave to Fashion, raising awareness of slavery in the garment industry and successfully lobbied to include environmental standards in the Fair Trade certification.
So given all that, these funky GOTS-certified cotton wide legs in blue are pretty much a complete no-brainer, much like the promising football player your Malibu-blitzed borefriend rendered paraplegic drunk driving you to your prom.
---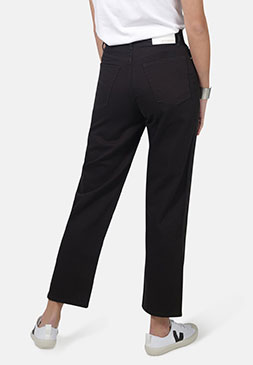 Ethical chops: Use 80% less water in the laundry process, use recycled polyester, switched from plastic to plant-based mailer bags.
Location: Derbyshire, England. 
Price: £60-75
It was 2006 when designer Phil Wildbore had the bright idea to disrupt the fashion industry with sleek cuts, savvy marketing and sound ethics. Despite being named after an insane pig, Wildbore took his Monkee Genes brand from unknown upstart into the hallowed halls of Topshop, River Island and ASOS.
Investigate Monkee Genes and you'll find all their manufacturers GOTS-Certified, a water-saving Eco Wash collection and factories that comply with the ETI Ethical Trading Initiative Base Code. You will also come across jeans made from Tencel wrought from sustainable bamboo which grows faster than the sexually transmitted infection your Pilates instructor gave you after that drunken hook up.
They serve up items like these minimalist cotton straight legs, as slim and black as prime Snoop Dogg during a 35-day water fast recommended by Rawvana.
---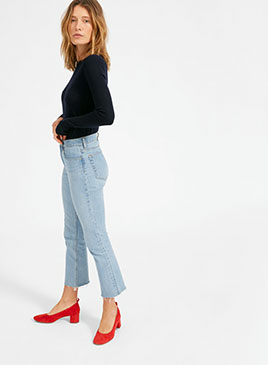 Ethical chops: Factory with 98 per cent recycled water and 45 per cent alternative energy, quarterly factory audits, solar panels in their Chinese factory. 
Location: San Francisco, California. 
Price: $78
At the end of the day it doesn't really matter if you know Everlane because important celebrities with lives infinitely more consequential than yours know Everlane. The increasingly vegan friendly Meghan Markle slips into their sweaters, white psychopath Gigi Hadid snuck into their sneakers and the big veiny cock feet of Angelina Jolie cruelly violated their loafers. The company score highest on transparency with a giant section of their website dedicated solely to introducing you to their manufacturing supply chain. Each item comes with an infographic breaking down the price into material, hardware, labour etc making them more transparent than your borefriend when he said of Hannah Gadsby's Nanette "that was both thought-provoking and funny".
These slim high waist denims have an ankle kick-flare which, when rocked with a touch shirt and sneakers will make Jane Birkin herself look like a frumpy bag of shit next to you.
---
Listen up, hookers – this could literally go on all day but I've got throats to cut and you've got homes to go to. Just take it from your girl that all of the peeps listed below are doing their thing on the conscious tip or, better yet, read up yourself to confirm what in your heart you knew all along: Swifty Frisco has got this ethical fashion thing 'pon lock. Bleed dat.
Until next time
Warp + Weft | M.i.h. Jeans | AG Jeans | Buck Mason | G Star Raw | Mott & Bow | Outerknown | 3sixteen | Bliss and Mischief | Justice Denim | C&A | Nudie Jeans | Re/done's Levi's collection | E.L.V. Denim | Reformation