Tiny Tim is safe and so is your credibility
What up, skanks? Swifty Frisco in the house. It should come as no surprise to you that your girl takes an active interest in ethical fashion, how to dress like a grown-up without supporting Bangladeshi sweatshops, Honduran death traps or Chinese suicide pits like the ones that dirty skunk Steve Jobs created. It's a daily grind, man. Equally, it should come as no surprise to you that she regards the sweater as perhaps the most overlooked staple on the fashion menu.
So, how to unite those two particular concerns? Say, how about a guide to the best ethical sweaters out there? That could hit the spot. Let's give that a try. Fair warning, many things in this list will not be vegan so puritans may want to avert their delicate gaze. Furthermore, there will be cardigans so don't front. That said, let's get cracking with the knacking. Before you know it, you'll be swimming in an ocean of options. Hit it!
---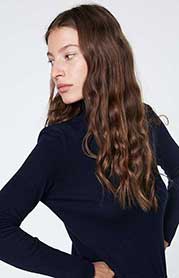 Ethical chops: GOTS-certified, member of the Fair Wear Foundation and greenhouse emissions reducing policies.
Location: Cologne, Germany.
Price: £65.00
Many of you will associate the turtleneck with such stars as repentant Internet shitbird Dapper Laughs but please don't get a mistaken idea on this. This 100% organic cotton navy piece goes well with the pleated skirt, ankle socks and trainers of that pushy broad looking to recreate her skanky cheerleader years.
As for Armedangels, they believe in giving the planet a square deal¹ and take their sundry footprints very seriously. The Cologne outfit is GOTS-certified and a member of the Fair Wear Foundation that works to ensure fair labour conditions. Everything vegan in their store comes with a PETA-approved Vegan logo and if you've spent longer than a minute in this space you know how hard it is mollifying those psychopaths.
---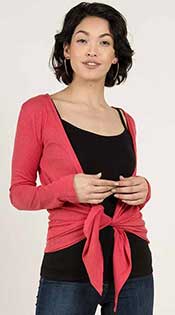 Ethical chops: Partnered with 1,000 Peruvian artisans who handmake their stock, ensuring a fair-trade supply chain.
Location: Ontario, Canada.
Price: £65.00
Although Indigenous have been deep in the game for 20+ years they only opened the first brick-and-mortar store in Petaluma, California in 2018. They score strongly on sustainability, are transparent about their supply chain and seem serious about ensuring safe work conditions among their manufacturers. Their investors include impact investor Beth Stelluto and social venture The Barred Rock Fund (chaired by Ben Cohen of Ben & Jerry's). Indigenous also created the Fair Trace app where scanning a QR code introduces you to the people who made your garment and gives you background on its origins. And on occasion, they have some knitwear items that don't make you want to puke up your ovaries which immediately puts them ahead of 90% of the pack.
This coral tie-front cardigan manages to be chic and cosy without leaving you sweating like Rihanna every time Chris Brown's number shows up on her phone. Partnered here with vest top and skinny jeans, it's exactly the kind of look you can safely rock at bowling alley, baby shower or women's shelter.
---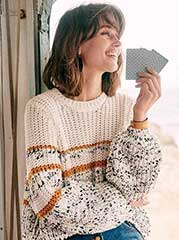 Ethical chops: DEMAIN philanthropic project and detailed transparent commitments minisite.
Location: Paris, London, New York.
Price: £65.00
Now we're talking. A sweater that actually looks like authentic trad knitwear with the kind of pattern your baldheaded grandma would bang out with ease during the Great Depression on a series of jerseys to be passed along as hand-me-downs among her 147 renal failure blitzed children. While it may look a little on the bulky side for the summer collection, Sézane's offering here has an airy design with puffed sleeves and a round neckline.
While they do use animal products, Sézane are very open on their eco-commitments and their DEMAIN charitable project donated over €1 million to children's organisations in 2018. No one is perfect but in an imperfect world, that's pretty solid, unlike your boyfriend's testosterone levels. Man, I would not want to be in his shoes.
---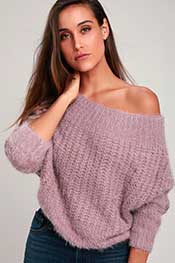 4. Off-the-Shoulder Fuzzy Cropped Sweater from Lulus
Ethical chops: Dedicated Made in the USA and vegan sections.
Location: Chico, California.
Price: $45.00
Avoiding sweaters made in sweaty sweatshops is one of the primary challenges of ethical shopping. Nothing kills a party buzz like someone complimenting you on your ganzy, accompanied by the crushing knowledge that it was manufactured in the Bangladesh Hell Pit Factory where 14 war widows a month die of exhaustion. The eye-wateringly successful Lulus (who got $120 million of venture capital in 2018) make your life a lot easier by having a Made in the USA section on their website along with a dedicated vegan section.
This off-the-shoulder fuzzy number in pale purple is 60% Polyester, 40% Acrylic and 0% pale bleeding sheep wool which is a big relief to you and an even bigger relief to the sheep. I believe I'm right in saying it's the first vegan-friendly sweater on this list. We still have a way to go.
---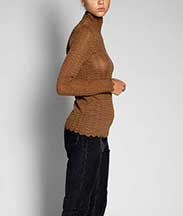 5. Almirante Knit Blouse from AIAYU
Ethical chops: All cotton products are GOTS-certified and AIAYU work with one supplier to ensure easy transparency throughout the dyeing, spinning and finishing processes.
Location: Copenhagen, Denmark.
Price: £65.00
OK, so this is a high-end item which means that of the 0.5% of you who can fit into this only 0.1% can afford it. But fuuaaark it's a neat piece of kit. That high neck makes you look like Elizabeth I's hotter younger sister and look at that colour! Yeah, it comes in tobacco like your borefriend after he prematurely ejaculates into the joint he's ineptly rolling. Roll up in this and have lesser broads looking to stab your eyes out lest you should gaze upon their feral envy. Not that you give a tinker's cuss at this stage but Copenhagen brand AIAYU are committed to fair contracts and working conditions among their Bolivian suppliers and insist upon recycled paper and biodegradable packaging for all their print marketing. No wonder the Danes are so fricking happy all the time.
---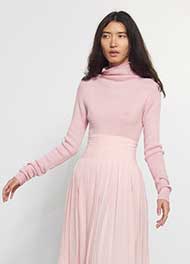 Ethical chops: Member of Sustainable Apparel Coalition, partners with handworker non-profit Nest.
Location: New York.
Price: $276.00
Yes, we're back among the turtlenecks – what of it? Like you got anything better than this in your wardrobe. Fuck outta here. Layer this with a denim jacket or tuck it into some slacks – I don't care, girl. Because show up in this and you'll be catching bodies like a villain's supposed to. To my mother. New York designer Mara Hoffman was never somebody who got into the industry to make a difference – unless the difference in question was that between a dame with moxie and a moll who's poxy – but has recently shifted to recyclable fabrics, from screen-printing to digital printing and has joined the Sustainable Apparel Coalition. She even won the not-at-all-coveted Repreve Champions of Sustainability Leading the Change Award At New York Fashion Week in February 2019.
I'm not saying that Mara has ever had someone killed but it sounds like exactly the kind of award Patty Hewes on Damages receives before she has someone killed.
---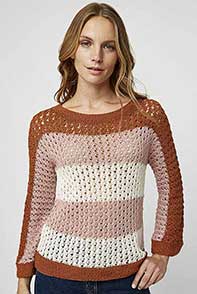 Ethical chops: Eco-friendly materials, orphanage building, fair trade initiatives.
Location: London, Tokyo.
Price: £65.00
We are seven-deep in this list and we finally get the second certified vegan jumper. I knew we'd get there in the end. This organic cotton jumper has a cool grungy look like you briefly did after returning from sucking beach yoga instructor cock in Thailand for six months.
As you may have figured out from their name, People Tree are very big on having a responsible supply chain and go hell for leather to attain it. Their suppliers come from Kumbeshwar Technical School in Kathmandu, Nepal who support Fair Trade initiatives for their artisans, provide a free nursery and primary school for 250 children along with an orphanage that houses 25 children.
I don't know from orphanages and shit but a reduction in toddlers floating face down in the Koshi River is something I can wholeheartedly applaud.
---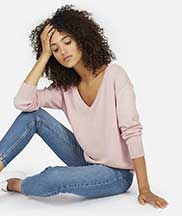 Ethical chops: Quarterly factory audits, solar panels in their Chinese factory, eco-friendly material.
Location: San Francisco.
Price: $50.00
The Everlane brand may only date back to 2010 but in that time, it has pulled up enough trees to acquire some powerful celebrity allies. The British royal family's very own Yoko Ono Meghan Markle has been photographed wearing one of Everlane's affordable cashmere sweaters (although, if you own a fucking castle there's no such thing as an unaffordable cashmere sweater smh), that colossal freak Angelina Jolie has been seen loafing around in their loafers and China-abusing white psychopath pooper model Gigi Hadid wore a pair of their slick sneakers.
On a conscious tip, Everlane are super transparent, moving towards fully sustainable and their use of recycled fibres is on the rise. This gorgeous cotton V-neck is very breathable and has almost certainly been secretly used by some Hollywood A-lister to clean up their adopted African child's puke. One for the clout chasers, y'heard?
---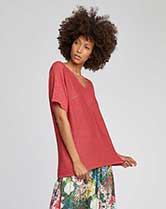 Ethical chops: Sustainable and biodegradable cotton, hemp and wool, working conditions code of conduct.
Location: London.
Price: £32.00
Thought were originally called Braintree Clothing before they got together and sat down in a room and said "man, we have a really shitty name – should we think about changing it?", quickly arriving at the conclusion "yes we should – what the fuck were we thinking?"³ They are big on sustainable fashion with rayon, Tencel, bamboo and GOTS-certified organic cotton among their staples.
This summer jumper comes in hibiscus red, mimosa yellow and white like all your boyfriends, ever. It's made from hemp which is naturally pest resistant, needs very little water to grow and biodegrades quicker than your boyfriend's virility, credibility and general relevance and that my friends is very. Seriously, fuck your borefriend. Had it with that guy.
---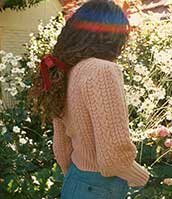 10. Mulberry Sweater from DÔEN
Ethical chops: Room To Read program, all-female collective, 100% recyclable packaging.
Location: Los Angeles.
Price: $248.00
Whenever you get to the luxury end of the market you are likely to feel conflicted. It's the intersection between "oh that looks nice," and "250 fucking quid for a jumper?" But you already knew that, right? This particular number is kind of a killer. Coming in five different colours, this cable knit triumph comes with braided cables, ribbed cuffs and a high hem in a blend of baby alpaca, merino wool and polyamide.
As high-end retailers go, LA outfit DÔEN come with an impressive ethical resume. Their partnership with Room To Read promotes literacy and gender inequality in developing nations and they only work with socially compliant manufacturers. That sounds kind of sinister but maybe that's what we need.
I've been Swifty Frisco and you haven't. Until next time…
---
¹ Eat dick daily.
² Never happened.
³ If this didn't happen then it goddamn well should have.