Introduction
Swifty Frisco heading to the pool like Joran van der Sloot in a one-piece that will bring not only all the boys to the yard but swift and certain death to anyone who tries to come test. Be it high neck, bandeau, triangle top, one-piece or monokini you will simply need to give serious thought to your swimwear options once you get within spitting distance of the ocean. And just as with shoes, sweaters, dresses and jeans, you will ideally do it suffocating the smallest number of turtles possible. Because you're just that nice a person.
---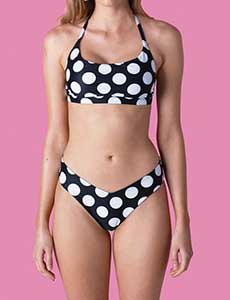 Ethical chops: 78% Econyl, 22% Xtra Life Lycra
Location: Melbourne, Australia.
Price: $59 – $145
Like Nick Cave, Germaine Greer and Merv "The Swerve" Hughes, Okay Pretty rep Melbourne, Australia. If you can trust anyone with swimwear it should be the favoured coastal town of an island race. Founded by designer Izzy Campbell, the label produces a range of adjective, adjective swimwear made from 78% ECONYL, recycled material culled from discarded fishing nets, industrial plastic and waste fabric. Reconstituting the very plastic death traps that are choking the oceans into garments so people can swim in the oceans does have a certain poetry to it.
The innovation gets to the heart of one of the problems that sustainable swimwear throws up. The very particular properties that plastic has are particularly useful for the very particular needs swimmers have which is why most swimwear was always traditionally made from plastic. And the cruel irony is the marine organisms that end up chomping away on microplastics like it's a ready-made Happy Meal and wind up dead like little bitches in their millions. Coral becomes diseased after coming into contact with plastic, and that's before we even mention the food safety timebomb we're only starting to understand.
These polka dot bikini bottoms could certainly make your life a lot easier.
---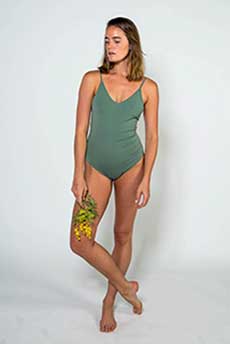 Ethical chops: Partner with Healthy Seas.
Location: Dubai.
Price: €55-105
When Dane Anna Nielsen and Finn Henna Kaarlela met, they immediately smelt their shared Scandinavian blood and resolved to bring some ethical practices to the capitalist hellhole of Dubai. The pair dug surfing more than Butchie Yoast from David Milch's metaphysical surf dynasty drama John in Cincinnati and both were after a cossie that looked good but also withstood the demands of marine athletic endeavour. They did not let the fact that neither of them had any background in fashion design hold them back though this did mean that the young brand spent a lot of time learning on the hoof in the early days. It's that grand entrepreneurial tradition of leaping without a safety net and it's working out for them so far.
Like Okay Pretty, they produce pieces made of Econyl and there's a pronounced elegance in the muted simplicity of their silhouettes. A low-back V-neck one-piece like this could conceivably be the difference between you killing it in shallow waters and a bolshie stingray murdering you in cold blood for your lack of sartorial nous.
---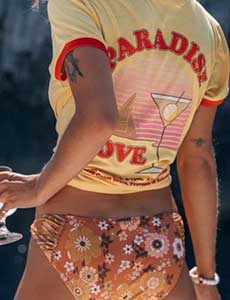 3. Spell & The Gypsy
Ethical chops: Yearly impact report, commitment to at least one social advocacy initiative per collection by 2025.
Location: Byron Bay, Australia. 
Price: $79-179
Co-founded by siblings Elizabeth Abegg and Isabella Pennefather, the particular sister act that is the Spell & the Gypsy Collective are another Australian entry which by coincidence is exactly what Andrew Broad was hoping for when he hit up that sugar babies website. It all began with Isabelle slanging homemade jewellery and steadily grew into a boho chic empire. Their ethical journey started in earnest in 2016 after Elizabeth received an email from a customer asking about the transparency of their supply chain. Since then, they have gained independent ethical accreditation for all their partner factories. The message has resonated. Spell have 1 million Instagram followers and have attracted celebrity customers like Miley Cyrus, Vanessa Hudgens and Megan Fox.
If you like seventies retro you could do a lot worse than this buttercup cheeky pant to strut down those golden beaches.
---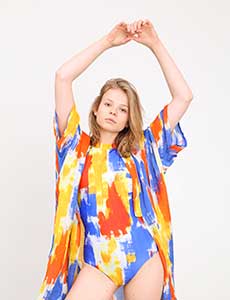 Ethical chops: Recycled paper packaging, supported by Red Bull's Amaphiko social entrepreneur project.
Location: Vienna, Austria.
Price: €98-198
First appearing in 2015, Margaret and Hermione have been making waves in swimwear ever since. Co-founder Barbara Gölles made her bones working as an intern under the late Alexander McQueen and later for hat manufacturer Mühlbauer. Naturally, recycled fishing nets feature strongly in their collections and it is at this stage that you begin to wonder if Ahab himself could have benefited from a similar approach to the reconstitution of fishing paraphernalia. If nothing else it would have been a change from all those chapters about sperm. That aside, Margaret and Hermione's commitment to have everything from packaging, forms, tags and labels made from eco-certified materials has gone down well in the ethical sphere.
I'll tell you what else would go down well: this funky loose-fit kimono with belt and side pockets. As practical and garish as a Swiss army knife trimmed with faux fur.
---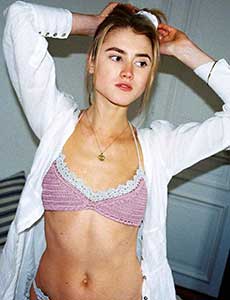 Ethical chops: Sustainably grown biodegradable linen, fair wages and working conditions. 
Location: London, England. 
Price: £125-175
When we think of the great mother-daughter combos planet Earth has brought us we naturally recall Debbie Reynolds and Carrie Fisher, Donatella and Allegra Versace or Queen Marlena and She-Ra. In that same tradition, mother-daughter duo Michi and Lea founded Arkitaip, a small sustainably sourced linen-based operation. "Made to last" is the ethic with durability trumping the thirst for Primark prices. Mommy Michi creates all the crocheted swimwear by hand which is certainly going to raise scalability questions once their first €100m order drops in. Leah meanwhile focuses on designing, production management and sourcing sustainable materials. It's a hell of a life.
So there's something kind of glorious about this crocheted top. Please consider supporting. There's only one Michi and she's exhausted.
---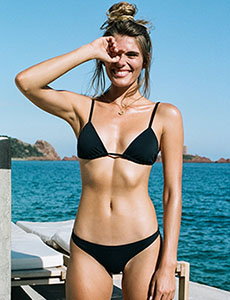 Ethical chops: 10% of profits donated to Healthy Seas. 
Location: London, England. 
Price: £158
This one is barely a year old but we have a good feeling about it. Talia Collins comes from a fashion Ivy League background having previously worked for five years as a stylist for Vogue Paris, slapping down fashion PR's and switching up looks faster than Tekashi 69 the next time he spots a Treyway member on the block. As well as working with Econyl, Talia Collins offers discounts on future purchases to customers who send their swimwear to be recycled. I seriously hope this only applies to broads who wash them first. I mean, I don't want my next off-the-shoulder piece to be courtesy of some other skank's sandy seaweed ass crack. You know what I'm saying?
If you like this kind of thing and you can pull it off, there's a triangle top with classic lowrise briefs bikini with your name on it. And although not strictly under the purview of this blog, you can get your initials embroidered on your swimwear. Look, it's not going to change the world but it's kind of cute, okay?
---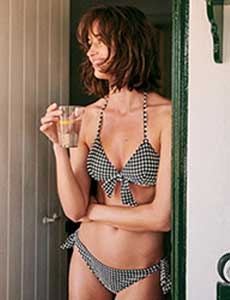 Ethical chops: DEMAIN philanthropic project and detailed transparent commitments minisite.
Location: Paris, London, New York.
Price: €60-140
We've spoken about Sézane before on this blog and very well may do again. France's first online fashion brand, Sézane launched in 2013. Brand creator Morgane Sézalory has made them as transparent as they come and their commitments minisite is particularly impressive. One of the tricky things about navigating this particular area is it is often heavy on eco-waffle and light on numbers but their opacity practically demands that you hold them accountable. It's exactly the kind of stuff you need if you want to be taken seriously. Sézane comes complete with an unlikely origin story, with Sézalory starting out selling three bags of vintage gear on eBay. Flipping the pieces with minor adjustments and then selling them on, Sézalory's enterprise went from hobby to business to brand and Sézane has been thriving ever since.
So you could do a lot worse than dip into this retro gingham Chanson d'été bikini top, which will leave you looking like a cigarette girl, Bettie Page or Gina Lollobrigida on one of her hotter days.
---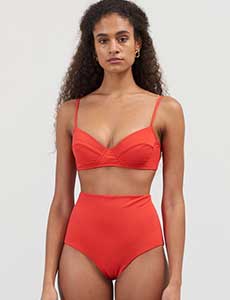 Ethical chops: Member of Sustainable Apparel Coalition, partners with handworker non-profit Nest.
Location: New York City.
Price: £48-260
New York fashionista Mara Hoffman is a relative newcomer to the idea of ethical fashion but, credit where it's due, she has picked up the ball and ran with it, past all the goddamn doubters and nitwit haters, towards a more sustainable future. Go, Mara!
Hoffman graduated from New York's prestigious Parsons School of Design in 2000 and started her label shortly thereafter. Having recently joined the Sustainable Apparel Coalition and won the Repreve Champions of Sustainability Leading the Change Award At New York Fashion Week in February 2019, she is making a good fist of building credibility which any sane cooze can support.
Also offering good support is this underwired bikini top, coming in persimmon red and to the rescue of any B-cup dame who seeks her help.
---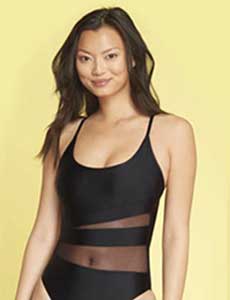 Ethical chops: Swimsuits made with premium recycled materials.
Location: St Louis, Missouri.
Price: $45-95
The eagle-eyed among you will have noticed that most of the swimsuits so far come in at triple figures. This likely won't surprise you. Unlike your mom, ethical shopping generally doesn't come cheap. Online company Summersalt however are making moves in that direction by producing designer suits under $100. Founders Lori Coulter and Reshma Chattaram Chamberlin pull this off by slanging direct to their customers. It's an approach that has impressed investors with venture capitalists Founders Funds injecting $6.1 million in 2018.
Also, who else is offering a Butt Coverage Guide for those all-important ass-masking projects? Givenchy? Galliano? Donna Karan? Yeah, that's what I thought. So perhaps this one-piece silhouette in black could be what gets you off the lounger and into the pool this summer.
---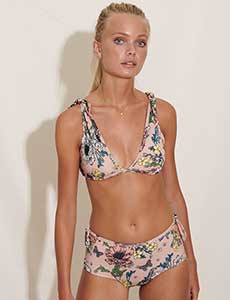 Ethical chops: Fully certified by OEKO-TEX standard 100, suits produced in a Fair Wear Foundation factory.
Location: Copenhagen, Denmark.
Price: £20-120
Heading back into northern Europe we find ourselves in the company of the Nords again. This Danish outfit specialise in lingerie, lounge and swimwear. Founded in 2010, Underprotection are big on workers' rights and have been Fair Wear Foundation licence holders since 2013. In addition, they only use sustainable materials so lyocell, organic cotton and recycled polyester all feature heavily. The company has the strapline "Almost as sustainable as being naked" which they seem to think means "very sustainable indeed" though with public obscenity laws, mental health acts and discarded syringes it seems unlikely that being naked is sustainable at all. It seems likely that Underprotection want you to associate nakedness itself with their brand, rendering you more likely to purchase their lacy drawers and slutty bikinis. I dunno, man, marketing is a minefield.
This I will say: you could absolutely try this cute as hell bikini bralette without making a show of yourself and that concept we can get behind.
---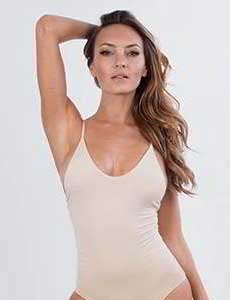 Ethical chops: Support Heal The Bay, Honey Love Org and The Rainforest Partnership.
Location: Los Angeles, California.
Price: $48-190
Casey Greenlee founded Greenlee Swim in 2011 with interchangeable mix-and-match separates at the heart of the concept. The trademarked LRB® (Little Recycled Bikini) was born, the complementary nature of its component parts instantly extending its utility and lifespan and perhaps inspiring brand loyalty along the way. Their collections are all made from 80% recycled fibres and they donate to a number of ethical/sustainable charities.
They've made a strong impact in Hollywood, with notables such as Aubrey O'Day, Camila Alves and Beyoncé all spotted wearing Greenlee gear.
And if you happen to favour a one-piece over a bikini, their strappy scoop tank in peach is a tempting alternative.
---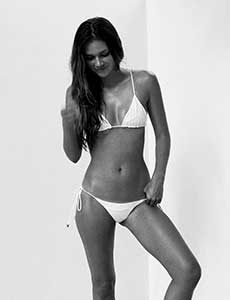 Ethical chops: Use recycled material, organise beach clean ups locally.
Location: Tulum, Mexico.
Price: $95-190
It may be filled with disgusting hippies, machete-wielding goons and worse, Instagram influencers but the striking coastal town of Tulum, Mexico remains an idyllic paradise. It should not be such a surprise then that Amara Tulum founder Lisa Jackson recognised it as the perfect place to start her ethical brand.
Taking inspiration from sustainable heavy hitters like Patagonia and Reformation, Jackson set about creating original pieces from recycled sea nylon and partnering with local artisans in Tulum.
If you've got those coat hanger hips and are only looking for the briefest of coverage you could try the hilariously titled bizarre love triangle bottoms which are essentially a postage stamp cut into the shape of an inverted pyramid.
---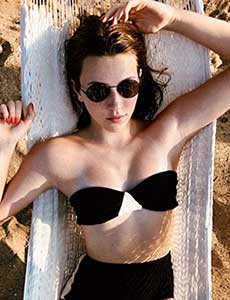 Ethical chops: Low-impact dyes, pieces made with sustainable hemp.
Location: Los Angeles, California. 
Price: $80-198
Whoever it was who turned you on to the multiple properties of hemp at that party where you spent the night unsuccessfully trying to avoid him, you politely walking away as he shuffled after you like some 1950s creature feature, it's unlikely they left a positive impression. But as big a raging clam as they certainly were, they certainly had a point. And if you're in the ethical arena, then you really can't ignore its anti-microbial, UV resistant and sustainable qualities. Serbian designer Natasha Tonic makes all her suits from hemp and all are designed, sewn and died in LA. Tonic also donates 5% of each sale to plastic pollution non-profit 5 Gyres.
The kind of girl who prefers not to reveal three inches of coccyx every time she bathes, these monochrome bottoms offer exceptionally good coverage, unlike that bullshit phone network your borefriend put you on without your consent. Seriously, what was he thinking?
---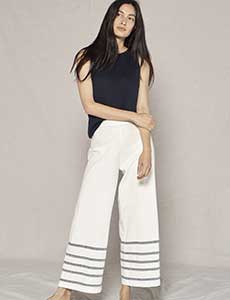 Ethical chops: Accredited by Fair Labor Association (FLA), Bluesign, and Fair Trade.
Location: Lonn End.
Price: $118
Only donkeys, crabs and child molesters spend more time on beaches than surfers so when pro surfer Kelly Slater hooked up with designer John Moore to form Outerknown you could be fairly certain that he knew the area like a lifeguard knows CPR. Slater is on the Board of Advisors of marine conservation organisation Sea Shepherd Conservation Society, so it's not just some empty platitude spouting for him. In addition, Outerknown have a code of conduct available on their website covering workers' rights, collective bargaining, health and safety and non-discrimination so before you get into the fashion side of things, their ethical cred is pretty sound.
And once you're out of the sea, these meander beach pants could be exactly what you need to rock when you're kicking it in the shade.
---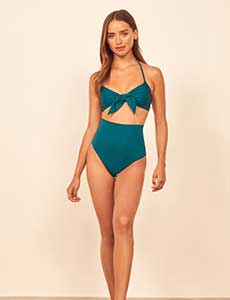 Ethical chops: Environmental footprint tracked by RefScale, carbon neutral since 2015.
Location: Los Angeles, California.
Price: £70-130
Over the past decade, Reformation founder Yael Aflalo has turned her outfit into what might be the most successful sustainable brand on the planet. Aflalo spent time as a fashion model before kicking off her own venture as a side hustle, devoting herself to it full-time in 2013. Reformation like to work with TENCEL™, linen, viscose and organic cotton – fabrics that are rapidly renewable and plant-based where possible. Her list of star clients may be the most imposing on this list: Meghan Markle, Emily Ratajkowski, Emma Watson, Rihanna. It's like the Hollywood Walk of Fame up in this bitch.
And if you're the kind of broad who likes the leg-lengthening high-waist look there's a stunning Havana bikini bottom you just might be interested in.
---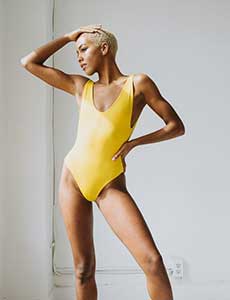 Ethical chops: Recycled material, low-impact dyes.
Location: Vancouver, Canada.
Price: $98-140
Who wouldn't want to create swimwear out of recycled plastic bottles? Londre co-founders Hannah Todd and Ainsley Rose banged out the details of their Londre brand over margaritas on a Mexican beach, which is coincidentally how El Chapo formulated his early start-ups. Great minds.
After launching with a grand total of one suit for sale (worn six different ways to be fair) they decided that they quite liked the eco-friendly swimwear scene and knuckled down for the long haul. Londre have plans to close the loop by 2022 and only use low-impact fibre-reactive dyes on their garments.
One in particular that sticks out is this spectacular yellow one-piece, recommended for a woman of colour who wants to pop those skin tones.
---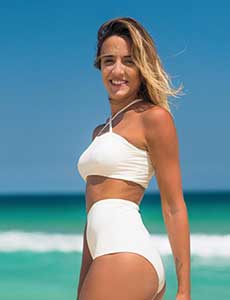 Ethical chops: Partners with independent sustainable fashion brands.
Location: New York City.
Price: $105-141
Formed by three women, Carolina Perlingiere, Lilian Liu and Rafaela Machado, Fauna is potentially the most exciting Brazilo-Sweden collaboration since the 1958 World Cup final. Fauna curate fashion from independent Brazilian brands, selling clothes and accessories and tagging their pieces according to their waste minimisation, biodegradability, multifunctionality and fair labour practices. Having worked with NGO Redress, reducing textile waste in the fashion industry in Asia, Liu also moonlights as Partnership Manager at UN Global Compact, the world's largest corporate sustainability initiative so has significant clout in this area.
And if you want the area of your butt to have significant clout then there's an off-white Malibu bikini with built-in seams that can help deliver that impossible dream.
---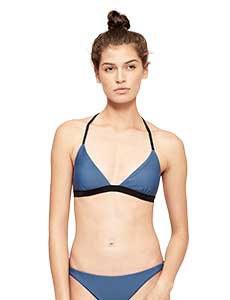 Ethical chops: Fabrics made from regenerated nylon, work conditions closely monitored.
Location: Los Angeles, California.
Price: $58-110
Often, sustainability is just a question of miles. LA outfit Bikyni produce their pieces a 10-minute drive from their offices in LA. As well as reducing the carbon footprint this allows easy monitoring of quality, working conditions and wages. Launched in 2015 by former Reformation COO, Jude Al-Khalil, Bikyni keep suit prices below the magical $100 mark, a relief for the cash-strapped spaghetti strap lovers out there. Al-Khalil moved to fashion from a career in finance which to us is a pretty strong indicator that Bikyni is going to be around for the duration.
So with a bit of luck, you'll be able to get your hands on this bold fully lined halterneck with underbust band and adjustable neck ties without the company going bust right after you gave them your credit card details like Barney's of New York.
---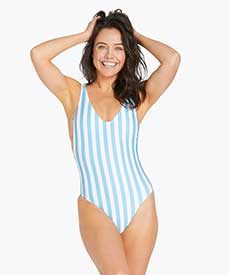 Ethical chops: Worldwide Responsible Accredited Production-certified factories in China
Location: New York City.
Price: $36-74
A brother and sister studying geography at University doesn't immediately sound like a promising origin story for a sustainable swimwear brand. Jake and Caroline Danehy though took inspiration from their childhood summers spent at Fair Harbor on Fire Island, New York. With no cars allowed on the island and footwear discouraged, it was a barefoot biking, surfing paradise for the siblings. College classes on the damage done by ocean plastics got Jake thinking: if Fire Island was his Rosebud then why not ride this goddamn sled all the way to carbon neutral sustainability? Fair Harbor was born and a string of beachwear pieces made from recycled bottles followed.
And if you fancy looking like a stick of rock then this bold stripey one-piece is exactly the ticket.
---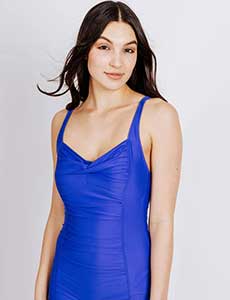 Ethical chops: Suits made in fair-wage factory, using recycled nylon.
Location: Los Angeles, California.
Price: $108
Having played the White Wild Force Ranger in the TV series Power Rangers Wild Force for 40 episodes, actress Jessica Rey became frustrated at the lack of modest swimwear options for psychotically violent kids' superheroes. This would not stand for the Orange County girl with a big dream and a big heart and she immediately set about creating her own swimwear start-up focusing solely on fuller-coverage suits, made with recycled materials in factories with workers paid 2-3 times the minimum wage. And like some magic pixie dream girl she willed it into his existence.
So if modesty is your thing, this blue one-piece is very Frances Farmer after being dragged from the insane asylum by a time-travelling Courtney Love.
---