Deez nuts
Park yourself down for a moment vogon fam and ponder the ingenuity of our kind. The plant-based hive mind is a hive of invention. There is practically nothing we can't veganise including a wealth of inedible trash even hard-core cucknivores think twice about consuming. You want vegan faggots, vegan haggis and vegan foie gras? No? Too bad, because you got it! But what's the deal with this latest vegan superfood "they" are calling tiger nuts, that thing you have a really vague idea you heard something about when you were whizzing through your Facecrook feed trying to avoid photographic evidence of your ex's perfect life? Read it and weep.
What are they?
Tiger nuts are actually edible tubers, specifically those of the sedge plant (Cyperus esculentus). The tubers are about the size of a chickpea and the stripes on their skin got them named after brer tiger. They go by many names, most of them sounding like homophobic playground taunts – chufa, earth almond, atadwe and yellow nutsedge.
I don't think this is for me. I'm allergic to nuts.
You weren't saying that when my nuts were in your mouth. Be that as it may, there are no active nut ingredients in tiger nuts as they are not, in fact, nuts. Breathe easy, grasshopper. You may die from boredom, syphilis or a broken heart but you may not from tiger nut-induced anaphylaxis. To my mother, man.
They've been around for a while then?
You better believe it, buddy. Chufa is one of the oldest cultivated plants in historic and prehistoric Egypt with some lucky Egyptians being buried with tiger nuts in their tombs. It is a sobering thought indeed that a dead mummified toff might awaken in their sarcophagus to find it stuffed with Generation Z snack food. The Egyptians' cultivation of chufa dates back 5,000 years though that's a mere blink of an eye in its provenance. An Oxford University study concluded our australopithecine ancestors subsisted on tiger nuts in East Africa at the latest 1.4 million years ago.1
So bear in mind when you refer to your latest "new" superfood that there's a pissed-off ape in simian purgatory who'd like a word with you. To be honest, it'll be more of a feral grunt followed by a fatal beating and him chimp wanking over your corpse. I dunno what to tell you, man. What may seem to you like senseless violence actually makes a great deal of sense in the context of ancestral rage.
Are they good for you?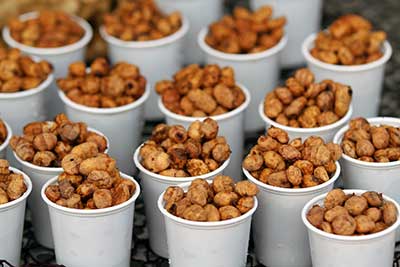 Well, I'd recommend you ingest them orally rather than anally as the Egyptians did2 for their supposed enematic properties. I'm not here to tell you to take in the mouth or the arse, I'm here to follow the science and that says that when taken orally tiger nuts are allergen free, highly nutritious, loaded with insoluble fibre and the potent antioxidant vitamin E.3
But to answer your question, hells yeah they got fibre – Sainsbury's Tiger Nuts, for example, serve you up 16.5 grams per 100 grams, which compares very favourably with the 6.9 grams you get from tinned chickpeas. The evidence is clear. Chufa will ease the strain on your chuff.
Fibre, you say? Cool, I haven't had a dump in like a week.
What is wrong with you? How is that even possible? A constipated vegan is like a paleo diet advocate who doesn't need a slap – practically inconceivable. I ingest four-fifths of my necessary fibre daily through osmosis alone via the sheer weight of legumes in my larder. Most vegans can crack walnuts with the cheeks of their arse, such is the strength of their digestive systems. Vogons be dropping logs like a Canadian Saskatchewan lumberjack firm. Cruelty-free consumers have small intestines running like a Rolls-Royce engine and a colon cleaner than a nun's browser history.4
That's incredible. Farmers must love this miracle crop!
In the sense that they hate it and want to burn it with fire, that's true. For your regular Farmer Palmer, it is regarded as one of the worst weeds in the world, pretty much wherever it is found.5 It causes millions of dollars of damage to agriculture each year, its high adaptability and voracious reproduction rate making it the least welcome guest since Lot's wife turned up at the slug party. Weed scientist Michael Defelice confirms "the plant just chokes up everything around it. It's really hard to kill." Sedge is the cold-blooded gangster of the plant kingdom.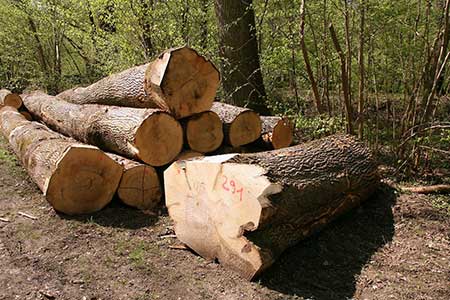 I'm on the AIP (Autoimmune Protocol). Can I try this?
As you will be aware, the Autoimmune Protocol or AIP for acronym-loving shitsacks (ALS) is an elimination diet and lifestyle that seeks to reduce the inflammation caused by autoimmune diseases. Typically, this will mean swerving grains, legumes, eggs and dairy. As tiger nuts helpfully fall into none of the above, while remaining versatile and nutrient-rich it is a perfect AIP-friendly food. As is often the case with nutrition science, the link between diet and inflammation is slippery6 but if your inflammation markers are high, it won't be the tiger nuts causing it.
I worry about my heart health too though?
If I shat once a week I'd be worried about my heart, along with impacted faeces, anal fissures and wearing the expression of a man being fed feet-first into a wood chipper but what I've "got" for you my backed-up imbecile friend is the news that tiger nuts come with high levels of monounsaturated fats, associated with lower levels of "bad" LDL cholesterol and higher levels of "good" HDL cholesterol. Consumption of monounsaturated fat is associated with weight loss, improved heart health and lowered inflammation.7 So without wanting to be prescriptive or didactic it sounds like the kind of train you might want to ride for a while?
Will they help me in the bedroom department?
In that you may finally get some sleep once they clean out your disgusting gut of seven days of shit and that for at least a brief period you will not be stinking out your room with toxic paint-stripping farts, tiger nuts may well indeed help you in the bedroom department. In that they improve your sexual performance, I'm afraid this is not possible. They are a superfood not a fucking miracle worker. You ask I imagine because you have the worthless hippy garbage known as Ayurvedic medicine has indeed employed tiger nuts as aphrodisiacs but this carries the gravitas of Gwyneth Paltrow showing up after a mass shooting burning sage to cleanse auras.
Okay, how am I supposed to eat these things?
Some people go rawdog like Rawvana and eat them uncooked as god intended though whatever diseased deity okayed the raw foodism cult8 is clearly on some wack devil shit. There are no dangers in eating raw tiger nuts though you might want to soak them in water for a couple of hours to soften them up. You can also use tiger nut flour to knock up some bread, pancakes, ginger snaps or rainbow cake. Some use it as a base for their granola, overnight oats or the suspicious-sounding energy balls.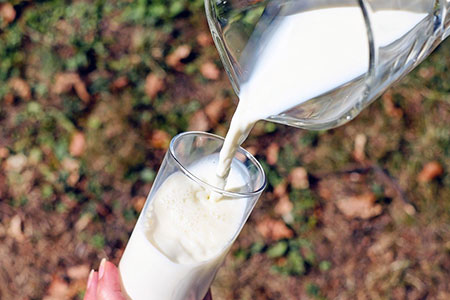 You'll be telling me I can drink them next!
I'll be telling you you can drink them next. You'll be able to find tiger nut milk in Holland & Barrett or preferably your local independent whole foods store. The Spanish, who have been making it since the 18th century, call it horchata de chufa though I'd probably steer clear of mispronouncing that one in Wetherspoon's. If you're the adventurous type you can make it yourself.
I'm no food scientist but I do know that milk=butter?
Indeed no, no one is mistaking you for Clarence Birdseye, Louis Pasteur or even a young Margaret Thatcher any time soon. And yes, tiger nut butter is a visible and audible reality, one you can either make glorious flesh from any number of paleo stores or make yourself through any number of paleo recipes. That bread we spoke of earlier? You might bless it with some homemade tiger nut butter, keeping your sandwich from its scutter to the gutter. Don't even get me started on how it might solve China's soybean crisis.
China's soybean crisis?
Did I stutter motherfucker? The biggest producer of soybeans is going through bare crisis fam, forced to import soybeans in bulk in a genuine selling-sand-to-the-Arabs situation and the reason? Those filthy, dirty, disgusting goddamn cucknivores and their craven lust for the flesh of tortured animals.9 At least one Chinese disrupter believes the tiger nut is the answer to the problem. Tiger nuts are exempt from the trade tariffs imposed by the Chinese government10, make milk, oil and flour and grow in a variety of soils.
---
Footnotes