Who/what is The Savage?
The Savage is a journalist based in Birmingham, England, location of the first and oldest Vegan Society in the world and birthplace of the modern vegan movement. His Earth name is James Donaghy and he can often be found writing about TV for The Guardian. He is pleased to meet you.
What is the Savage philosophy?
The Savage philosophy stresses the importance of being plant-based, pro-science, anti-factory farming, anti-animal products, anti-alternative medicine and anti-disgusting hippy new age wellness woo. Like failed Hebrew Messiah Jesus Christ, he has come to set a man against his father, a daughter against her mother, and a daughter-in-law against her mother-in-law.
I'm a filthy meat eater. Am I welcome?
Sure you are, you rasclaat bloodmouth. The Savage welcomes even the most irredeemable skunks into his kingdom. Many of his readers are straight garbage – truly, the worst. Just keep a civil tongue in your head and you'll be fine.
I hear avocados aren't vegan? Checkmate, atheists!
Avocado is a shit fruit and you're a shit person.1 Slam your johnson in a door seven times, you dosser.
You had 3 grams of honey! Hypocrite!
The Savage has no interest in your shit, particularly your whiny "how can you x when you y??' noise.2 Get the frick out of here with that. He is an autonomous moral agent and the sole arbiter of what is ethically correct. Nothing exists in his universe without his consent. You couldn't matter less. If he says you don't exist, then you never happened.
Vegetarians are worse than carnivores!
Your wrong opinion is wrong.3 You live at home with your mom.
You keep calling me a cucknivore. Explain.
All carnivores are, by definition, cucks. The nature of the sexual thrill they get from cucking their arteries, their colons and their eternal souls is of course conjectural but that they are aroused by the things most precious to them being violated by the gnarly engorged dingus of Big Meat is indisputable. No bigger self-own exists.
What's up with that Swifty Frisco chick? Does she date?
Swifty is one of those "don't call me a chick" chicks, fyi. As for dating, I'd steer clear. I don't want another body on my conscience.
Why is there nothing about vaccines causing autism?
Anti-vaxxers are child abusers and he does not talk to nonces.4 One more word from you and he will come round personally to circumcise your face with a knife dipped in shit.
Vegans are all middle-class, not from the streets like me!
Like a lot of good ideas, early adopters will often be people with the time, education and spare income to implement positive ethical choices. This is to some degree also true of veganism. As a dyed-in-the-wool prole, The Savage knows this.
You, however, are not working class. Yer da got cornholed by the entire lacrosse team at college while yer ma spent 10 years sucking failed musician cock, working in a series of increasingly depressing coffee shops before ruining her already shit-tier life by falling pregnant with you. Now I have to watch while their thick son shitposts on Internet forums. You people are the living end.
Hitler was a vegetarian! And Morrissey!
Yeah, Morrissey's a bad seed. What are you gonna do? I'll tell you what you're gonna do. Microwave your head at the earliest opportunity, you tryhard weasel.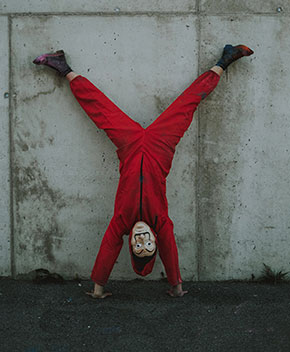 Chris Kresser says we didn't evolve to eat plants?
That wingnut Chris Kresser – where do we begin? That gump ain't a scientist, far from it. He's an acupuncturist and his opinion on anything related to science is therefore worthless. The shmuck is also an anti-vaxxer and a cholesterol denier making him a disgusting crank and quack.5 The argument from evolution, whether pro- or anti-vegan, is weak as fuck. Homo sapiens evolved as omnivores. We digest meat and plants just fine. Kresser got mangled, eaten by a wolf and shat over a cliff by James "Lightning" Wilks on an episode of the Joe Rogan podcast that has left paleos and omnis cowering in their caves, sweating and farting, praying to their ancestral health gods for deliverance ever since.
Worried about your place in the universe? You should be.
How can you force a vegan diet on your kids?
The only one putting children into danger is you when you let yer da snip off his ankle tag and head towards the local primary school. As far as the suitability of a plant-based diet for children goes The Academy of Nutrition and Dietetics (formerly the American Dietetic Association) finds that appropriately planned vegetarian and vegan diets for children are "healthful, nutritionally adequate, and may provide health benefits in the prevention and treatment of certain diseases."6
That said, experts differ on the suitability of a fully vegan diet for children. Bear in mind there are some seriously dopey vegans out there who can't even organise their own diets in such a manner that they avoid calcium ridges, rickets and fucked teeth and the prospect of them being in charge of the nutrition of a minor is certainly a harrowing one. Plan it properly and the kids will grow up like Bamm-Bamm Rubble. Stuff any old shit down its yap and it will grow up like Lena Zavaroni. Use your best judgement, man. Unless you're some kind of disgusting new-age hippy type in which case never ever have children.
I can't feed my dog vegan shit! It will die?
Your dog hates you and longs for your death. Every day you survive is an inconvenience for him.
That said, the specifics of a vegan diet for your hound present some particular challenges and absolutely need to be properly supervised if the dog's diet is going to be 100% plant-based or even vegetarian.7 While it is true that domesticated dogs digest starch much better than their wolf ancestors, ensuring the essential nutrients the animal needs is not a job for an amateur. Deficiency in Vitamins A and D, taurine, phosphorus & iron are all issues not easily resolved. Consult with a veterinary nutritionist to develop a diet plan you can stick to, then schedule health checkups with a vet a couple of times a year to be on the same side.
What about cats?
Ah if you've got a cat just feed it meat.8 Get a dog, ffs. Cats are disloyal, shite and they torture birds for the lulz. Fuck is wrong with you?
Soya is destroying the rainforest! Answer that?
The Savage will never care what an emotionally crippled bag of shit like you thinks. Your attempts at edgelording are laughable. Take your needy arteriosclerosis-blitzed arse elsewhere. If you had bothered to do some actual research like a grown-up you would have discovered that in the region of 70% of soya is fed to livestock.9 You know, to keep you in pork chops, heart disease and erectile dysfunction. So the deforestation you mention is actually your fault. Again.
The only cure for your condition is a swift lethal wound, self-administered.
Do it. Be the change you want to see in the universe.
---
Footnotes