China crisis
Well, will you take a look at that China. The world's second largest economy, 1.4 billion people, a diverse salad bowl of over 300 languages, 56 ethnic minority groups with a history as bloody and complex as any place on earth. In the 19th-century, 30 million died in the Taiang Rebellion as failed scholar Hong Xiuquan decided he was the brother of Jesus Christ and led his Taiping Heavenly Kingdom in a 14-year onslaught on the Qing dynasty. That's before we even mention the Opium Wars where psychotic free trade drug cartel Great Britain forced a humiliating reversal, diminishing the country's standing worldwide. Then the 20th-century saw between 30 and 50 million people perish under Mao Zedong. At the turn of the millennium, the hits just kept coming. Racist sociopath Axl Rose named Guns N' Roses' flatlining sixth studio album Chinese Democracy in a vicious orientalist insult. Fast forward to 2019 and the Wuhan wet markets birthed the coronavirus. China is just one of those places where you frequently find yourself asking "what the frak went on there?"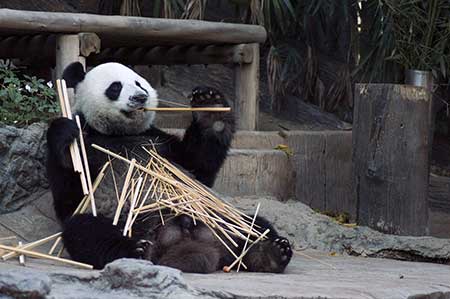 Non-humans fare no better. China's reputation as the nadir of animal welfare is well-deserved. The Yulin Lychee and Dog Meat Festival 1 is a horror beyond belief with cruelty seldom seen even in the worst factory farms. It remains true that the Chinese eat an awful lot of meat – 28 percent of the entire world consumption. And boy, do they love their pork? Culturally, pigs symbolise wealth, prosperity and good fortune, which may explain why they consume HALF the pork eaten on earth. And you best believe that they chomp that motherfucker from the tail to the snout. Browse through the markets of the great city of Birmingham's Chinatown and discover for sale pigs' ears, trotters and uteruses. Good luck veganising that, brethren. You want offal? They got it.
Super subs
So at first glance, China would appear to have very little to offer Josephine Vegan other than a steady dose of despair. But park your scepticism for just a moment – dig around and you'll unearths roots of recovery among the terra damnata. Things are changing in Chinese cities. Not for nothing are Shanghai and Hong Kong named in PETA's Top 10 Vegan-Friendly Cities in Asia. It's not just consumer driven bottom-up pressure either. The Chinese government announced a remarkable plan in 2016 to reduce meat consumption by 50 percent,2 a move explicitly aimed at improving public health and reducing carbon emissions. No country in the world has proposed anything so ambitious. They also teamed up with WildAid to produce a series of public service adverts fronted by Arnold Schwarzenegger and James Cameron convincing the public to eat less meat.3 Bear in mind also that those giant meat consumption numbers are at least partially down to the country's giant population. At the last time of counting, 14 countries are above China in per capita consumption of meat with Australia and the United States getting through double the Chinese amount.4
We should also point out the fine tradition of Chinese vegan food. We have China to thank for the oldest and goldest meat substitutes. Tofu dates back to the 2nd century BC and the culinary experiments of Han Dynasty prince Liu An.5 To this day it is a versatile, ethical and nutritious staple despite what that laughable creationist crank Doctor Axe claims.
Then of course there is the king of meat substitutes, seitan, discovered by Chinese Buddhist monks nearly 1500 years ago. For those of us who were once the addicted crippled bitches of the meat industry, seitan was our methadone, a stunning satisfying replacement to sate our primal carnist urges. If you're not familiar with the extraordinary power of vital wheat gluten, its ability to transform into miraculous burgers, sausages, kebabs, nuggets and steaks then you better ASK somebody because you my friend are living half a life. Seitan recently went viral on TikTok after some enterprising sap decided to blow meat-eater minds with the simplicity of creating a convincing substitute meat with flour and water. 6 How easily puny cucknivores are spellbound by the miracle of torture-free food.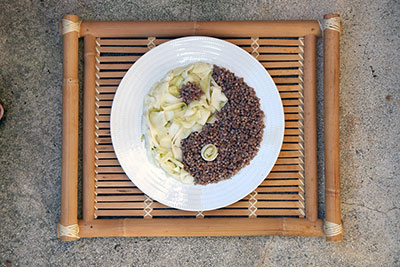 Good gods
Religious tradition too plays its part. Approximately 18 percent of the country are Buddhists many of whom adhere to a partly or fully vegetarian diet. Understand too that the centring of meat in the Chinese diet is a relatively new phenomenon. In 1982, the average Chinese person ate 13 kilos of meat a-year. By 2016 that had risen to 63 kilos – an artery clogging 484% rise. It's easy to forget that the cucknivore fallacy is primarily a disease of the affluent, like diabetes, obesity and gender-reveal forest fires. Food and fuel were rationed in China from the 1950s to the mid-90s and for most Chinese meat was a luxury scarce afforded. The country's growing middle-class fuelled by the economic boom, developed an unhealthy taste for porcine treats. The serving of meat is associated with higher status and social position, which goes some way to explaining the 1982-2016 meat explosion.
Starbucker, just like my daddy
A good general barometer of veganism is the state of the plant-based meat industry and in 2018 it was close to a billion-dollar industry in China with consistent year-on-year growth of around 15 percent, according to a report by the Good Food Institute.7 The trend is particularly pronounced among the young with nearly half (46.9%) of consumers between 18 and 35 and 25.7% under 18. The report also looked at the trail blazed in the country by plant-based milk and snacks, successful since the early 2000s to gain some kind of clue as to the future trajectory of substitute meat. Oatly was brought to the Chinese market in 2016 by Chinese Ventures. It has proved to be a big success with Oatly now in over 3000+ cafes and restaurants in China. Starbucks chose it as the milk for their new vegetarian lunch menu.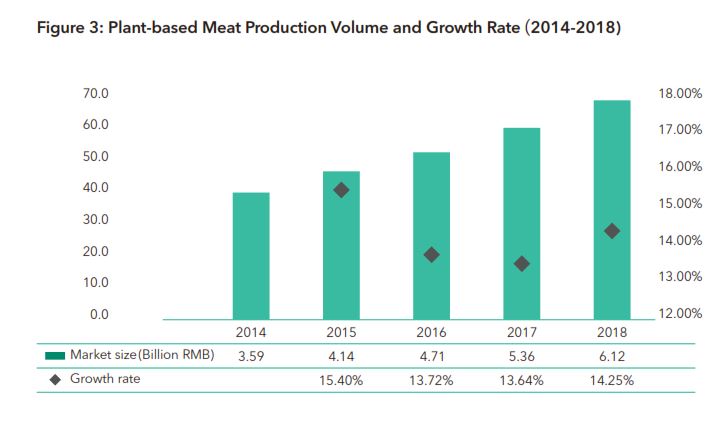 How soon is Tao?
All this has not gone unnoticed by investors. Billionaire entrepreneur Tao Zhang, is using his Dao Ventures impact fund to take alternative protein, specifically plant-based meat mainstream in China.8 "I was born in China, I grew up in China," he says, "China has always valued food as an integrated part of its culture. I know from the bottom of my heart food definitely could be the entry point from which to naturally change the behaviour of China's mainstream consumers, if done correctly and in a smart kind of way." A meeting with the Good Food Institute's Bruce Friedrich in February 2017, provided Zhang with an "epiphany moment" where he realised the huge impact alternative meat could make on the environment.
Dao Foods will be investing in 30 China-centric alternative protein start-ups in the next 3 years, among them Wowfoods (plant-based protein drinks for children) Raw Plant-Based (organic smoothies), and Kitchen 70/30 (plant-based takeaway). Zhang sees a long-term future in cell-based meat though doesn't feel that the consumer acceptance for the concept is quite there at the moment. What that future holds is uncertain but what is universally accepted is that the potential for growth in the sector is huge. And there are many like Zhang committed to making it happen.
The bottom-line is there is no vegan revolution that does not include China. The capacity for mass processing of soybeans already exists. The Chinese genius for invention is there ready to be harnessed, the centuries-old plant-based traditions waiting to be tapped. Traditions evolve. China is changing a breakneck pace and with an estimated 400 million millennials in the country, the battle for hearts, minds and menus is already begun. A bloody past should not define a country's future. Don't be surprised if the rejected stone becomes the cornerstone.
Footnotes