Reaching around 🙆🏻‍♂️
For most vegans, Joe Rogan is like the world's shittest nemesis. It's a battle of wits between you and your slow-learning Mennonite uncle. Wrong about everything, buttressed by fools and fond of taking positions so self-evidently false, it is just the simplest task to debunk them, slap Joe on his cueball noggin like Benny Hill with John "Jackie" Wright and make the entire world helpless with laughter at his calamitous reasoning, hastily constructed strawmen and confirmation bias, instantly rendering him a pariah in the online arena. "Look," they will say "There's Joe Rogan! I feel he lacks credibility. Consequently, I won't be taking his dietary advice seriously and will retain a healthy scepticism about any of his guests when they are presented as authorities."
Only it's not quite like that, is it? Let's run some numbers. Joe's Plants Feel Pain video: 1.5 million views, 300K shares, 12,300 comments. Your hilarious "No they don't Joe, you sausage" video: 236 views, 3 shares (all you), 1 pornbot comment. Because Joe has something intellectual rigour and factual accuracy can't buy and that is reach. His Joe Rogan Experience podcast averages 200 million downloads a month. As of April 2020, there are over 1400 episodes. He has 8.8 million Instagram followers, 250,000 YouTube subscribers and 5.8 million Twitter users have him popping up in their feeds. Joe has serious pull and that kind of influence is powerful.
Don't believe me? Consider the modern-day parable that was Joe Rogan Experience 1169. When manic pixie dream girl banging tech bro Elon Musk took a hit of Joe's blunt on the episode, shares of his company Tesla dropped by 10 per cent, the equivalent of $4 billion. You want some of what Joe's smoking? Careful with that – you might wipe out a small country's defence budget. The point is that Joe has reach and he gets around. A reach around, if you will.
Joe's okay, in a way 🆗
Some full disclosure on a conflict of interest here. While I have absolutely come here to bury Joe, I actually like the guy. As a fan of mixed martial arts, I check for him as a top- drawer commentator – knowledgeable, passionate and scrupulously fair. While it's easy to characterise him as a knucklehead alt-right bro, on many issues he is progressive. As he points out, he's pro-choice, pro-universal basic income, pro-universal healthcare and pro-gay marriage. He was even a vegan himself for six months back in his colourful past. I call Joe a Hoe because he'll have anyone on his show and that's part of his strength. He's an affable guy – funny, non-judgemental and always willing to listen, however demented the guest.
That open-door policy is also his Achilles heel. It has led him to give a platform to racist, anti-vaxxer Sandy Hook denialist scumbag Alex Jones, racist draft-dodging sex case Ted Nugent and worse, CTE poster boy Brendan Schaub. Joe's interest in diet, health and nutrition has led him to chat shit about veganism to his lackwit mates with impunity, often unchallenged. Many have debunked Joe before but here I want to get every major canard he has spouted in one place to become a resource for rapid rebuttal of his foolery. I am indebted to several heroes who hacked a path through the jungle so that others may easily walk to enlightenment – these are mentioned in the acknowledgements below. And no one has done more to challenge the Joe Rogan 'veganism sucks!' narrative than The Game Changers producer James Wilks.
Lightning strikes, nice ⚡
Because what James "Lightning" Wilks did to acupuncturist and JRE regular Chris Kresser on their debate on Joe's podcast was so harrowing, so upsetting, so alarming it should really never have been broadcast. It was the most one-sided cornholing since Genghis Khan took on Nishapur and said "you know what lads? Let's make an example of these guys". It was 3 hours 42 minutes that is seared into the memory of Rogan bros everywhere. Even the most ardent carnivore crank was forced to concede a devastating victory to Wilks as he demolished point after point of Kresser's so-called alleged "rebuttal". Joe Rogan himself wrote that he was seriously considering taking down the original rebuttal, so devastating was James Wilks' riposte. The Wilks-Kresser debate will be hereafter referred to as The Event. It is one of those seismic shifts in narratives after which everything is changed utterly.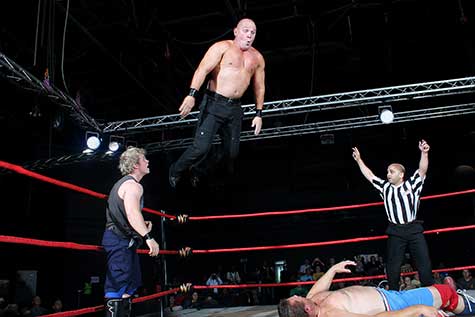 But let's get onto a point-by-point rebuttal of Joe's major malfunctions on the issue.
Vegans kill more animals 🏹
Know you heard this before. The counterintuitive argument everyone no one could have seen coming. It's not the carnivores killing the animals – IT'S THE VEGANS. Let's put some meat on the bones of that accusation. On JRE 1138, Joe talks to rocker, NRA board member and right-wing psychopath Ted Nugent about the sustainability of hunting and the folly of veganism. Predictably, Nugent was strident in his views.
"If you really want to kill the most things, be vegan because the farmers who protect your beans kill everything. I kill one animal per arrow. In order to grow tofu, you have to kill every ground squirrel, every vole, every shrew, every snake, every turtle, every frog, every bird, every rabbit [yeah, we get it mate…]"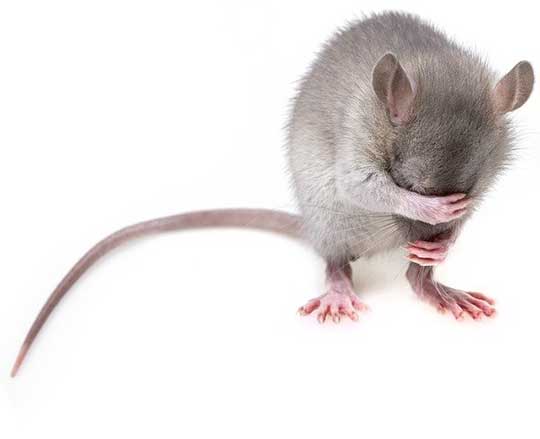 This is the Combine Harvester of Death argument where the three-miles-an-hour reaping device becomes an unstoppable killing machine for the resident wildlife. It is of course obviously true that, just like in the natural world, animals will suffer untimely deaths during the agricultural process. Many more than from human-animal consumption, though? It's a shame someone hasn't studied that. If they had they might find out that it was risibly false.
Take the 1993 study of wood mice which showed that out of 33 mice under observation, only one died during the harvest, while a further 17 died of predators shortly afterwards.1 Further to this, a 2005 study on Argentinian rodents found that when the harvest came, the creatures simply moved to grassy borders between the fields.2 Understand also that livestock takes up 77% of our agricultural land while producing 18% of the calories and that 67% of American crops go to animal feed.3 So, you have to take into account all of those deaths in addition to the 70 billion land animals that are killed for food every year.4 Then, in the oceans, anywhere between 37 and 120 billion fish are killed on commercial farms each year, with another 2.7 trillion caught and killed in the wild5
So exactly how wrong is Ted? Ted is wrong by orders of magnitude. He is more wrong than a 12-year-old child performing oral sex on a redneck rocker. He is more wrong than a fruit-fixated vegan influencer. He is more wrong than bloodclaat bloodmouths causing a global pandemic. So that's pretty wrong, man.
Vegans don't get enough protein 💀
OK, so we have established that vegans are probably not killing the animal kingdom with kindness-and-combines but next comes a golden oldie that you just can't help tapping your foot to when it comes on the radio. During his now disgraced and discredited debunking, Chris Kresser referred to vegans "not getting enough protein in terms of quantity". He fearlessly takes James Wilks to task for his disgusting claim that a peanut butter sandwich has roughly the same amount of protein as three ounces of ground beef. In his rebuttal, Chris told Joe that it would take five tablespoons of peanut butter to get the same amount of protein. That's a hell of a sandwich!
NARRATOR: He did not take James Wilks to task. In fact, during The Event, James used USDA measurements to demonstrate that they are indeed roughly equivalent in terms of protein content. It is true that the peanut butter sandwich is on the fatty side and undeniably calorie dense – that's probably why James included a cup of lentils as a low-fat, low-calorie equivalent. Bear in mind that Wilks was at no point trying to imply plant protein blitzed animal protein for convenience, he was simply trying to counter the prevailing belief among simpletons that getting protein on a vegan diet is somehow an arduous task – a belief Chris either cynically or stupidly perpetuated during his lame-ass rebuttal. And counter it he did, very effectively.
Vegans get poor-quality protein 〽
Ah but it's not just about the quantity, is it? Vegans are "not getting the right quality of protein," said Kresser in his abysmal and failed debunking of The Game Changers. When discussing protein quality, Chris favours the DIASS (Digestible Indispensable Amino Acid Score) metric which takes into account amino acid profile and bioavailability (as different amino acids absorb differently). James runs with DIASS even though its data is sampled mostly in pigs who have a different amino acid profile requirement from humans. Bioavailability is a legit issue for vegans, so it's not something to dismiss lightly.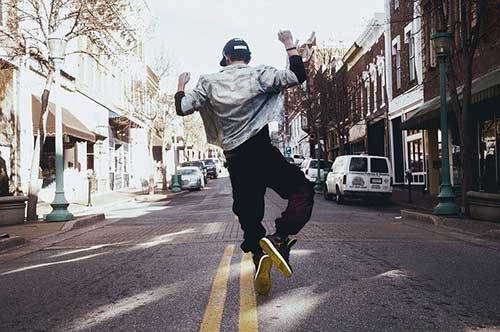 Wilks does point out, however, that DIASS is issued by the FAO (Food and Agriculture Organisation) of the United Nations. The FAO have no interest in the nutritional requirements of rich overfed nations like America. Their stated aim is to lead international efforts to defeat hunger and improve nutrition and food security. It is designed for people in serious caloric deficit – the malnourished and starving. As this study6 explicitly states "DIASS does not attempt to consider how the scores translate into optimising more downstream physiological targets of interest to a physically active person or athlete." None of which is by any means a dismissal of DIASS but it is something worth knowing and clearly something Chris Kresser did not know.
It would also be worth knowing if Kresser's point about animal protein being more bioavailable and digestible were true. There is a fair amount of evidence that it is true but a November 2019 review suggests that claims of amino acid deficiency among vegans are "substantially overstated" and that "The more precise data collected so far in humans, assessing real (specific) oro-ileal nitrogen digestibility, has shown that the differences in the digestibility between plant and animal protein sources are only a few percent, contrary to historical findings in rats or determinations using less precise methods in humans." 7
In addition to this, Wilks states that in the DIASS assessment, the pigs are fed raw beans which will include the trypsin inhibitors that negatively affect the digestibility. But when these beans are cooked (as they generally would be for human consumption) the trypsin inhibitors are broken down and that digestibility would improve. Chris Kresser blankly concedes the point as he's got no choice. It becomes a familiar look for him.
Even then, there are studies that suggest that protein adequacy is more a question of quantity than quality.8 Chris's position only gets weaker. Have you noticed how many of his objections can be handled with the caveat "appropriately planned"? If only some organisation as authoritative as the American Dietetic Association had made it clear that "appropriately planned vegetarian diets, including total vegetarian or vegan diets, are healthful, nutritionally adequate, and may provide health benefits in the prevention and treatment of certain diseases." That would have saved us so much time.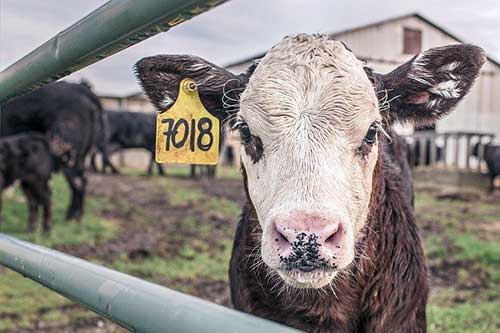 Vegans have micronutrient deficiencies 🆘
But still, we press on. Like a bloated but still profitable Sunday newspaper, most vegans know that supplements are the way forward. Still and all, we would be remiss if we did not concede that a significant minority are the kind of sloppy fucks for whom a balanced diet is getting the right ratio of Doritos and noodles on the plate. During his embarrassing nonevent of a rebuttal, Chris Kresser did bring up micronutrient deficiencies in vegans and that is something which, as a vegan, you absolutely have to watch out for. Look after your B12, vitamin D3, Omega-3s, zinc and iron and they'll look after you is the maxim.
So how bad is it? Well, a 2017 Swiss study states that vitamin A and iron deficiency were not statistically significantly different in vegans. It also showed it was omnivores who had the lowest intake of vitamin C, vitamin E, niacin and folic acid. Vegans do appear to take in less zinc and while there is a 2013 Australian study9 which suggests that vegetarians adapt to lower zinc intakes by increased absorption and retention of zinc, the common sense thing to do is to supplement, which vegans and omnivores should have been doing all along. Even my shitty cheapskate multivitamin from Savers has the entire RDA for zinc, B12, D3 and iron in it. None of this is rocket science.
Vegans cause more greenhouse gases 🌞
So barely a grazing blow was landed on the micronutrient issue. Perhaps it's time we returned to the real issue – the massive amount of damage vegans do when they fail to torture and murder cows. Exactly how much do we know about cows? We know they are adorable, are doomed to have their milk-bloated tits molested by machines and that they burp and fart like yer da after three helpings of Christmas dinner. So there appears to be a decent prima facie case for meat consumption contributing to the greenhouse effect. It is a case, too, backed up by multiple studies.10
Wait though, your boy Chris Kresser stumbles through the door, gasping for air, cherry picker in hand, holding a study to tell you that you're wrong about that thing you thought. He cites a 2017 PNAS (Proceedings of the National Academy of Sciences) study saying switching to a vegan diet would have little effect on greenhouse gases.11 His problem is that there is an existing consensus saying the opposite. In his rebuttal of Kresser, Mic the Vegan counters with another PNAS study12 suggesting a widely adopted vegan diet would have "major health benefits" including saving 8.1 million lives. Furthermore, the original study Chris Kresser cites has been criticised here13, in a letter published on PNAS (who really should spend some time rethinking their acronym). They were specifically criticised for excluding overconsumed nutrients from the analysis of vegan diets and for their assertion that obesity would rise on a plant-based diet, which flies in the face of much of the evidence. Further concerns were raised on how they ignored the well-established fact that a plant-based diet would require much less fertiliser, pesticides, antibiotics and land. So once again it's a swing and a miss for Chris.
A deep belief in grassfed beef 🐄
Only a complete cuck would give up at this stage though. The campaign against veganism is fought on many fronts, some of them quite unexpected. You know how a certain type of person will laugh at people who pay attention to newspaper horoscopes and then say "yeah but real astrology…" Well, advocates of grassfed beef spend a great deal of time convincing themselves that their particular brand of omnivorism has certain special properties that mitigate many of the downsides of factory-farmed beef. While we know that Joe currently only eats elk that he stalked, molested and murdered himself, he is absolutely on the grassfed beef bandwagon so let's see how that stands up to scrutiny.
Let's think about that name grassfed. It conjures up images of tranquil meadows, the sun poking through the clouds and a happy herd grazing. The problem is that the grassfed beef label doesn't necessarily mean the cow lived its life entirely on pasture. It can include grain-fed and feedlot-fed cow meat and it's not like anyone in the industry is falling over themselves to check. "Like other mostly meaningless label terms like natural, cage-free, and free-range, grassfed will become just another feel-good marketing ploy used by the major meatpackers to dupe consumers into buying mass-produced, grain-fed, feedlot meat." That's from well-known vegan extremists *checks notes* The American Grassfed Association. So right there, we have a problem.14
Labelling is labelling, though. That doesn't tell us anything about grassfed beef in itself. For starters, it's thought to be more environmentally friendly, right? That's questionable. It's a fact that grassfed cows produce more methane, this 1999 study15 suggests three times more than grain-fed cows. Grass is harder to digest than grain and also pasture cows take a lot longer to get to slaughter weight so a grassfed herd is producing more methane in all that time.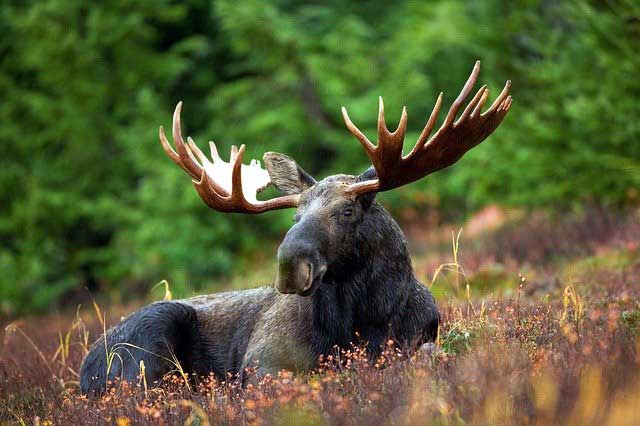 Also relevant is that methane is a more powerful greenhouse gas than carbon dioxide – specifically, 84 times more. Just as it looks that grassfed beef is on the ropes though, an unlikely saviour emerges: seaweed. On JRE 1259, climate change journalist, David Wallace-Wells explains how some seaweed disrupts methane production in the gut and how there are "these like small-scale studies that show if we feed cattle just a little bit of seaweed their methane emissions could fall by 95 or 99% so… if that was scalable… we could immediately eliminate the entire carbon footprint of beef."
Those numbers are pretty incredible but Wallace-Wells refers to experiments16 done on cow gut microbes in lab conditions – in vitro, not in vivo. An in vivo study from the University of California suggests a reduction of 24% to 58%. 17 That's still impressive but obviously it's not the full story. For this to have any real-world application it would mean growing a huge amount of seaweed and developing strains that could grow in multiple different climates. Even Josh Goldman, CEO of "Greener Grazing" a commercial seaweed feed company, describes the project as an "aquatic moonshot". It is something that is quite some way off.
Then there's the thorny issue of land. The never-ending supply chain of death that is the beef industry needs pasture for all those doomed cows and pasture means deforestation and we know what that means – soil erosion, global warming, climate crisis, you know the routine. Grassfed advocates argue that the time cows spend grazing sequesters enough carbon to offset the methane emissions. In theory, there's some mileage in that. Dr Tara Garnett, coordinator and lead researcher at the FCRN University of Oxford's Food Climate Research Network, though, declares that "grazing livestock – even in a best-case scenario – are net contributors to the climate problem, as are all livestock." 18 She continues "whatever the system and animal type, rising animal production and consumption is driving damaging changes in land use and associated release of greenhouse gases." This debate really is two bald men fighting over a comb. Both grassfed and corn-fed are terrible for the environment.
As for how healthy grassfed beef is, while it is undoubtedly nutrient-rich, all red meat is designated a class II carcinogen by the WHO19 making it a likely cause of cancer. Advocates will counter with the high omega 3 levels in grassfed beef and while it is generally higher than grain-fed beef "a ground beef patty from cattle fed native Texas pastures contains only 5 percent of the DRI for ALA for women and just over 3 percent of the DRI for ALA for men." 20 That's a pretty meaningless difference. The study also found the grassfed beef to be actually higher in trans and saturated fat than grain-fed beef – a whopping 9.8 grams per serving. The conclusion is clear. Grassfed beef doesn't even begin to get you off the meat hook.
Primal diets are primo nutrition 🍔
It's not looking good for Joe so far but maybe his redemption can be found in prehistoric times. On JRE 1283 he tells Russell Brand that he's following ancestral health godfather Mark Sisson's primal blueprint diet. Joe's tried more fad diets than Kerry Katona so it's not much of a surprise. Sisson is of course against veganism as he promotes the dark triad of primal-paleo-caveo. So while not explicitly an attack on veganism, it is an opposing dietary philosophy with a lot of anti-vegan crank science attached to it so let's get into that.
The basic principle of the ancestral health movement is to mimic the diet of our paleo hunter-gatherer ancestors – the diet, they say, best suited to our evolution. Like a lot of spurious yet popular diets, paleo gets a couple of things right. Pretty much every nutrition expert is in favour of cutting out processed foods as far as possible and for all his flaws, Captain Caveman went easy on the Primula cream cheese. Paleo advocates tend to forget that every single species, whether that's berries, bison or potato is very different than it was in the Palaeolithic era. We have deliberately fast- tracked evolution to weed out all the undesirable plants and animals.21 Related to that, it's not at all clear what a typical paleo diet would comprise, given that they vary hugely based on season, geography and climate. In fact, anthropologist William Leonard of Northwestern University identifies Homo sapiens as above all, a flexible eater. 22.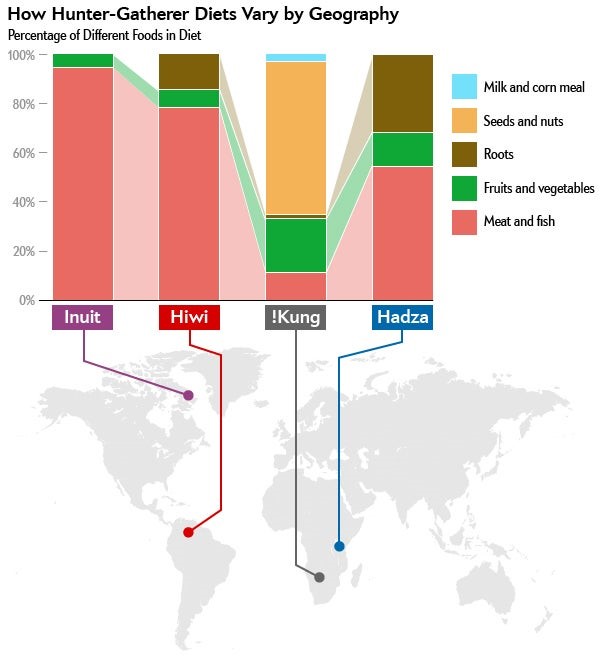 It is clear that there is a vast difference in these diets. Which one do we follow, Paleo overlords?
It is a common belief among ancestral health followers that modern illnesses are caused by modern agriculture but life expectancy in the Palaeolithic era was about 35 years. Most of the malnourished plague-blitzed humans of the time didn't live long enough to develop cancer. Bear in mind too that this study23 published in The Lancet showed how that modern scourge cardiovascular disease has been with us longer than we imagine. "Atherosclerosis was common in four preindustrial populations including preagricultural hunter-gatherers."
The paleo diet falls prey to the appeal to nature and ancient wisdom fallacies. It's part of its seductive appeal. Under the spotlight though, it fares about as well as a tapeworm-ridden premature baby foraging for berries eyed by a pack of direwolves.
But eggs are cracking? 🥚
That's all very well of course but the problem with vegans is they always go too far. Not content with taking your steak, sausages and yoghurt away, they're even coming for your eggs. Also on the Russell Brand podcast, Joe asserts how nobody could be bothered by eggs. On this general point, we agree. Chicks are the most adorable things – cute as a button and so vulnerable. They are certainly not the kind of breathing sentient beings you would gas or crush alive then shred and feed to animals. Only that is what happens to 4.6 billion male chicks. Theoretically, some could be bothered by that – male chicks first in the queue.
Okay but let's say, for the sake of argument, that all those male chicks were coincidentally in a state of depression and threw themselves willingly into the threshing machine. Let me introduce you to a world where those nasty battery farms are a thing of the past – the world of pasture-raised eggs. These feathered heroes are reared in your backyard. In this world, Joe assures Russell, "the chickens are just hanging out". Doesn't that sound like a world we could get behind?
Well, yes and no, Joe. But mostly no. It's acknowledged by the farmers themselves that predators are a big problem with backyard flocks and that while they're not pecking each other's eyes out as they would be inside a battery farm, they are being ripped apart by foxes. Studies of backyard hens have shown that around 10 per cent die from fatty liver haemorrhagic syndrome, strongly associated with obesity.824 They have parasites, and quite often die from riboflavin, vitamin E, and vitamin D deficiencies. Half the deaths were found to be from infections and plenty of times the owners just get bored and hand them over to animal shelters or just let them into the wild to fend for themselves. All of a sudden, the backyard hen life is not looking quite so idyllic.
Still though – eggs! Tasty, nutritious and healthy. Joe insists that disease caused by cholesterol is very rare, having eagerly necked the cholesterol denial Kool-Aid. Countering this view, there is the 2019 study from the British Medical Journal linking cholesterol and eggs to an increased risk of cardiovascular lees and death.efn_note] BMJ Higher intake of cholesterol or eggs linked to increased risk of cardiovascular disease and death, finds study [/efn_note] And then there's the massive review of literature from 1950 to 2019 which showed that egg industry-funded research consistently downplayed the dangers of cholesterol. 25 The "yeah, but eggs" defence winds up flatter than a one-day-old chick born with a pair of bollocks.
Just cut down on your carbs, bro 🍩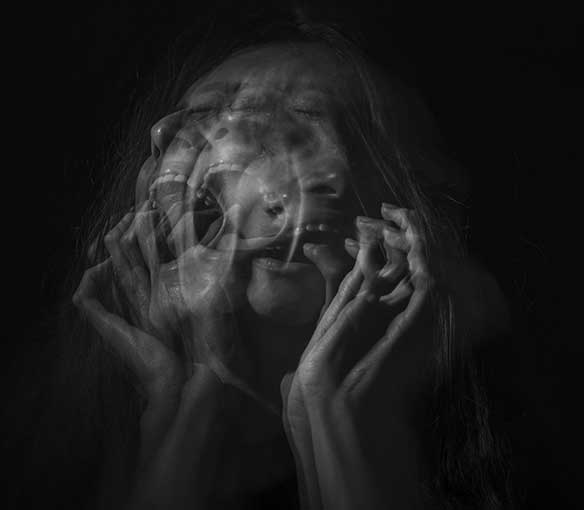 Over time, carnists get smart. They know they can't defend the indefensible, so they switch tack. And like some roaming band of scavengers, they come after our grain. While chatting to Russell Brand, Joe mentions his belief that excess carbs make you store fat in a more noxious manner than, say, excess fats might. The demonisation of carbs is one of the foundation myths of bro science and an extremely lucrative one. A 2017 systematic review and meta-analysis of 32 different metabolic ward studies though showed no weight-loss benefit from eating a low-carb diet over a high-carb diet26 and then this cohort study published in The Lancet called the largest ever of its kind27, found that both low-carb and high-carb diets could shorten life by up to 4 years. Notably, low-carb diets that got their fat and protein from plants were associated with low morbidity in the study.
At this stage, we should also make the distinction between simple carbs such as those you'll find in sugar, syrups and fizzy drinks which cause a release of energy in the form of glucose into the bloodstream, causing sugar spikes and complex carbs which take longer to digest and provide a slower and more sustainable release of energy. The complex carbs of whole grains like brown rice, buckwheat and oatmeal are particularly nutrient and fibre rich. As a Proceedings of the Nutrition Society study from 2015 notes "A series of meta-analyses have previously reported that observational evidence consistently highlights an association between increasing intake of WG foods and reduced risk of CVD (9,10), type II diabetes (10,11), metabolic syndrome (10) and multiple-site cancer."28
It seems that in fact this much-maligned macronutrient may save your life, not shorten it. Curiouser and curiouser.
No link between dairy and cancer, boyos 🧀
So the grain stores are safe for now but there's still some obfuscation to go. Much is made in Chris Kresser's busted deluded debunking of The Game Changers of a meta-analysis that fails to show a link between consumption of dairy products and cancer. As far as it goes, this much is true. The meta-analysis he cites does not demonstrate a link overall and, during The Event, James Wilks looks mildly insane for berating Chris for some time over a minor sin of omission. What Chris doesn't let you know is that dairy has been specifically linked with prostate cancer. The 2019 British Medical Journal overview29 explored 28 meta-analyses and 13 of them showed an increased risk of prostate cancer with higher consumption of dairy products. That's a very comprehensive, very recent overview which, while it certainly does not end the debate, does not bode well for Kresser's dairy advocacy.
Red meat poses no health risk to Chads 🍖
It should be obvious by now that Joe loves red meat. But does red meat love Joe? While he has spent a great deal of time curating a list of guests to tell him what he wants to hear – that it is in fact God's own food, it may just be that this is a one-way love affair. The body of evidence linking red meat to chronic killer diseases is huge and as solid as it gets. Nonetheless, Team Meat got a big boost in 2019 from the (NutriRECS) Consortium systematic review of the studies30 which stated that any link between consumption of processed or non-processed red meat and chronic disease was weak and that adults should "continue with their current consumption" of red meat. This was a comprehensive review, a break from the scientific consensus and as such, was to be taken seriously.
As the work was scrutinised by scientific peers, cracks began to show. Dr Giota Mitrou, Director of Science External Relations at the World Cancer Fund, rejected the study, saying "We stand by our rigorous research of the last 30 years and urge the public to follow the current recommendations on red and processed meat."31 Walter Willett, professor of epidemiology and nutrition at the Harvard TH Chan School of Public Health went significantly further, saying "This report has layers of flaws and is the most egregious abuse of evidence that I have ever seen." 32
It didn't go over any better in the southern hemisphere, with Jim Mann, Professor of Medicine and Human Nutrition at University of Otago, New Zealand, declaring aspects of the findings "very confusing and misleading", then continuing that "the weak recommendation based on low-certainty evidence that adults continue current consumption of unprocessed red meat and processed meat is potentially unhelpful and could be misleading."33
Even worse, The New York Times reported that lead researcher Bradley C. Johnston failed to report his past ties to the food industry.34 As recently as December 2016, he was the senior author of a study that challenged health guidelines telling people to eat less sugar. That study was funded by International Life Sciences Institute, or ILSI, an industry trade group whose members include McDonald's, Coca-Cola and PepsiCo. ILSI received money from those well-known public health advocates the tobacco industry from 1983 to 1998. The European Parliament called ILSI a corporate lobby group.35 They weren't wrong.
None of which was ever going to bother Joe of course. He spent January 2020 on a 30-day carnivore diet eating nothing but steak with the occasional bit of fish and eggs. He did complain of "explosive uber diarrhoea" for the first two weeks but when you're in an abusive relationship as Joe clearly is with red meat, the first step is admitting there is a problem. That may not be in him.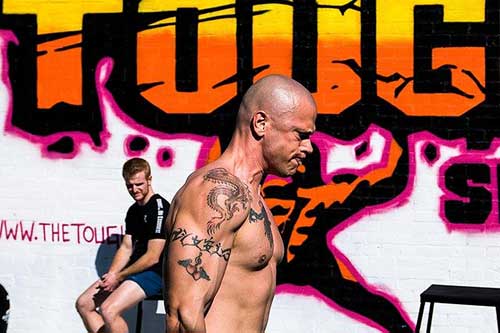 Vegan strongmen are a myth, brah 💪🏻
Give credit where it is due though, he acknowledged The Game Changers debate as the massacre it was. As for the documentary itself, it remains an impressive but imperfect piece. It can't really succeed in its mission to prove that veganism is the optimal diet for athletes as the necessary long-term research hasn't been done. We are all aware that anecdotal evidence will not satisfy any serious thinker on any of the big questions. As far as science goes, the jury is out for the time being. Still and all, Novak Djokovic, Lewis Hamilton and Serena Williams are proof that you can be successful at the very highest levels of athletic excellence on a plant-based diet. Even Chris "Cornhole" Kresser will concede that.
The trouble is that Joe continues to invite uneducated bozos to critique that idea. On JRE 1321, American strongman Robert Oberst lazily dismisses vegan strongmen Patrik Baboumian's achievements, saying he's not the world's strongest man, how he achieved his alleged world records in his backyard and that he really can't lift or pull all that much. Baboumian responded to the criticisms on his YouTube channel.36 He concedes that he is not the world's strongest man but addresses Oberst directly, telling him "you haven't won anything in your whole career." On the legitimacy of Patrik's world records, he shows footage of some of the records in front of crowds of cheering people on videos watermarked with Guinnessworldrecords.com. On not being able to pull that much, it turns out that Patrik can pull more than Robert, despite being clearly smaller. So far from being a myth, it's obvious that vegans are represented in every major power sport and that's a trend that shows every sign of continuing to grow.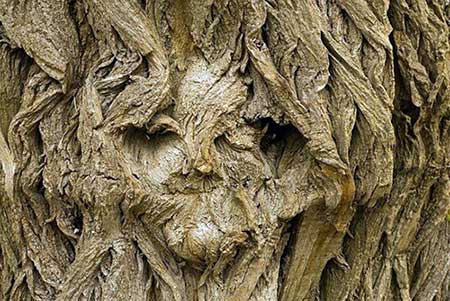 Plants go OUCH 🥦
With most of his anti-vegan beliefs lying in tatters, you can bet your life that Joe would attempt a Hail Mary pass to snatch victory from the jaws of defeat. If you had on your bingo card "Joe solves the mystery of consciousness" then please claim your cuddly toy at the door because he's going all-in on plant sentience. Citing a study about vibrational signalling in plants37, Joe interprets it as evidence that plants feel pain and are in fact screaming when we cut them down. This, he says, "fucks vegans harrrrrrrd".
At this point, I am reminded of Alan Moore's The Ballad of Halo Jones. On her galactic travels, Halo Jones stops in on the forest-planet Vescue to do some lumbar jacking and finds it not to her liking at all.
"On Vescue, the trees had faces. And they screamed. While not intelligent, the trees had learned a survival trick over the centuries of their abuse by mankind. Firstly, they'd learned how to form their bark into a recognisable parody of a human face. Secondly, by channelling wind down their hollow approaches and open crude vegetable vocal cords, they shrieked like children as they were cut down." As the leaf vibration study itself states "plants have evolved an array of traits that allow them to detect and respond to damage from insects". At no point are you meant to infer that plants are actually aware.
Remarkably though, Joe has some scientific backup on this one. Plant neurobiologists, a controversial group of physiologists emerging since the early 2000s, believe that plants possess many of the mental features of humans and animals such as cognition, consciousness and the ability to feel pain.38 Presenting an idea everyone likes is a surefire way to guarantee viral shares, feature articles and book deals and who doesn't love the idea of thinking plants? Scientists working in the field are predictably horrified by the trend and have gone to great lengths to reassure the terrified humans that plants are not conscious. It's a Turing Test where the machine only needs to fool the village idiot. Professor Emeritus of Molecular, Cell and Developmental Biology at the University of California, Lincoln Taiz sums up the consensus: "There's nothing in the plant remotely comparable to the complexity of the animal brain. Nothing. And I'm a plant biologist. I love plants".
He really does! Earthling Ed notes that it makes as much sense to say that a doorbell is conscious because it responds to pressure stimuli. And as Happy Healthy Vegan points out39, even if Joe was right, you have a 90 per cent reduction of plants being killed in a vegan world because meat is so inefficient in its use of energy. It's at times like this where it's hard to make excuses for Joe. He really can be a challenge.
Conclusion 🛐🕳
On the real, I feel bad for Joe. He has been hoeing and now his slip is showing. All the DMT he has taken has elevated his consciousness enough to see the error of his ways, but not enough to do anything about it. That's why every position he now takes is defensive – he leaps from once spurious study to the next, shrieking like an ape when its natural habitat is destroyed, as scientific scrutiny lays waste to the sundry fallacies of whichever doofus he's had on his podcast this week. He's too good a guy to fully embrace toxic masculinity but he is quite easily seduced by its certainties and simplicities. He has conceded that "you can definitely be vegan and be healthy". The clouds have broken. He's seen the light but is scared of it.
Step into the light, Joe. It's glorious.
Acknowledgements 🧿
I acknowledge the excellent work of Mic the Vegan, Happy Healthy Vegan, The Flaming Vegan, James "Lightning" Wilks and Earthling Ed.
Footnotes