Eco-friendly occasion dress – a buyer's guide
Daring, caring and I-do-declaring, Swifty Frisco breaks down how to conscientiously frock shop for those big events
Hey skanks, it's Swifty. If you have been dressing as a grown woman for long enough, you know the trade-off: this week's ballgown means next year's tsunami.
Hell yeah, you look like Marie Antoinette at the masquerade but the thought of that nine-year-old Bangladeshi girl who died making your outfit is frankly something of a buzzkill. Must the price of your insipid social climbing always be borne by workers or the environment? "Why do we even give a rat's ass?" you may ask.
I'll ignore your reckless idiomatic speciesism to inform you that the fashion industry is the third largest polluter on the planet behind those old stalwarts, livestock and stinky big oil. That Louis Vuitton jacquard tube dress? Worse than a conflict diamond.
But Swifty Frisco is not here to judge or berate. That is The Savage's job. You know how we do. When cooler heads prevail, we offer an alternative. So here we present 10 places you may not have thought of in your search for a statement dress that makes a statement.
---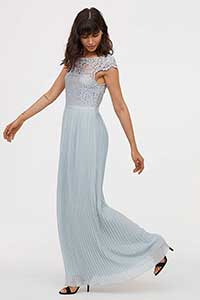 1. H&M
Ethical chops: Received "Detox Avant-Garde" status from Greenpeace, member of the Better Cotton Initiative.
Location: Stockholm, Sweden.
Price: £18-200
No one is going to say that fast fashion leviathan H&M is some kind of faultless paragon, particularly after the reports that they burn 12 tonnes of clothes a year. That's a walking facepalm right there. Still and all, most observers agree that they are making good steps in the right direction, so we are not here to mash the Swedes. In February 2019, they became one of only two apparel companies named on the Ethisphere Institute's stringent World's Most Ethical Companies list. The list is based on the Institute's Ethics Quotient® metric which measures performance in categories like leadership and reputation, corporate citizenship and responsibility and culture of ethics.
Their stores may look like their layouts were designed by the mentally ill but they have a medley of evening dresses in a variety of styles to suit all tastes and budgets. You're looking at chiffon, satin and cotton for that gala, wedding or prom where you try and convince everyone you're not a straight ratchet.
---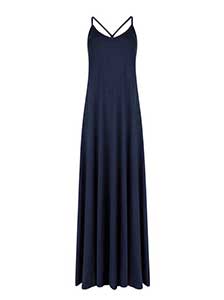 2. Miss Green
Ethical chops: Tencel, Modal and bamboo feature heavily in their collections and their suppliers are GOTS and BSCI certified.
Location: Haarlem, the Netherlands.
Price: £70-120
Y'all bin knowing about Miss Green if you've been on the conscious tip for a while. Coming straight out of Haarlem like Big L, the Netherlands brand are the eco-specialists, with ethics and sustainability foundational principles of their company. As such, they carry more credibility than most and you can count on them to be in it for the long haul rather than just because their CEO accidentally read the first three paragraphs of a Beyond Meat article while she was fapping to old shots of Leonardo DiCapreteen while getting over whatever lackwit borefriend just fucked her over.
Their commitment to stylish cuts and timeless classics is equally impressive and while they can't boast a large catalogue, pieces like this elegant one to your right can be snapped up from their website.
GO DUTCH WITH MISS GREEN
---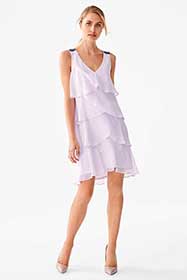 3. C&A
Ethical chops: Recyclable Cradle to Cradle range, signatory of Greenpeace's Detox Commitment.
Location: Düsseldorf, Germany.
Price: £15-180
Britfolk old enough to remember when Margaret Thatcher trolled the earth and Elton John trolled the charts can oftentimes be found fondly reminiscing on Euro giants C&A being a mainstay of the high street, the fourth largest fashion retailer in the country. Their exodus from the UK in 2001 after being chased out of town by young wolves like Matalan, Zara and H&M was mourned by many but they have since reinvented themselves as standard-bearers of sustainability with their 100 per cent organic, recyclable and eco-friendly Cradle to Cradle T-shirt range.
Given that even at its peak the brand was never considered anything approaching cool, natty or hip, their evening dress range is bolder and more surprising than you expect, containing styles a lazy blogger might call audacious. Your girl Swifty will go with "that's actually better than I expected. Well done, shitheads!"
---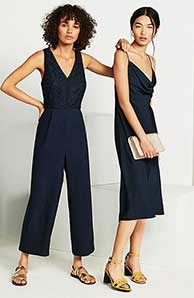 4. Marks & Spencer's
Ethical chops: Certified by Sedex Members Ethical Trade Audit (SMETA), flagship Plan A sustainability initiative.
Location: London.
Price: £45-89
What's more quintessentially English than Marks & Spencer's? Hugh Grant? Downton Abbey? Financing the slave trade? Perhaps none of the above. Like a filthy molesting uncle at a wedding, Marks and Sparks has always been there for you, whether you liked it or not. And, credit where it's due, you could always get a decent pair of drawers there and, on occasion, an outfit for a wedding. The Ethical Consumer Magazine named M&S the most ethical high street retailer in 2014 giving the brand considerable clout in this area. Their Plan A sustainability programme is definitely a positive step and their water-reducing initiatives can only be applauded.
The collection of occasion dresses ranges from muted and elegant slip dresses to statement animal print frocks giving a broad a decent choice the next time you have to roll up at your dopey cousin's nuptials with your borefriend.
---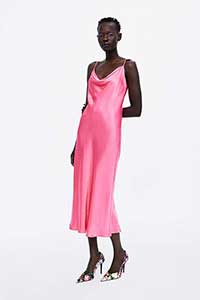 5. Zara
Ethical chops: Closing the Loop program, total ban on child labour and forced labour.
Location: Arteixo, Spain.
Price: £16-95
My favourite thing about Zara is how their staff give you some effing distance and don't follow you around like that idiot friend you made the first week of university before you had a chance to make your real buds meaning you spend the rest of the term trying to shake them off like a dose of pubic lice. They know how to back up off a sister. Having long been at the vanguard of fast fashion and shamelessly (and, to be fair, impressively) copying the designer labels, Zara have in recent years pivoted towards sustainable fashion with their Closing the Loop repair and reuse program. They scored an A+ in policies, auditing and supplier relations in the 2018 Ethical Fashion Report and have recently announced some ambitious sustainability goals. Well done, nerds.
In the storied Zara tradition, their range of evening dresses is chic, varied and affordable – halternecks, minidresses and one-shouldered numbers stand out. And there's a significantly reduced chance an infant croaked making them. Maybe throw in some slingbacks and a matching clutch bag while you're there – I don't know, I'm not the boss of you ffs.
---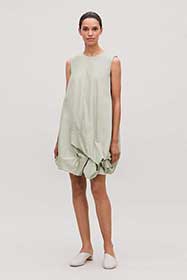 6. COS
Ethical chops: Greenpeace "Detox Avant-Garde" status, collaborates with Ethical Trading Initiative.
Location: Stockholm, Sweden.
Price: £55-150
I'm always reminded of Eleanor Friedberger singing "all so blonde and precise" about the Swedish when I think of COS (Collection of Style for those that ain't know). The Stockholm retailers have over 250 stores worldwide and on the ethical front, Greenpeace awarded the retailer 'Avant-Garde' status for its commitment to eliminate hazardous chemicals from its supply chain. They also work with the Ethical Trading Initiative to improve working conditions among their suppliers.
And the dresses? Jersey Shore guido aesthetic it's not. Prepare for minimalist, continental and classy. High-necked cocoons, belted kimono styles and voluminous dresses offer a diverse mix, whatever your druthers. Admittedly, if your druthers err towards sophistication in muted colours you will be a lot happier. That's fashion, kid.
---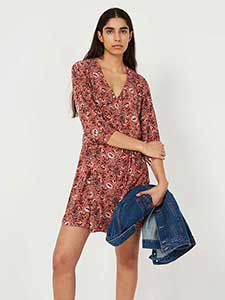 7. Frank & Oak
Ethical chops: Let's Give a Shi(r)t recycling initiative, collaborates with immigrant integration company Petites-Mains.
Location: Montreal, Canada.
Price: £30-120
O Canada! Home of Letterkenny, gnu abuse and socialised healthcare – teach us how to live, you gorgeous moosefuckers. Failing that, throw some threads our way. Montréal's Frank & Oak brand is a relative newcomer to the game, forming in 2012 but it has made significant planet-friendly strides since. The online-only outfit prioritise recycled fabrics and scores well on transparency, listing all its late-stage suppliers publicly. For such a recent arrival, the level of detail they provide online on their eco-commitments is impressive.
They may not be Ralph & Russo high-rollers but they could be right up your street if you're looking for a quirky left-field statement at a semiformal event like a cocktail party, sorority hazing or high-end birthday bash for someone you don't really care about. Be aware that in their accessories section, they are more attached to leather than season one Tobias Fünke. No one said this journey was going to be easy.
---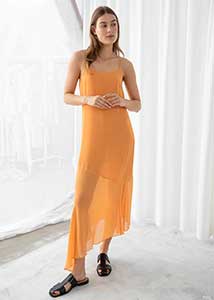 8. & Other Stories
Ethical chops: Recycling program in-store, public sustainability commitment.
Location: Stockholm, Sweden.
Price: £40-130
Like COS, & Other Stories are owned by parent company H&M and also like COS, they have almost total autonomy from their attention-grabbing celebrity ma, a bit like Frances Bean Cobain. They may fly under the radar but & Other Stories have looked like pioneers from their early days when they started in 2013, partnering with Sonic Youth's Kim Gordon, Swedish art-pop siren Lykke Li and LA art activism hub the Deep End Club.
Expect to pay a little more than other high street outlets for their sussed, retro-leaning occasion dresses but you will have the consolation of knowing that you will be in good hands. Their transparent recycle program, commitment to reduce direct and indirect carbon emissions and use of renewable energy make it one of the better brands on the dead kid front. You never know when one of those is going to turn up in the fashion game. It's like a dead hooker at the hotel hosting the Republican convention. No one wants it to happen but it's just a matter of time.
SEE HOW IT ENDS AT & OTHER STORIES
---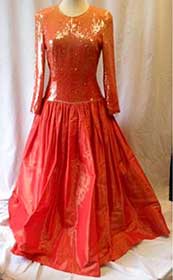 9. Oxfam
Ethical chops: Being Oxfam.
Location: Oxford, England.
Price: £00.50-£100.00
Not many companies can match Oxfam for ethics (if you ignore their overseas male staff members sticking their dicks in Haitian sex workers which, by-the-by, you really shouldn't). That particular patriarchal stain aside, their track record is solid as you could find. Coming from the British Quaker tradition of social reform, their work to alleviate global poverty has spanned continents and the past 80 years.
More informed customers have known for some time that they are useful for much more than just the occasional sweater, blouse, handbag, fruit bowl or plate set. They have some quite spectacular numbers for formal occasions that you would be unlikely to find anywhere else. If you like fashion with a history, it's exactly where you should start. It is worth travelling to a branch in a bougie area – the pickings are likely to be significantly fatter, like your mom after she had you. There's nothing like showing up at a shindig looking like Lucrezia Borgia and telling everyone you spent less on your outfit than Bobby Brown spends on his kids.
---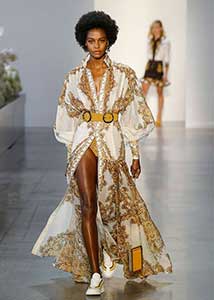 10. Zimmermann
Ethical chops: Suppliers code of conduct, covering the ILO's Four Fundamental Principles, all factories assessed by third-party auditors.
Location: Sydney, Australia.
Price: £350-2,650
So, I'm the kind of dame who will leave the best till last and in this instance, it means encouraging you to purchase a dress that will saddle you with life-changing crippling debt.
You don't pick up these once-in-a-lifetime numbers on a whim. The kind of dress you would only wear if you're trying to outshine Cersei Lannister, collect your first Oscar or attend a ceremony where you attain actual demigod status. Let's not rule anything out though. Life will throw up those opportunities from time to time and when they do, Zimmermann's monstrous range and prices will have you covered.
The luxury Australian brand scores well in the policies and auditing supplier relationships with Baptist World Aid's ethical fashion report giving them a B- overall. Given that Zara Tindall was the star of the show at Royal Ascot in a Zimmermann sisters dress you know that these ones won't be available for pennies.
But eff it – you only live once right? What else are you going to spend it on – your husbland, your shitty kids or insufferable friends?
---
I'm out, bitches. See you on the other side.