Introduction 💢
You would think it would be easy. You would think for once we could catch a break. After a week spent dodging unethical jeans, immoral formal dresses, imbecile influencers, urine guzzling turncoats, Poundshop Paltrow fish killers, antiscience tofu deniers, vicious goat shaving sweaters, shaving brushes made from badgers' pubes, wrong-headed bicycle equipment and problematic paint, it is not unreasonable to think that you could relax of the weekend, crack open a tinny and get rat arsed in the certain knowledge that it is not on the back of animal suffering.
Foolish vulcan! You should know by now that nothing is easy. Bloodmouths infect every corner of our lives. Eternal vigilance is the price of being a high-functioning drunk. One of the problems we will face is that alcohol is often exempt from the stringent labelling standards food manufacturers are held to.
Being an ethical boozehound comes trickier than you think but is absolutely worth it. Check out this indispensable guide to ruining your life the right way.
Vegan wine 🍷
Whether you're pairing that sauvignon blanc with zucchini stroganoff or necking a crate of Blue Nun to get over your borefriend spaffing over that cocktail waitress, you'll know that choosing the right wine is an essential life skill for the grown adult. And, like you've always said, the great thing about wine is it's just fermented grapes, harvested from God's own vineyard, trampled by the stinky rustic feet of Iberian peasants and there's literally no chance of any ethical missteps in its production, purchase and consumption.
Well, you can just shut your stupid mouth eternally if you actually believe that pile of cack. Because choosing the right wine is as dangerous as driving with a Kennedy brother in an open-top limousine across Chappaquiddick Bridge with poorly-calibrated brakes. Let's take a deep breath and look at the animal products that are frequently used in the production of wine.
Isinglass 🐟
A protein obtained from the dried gas bladders of fish; isinglass is used primarily in the fining process. It performs as a binding agent, locking onto excess tannins making the wine clearer, more stable and more drinkable1, making everyone happy. Everyone, that is, except the orphaned children of the pregnant sturgeon who was hooked up by her throat, choked to death, split asunder and gutted for your 0.34 seconds of pleasure, you fish murdering skunk.
Glycerol (glycerin) 🐄
This is a slightly tricky one (so often the way). Glycerol is a sugar alcohol derived from animal products, plants or petroleum. When it is gained from animals it is usually in the form of tallow (rendered beef or mutton fat). Tallow achieved brief notoriety in 2016 when it showed up in the new £5 notes in Britain. An almost literal case of your money or your life.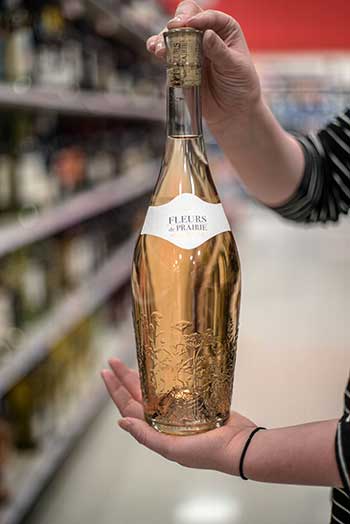 No sane person wants a mouthful of cow or sheep when they're getting shitfaced but it is more common for glycerol used in food and alcohol production to be plant-based.2 In that case it is usually gained from palm, soy and coconut oils. Palm oil, of course, comes with its own particular ethical minefield – just some minor cases of pesticide and slavery in the supply chain. Regular, everyday stuff.
And the tricky thing about glycerol is that there is no simple way to tell whether the type used in your wine is animal or plant-based. You simply have to ask the manufacturer and hope you get a response. That sounds like a whole lot of trouble so the advice would be to pop over to the excellent wine database at Barnivore and see exactly what's got into your bottle.
Albumin 🥚
Man, we just love us some eggs as a species. In the more enlightened future, our descendants will write PhDs (or their Buck Rogers in the 25th Century equivalent) on our fixation with consuming the products of chicken's menstrual cycles. To them, we will look like Pliny from Histor's Eye, Sky's xenophobic time-travelling crow by Lee and Herring on This Morning with Richard Not Judy – forever shouting incoherently about eggs.
It is therefore not at all surprising that egg whites show up with alarming regularity in wine production. Being high in the protein albumin, they are useful in the application and stabilisation of wine as albumin absorbs many of the harsher tannins so as not to offend the delicate palates of wine lovers.3 You have to wonder if anyone was really bothered by the tannins before some genius dropped a hen period in there. It's a kind of chicken-and-egg situation I suppose.
Casein 🧃
Long-time readers will remember casein from our vegan paint piece. The artistic use of the protein casein goes back to cave paintings which is pretty appropriate given that only a caveman would consider its use ethical. Casein comes from cows' milk, squeezed from the unwilling tits of some poor bovine bastard you'll never meet who non-consensually gave up their udders to be molested indefinitely so that your shitty landscape watercolour might dry slightly quicker or your wine might taste slightly different. Congratulations, cow fiddler!
Once again, casein is used as a fining agent in red wine which is quite ironic given what it does to your filthy diseased soul.
Chitin 🦞
Who would crush a crustacean? The disgraceful abominable crab killers of the wine industrial complex, that's who. Another of their fining agents is chitin, culled from the haunted remnants of crushed crustacean shells.4 So just remember that when you're enjoying yourself at that wine and cheese evening at your borefriend's boss's place he insisted you go along to so he could make some abysmal token attempt at networking, the innocent scampering shrimp, lobsters and gribbles whose watery graves you thoughtlessly dance upon.
Vegan beer 🍻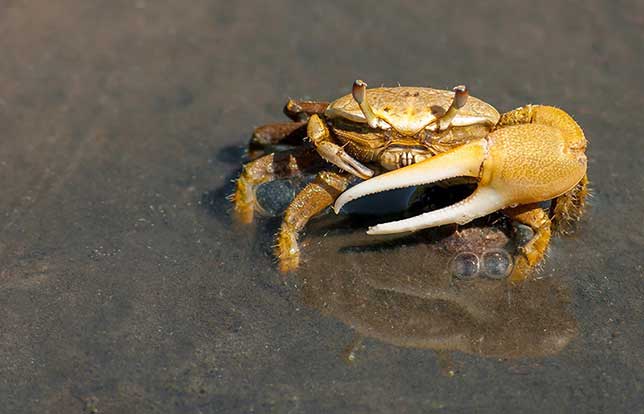 This far into your alcoholic education you probably feel like you've gone 12 solid rounds with Oliver Reed, Shane McGowan and Cat Power. Congratulations on making it this deep into the boozy abyss. And suck it up buttercup because we now move from the wine bar to the beer tent.
If you still have one-tenth of your wits about you it will not surprise you to learn that the aforementioned isinglass, gelatin, glycerin and casein are the main culprits in beer production. But just when you think the alcohol industry has reached the depths of depravity it says "hold my drink." We still have a ways to go.
Cochineal 🐛
So, you're an innocent South American cochineal beetle (Dactylopius coccus to taxonomists and Richard Dawkins) gently feasting on the prickly pear cactus abundant in your region. Although you only have a very limited consciousness, those red cactus berries sure taste good! Why, you eat so many that they colour your body a startling crimson.5
But soft, who approaches this warm evening? It's a friendly human giant! Oh wait, he's harvesting you and your one million cousins to kill you and use your body dye to make a sickening hipster beer pink. Those berries don't taste so good no more.
So yes, like domestic abuse "victim" Johnny Depp's early career, cochineal is made from beetle juice. Keep an eye out for it and the countless insect ghosts who haunt its production.
Pepsin 🐷
Everybodya loves a good head on a beer. Say, I hear that pepsin is excellent for enhancing foam stability – how about we stick some of that in? Well done, you just condemned a pig to an alcoholic grave. Pepsin is typically made from the rennet lining of a pig's stomach.6 Not to point any fingers but if you've ever asked for more of a head on your beer you've killed more pigs than swine flu. You are a porcine war criminal.
Fortunately for us, though those psychopaths at PETA have compiled a list of vegan beers Thank you, you dangerous lunatics!
Vegan spirits 🥃
So, with a few pints inside you, you are now ready to graduate to the top shelf. As the alcohol content gets higher, the chance of consuming an animal gets lower. Practically every vodka, whiskey, gin and rum you come across will be as vegan as that whole foods store dork with the I AM VEGAN! T-shirt, the Shambala wristband and iron-deficient death glare.
But let's not pour out the Jell-O shots with gay abandon just yet. There are still a few significant depth charges laid for us even among the calmer shores of the spirits section.
Spirit dairy 🍸
One of the biggest problems is they keep on putting some cow cream in our cocktail glass. It's a goddamn shame that Baileys Irish Cream contains dairy as, by any sensible standards, it is a magnificent drink. Still, at least they have the decency to produce a vegan alternative Baileys Almande. If you want the gold standard vegan cream liqueur though, nothing comes close to the brandy and tigernut milk miracle that is Besos De Oro.
Bloody eggs, again 🥚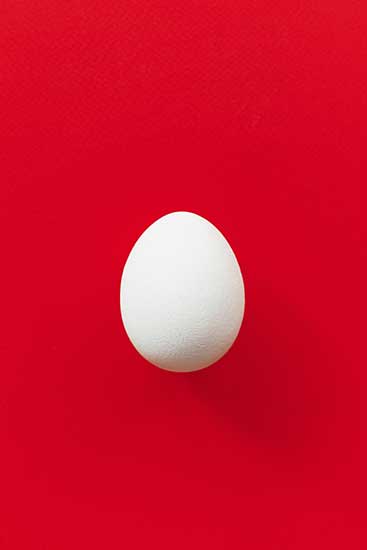 Not content with merely stuffing egg whites in our wine, that favoured tipple of the Christmas dipsomaniac Advocaat contains egg yolk. Seriously, how did eggnog become a thing?
Your options are to avoid it altogether or the more adventurous to try out the vegan Advocaat recipe right here.
Also be aware that aquafaba is a popular egg white vegan substitute in cocktails, one that outperforms albumin on both utility and price, as you can read here.
Honey high 🍯
Yeah, you knew honey was gonna make an appearance at some stage. People have been using honey to get stoned since the days of mediaeval mead and despite the Enlightenment, civil rights and animal rights they persist to this day. Fair enough, it doesn't rank on the shit scale anywhere near factory farming but if your beer brand has honey adding to its flavour and character, then it is built on the backbreaking labour of blameless bees and is BARE not OK. Goddamn you, Hair of the Dog Doggie Claws, Bell's Hopslam, Pipeworks Crimson Snapper, Jackie O's Wood Ya Honey, Pipeworks Sunburst Peacock, Dragoon Sarcosuchus, Siren Bourbon Milkshake, De Molen Hutje & Mutje Woodford Reserve Barrel Aged, Olde Hickory The Event Horizon and Brenner Witchcraft Imperial Stout. The only thing worse than your stupid names is your stupid enslavement of the bees.
Cocktails 🍹
So somehow you made it into the high-end cocktail bar, despite having drunk your own body weight in a relatively short space of time. Does this mean your ethical standards will slip? Almost certainly, but bear with me on this one. Because while the devilish potions mixologists conjure up do contain hidden heathen dangers, fascinating solutions present themselves in the most unlikely of places.
The excellent people at Barnivore confirm that a Black Russian is okay if made with Kahlúa. The same can be said of its more media-friendly counterpart Tia Maria.
As for its caucasoid cousin White Russian well clearly you can't neck cow tit juice like your life depends on it. However, with a bit of work and help from the Internet, you can follow this recipe by creating your own cashew cream. The lengths you people will go to, to get yourself drunk.
Bone char 🦴
Much of Project Cocktail is an elegant dance between the bitter and the sweet and it is among the sweet that we encounter a familiar hurdle. Once you're sticking sugar in your drinks, you're running the risk of supporting bone char filtering, a common practice in the industry.7 Bone char is typically made from ground cows' pelvic bones which sounds a right laugh-a-minute, particularly if you're the cow donating the pelvis. If you're buying sugar yourself then the labels Beet, Unrefined, USDA Organic (in America) and Raw will all guarantee that the sugar has not been bone char filtered.
Vegan Soft Drinks 🥤
So, you're lying facedown in a pool of your own puke and regrets. This drinks session was the best idea you ever had! That notwithstanding, it may now be time to take advantage of the hydration, sugar regulation and caffeination properties of soft drinks.
Needless to say, if you think soft drinks are a free pass then you are more mistaken than Laura "A-levels" Spence when she told her friends "I'll get into Oxford for sure and leave all you losers behind!"
The soft drinks industry lures you in with promises of carbonated joy, then drenches you in pig's blood like Stephen King's Carrie. Watch these shysty dudes.
Coke is it (partially) 🧊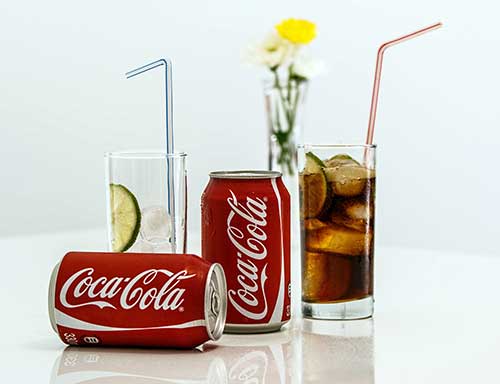 Let's start with the big dick-swinging apex predator of the soft drinks market, the Coca-Cola company. Their red-and-white flagship product Coke is confirmed vegan but they confess on their website that other products of theirs are more problematic.
"If you're a vegan or vegetarian, you should know that a few of our drinks do contain small traces of fish gelatine (which is used as a stabiliser for the beta-carotene colour). These drinks are Lilt, Lilt Zero, Kia-Ora Orange Squash No Added Sugar, and Schweppes Orange Squash."
Transparency is all we ask for, you transnational filth.
Pepsi, challenged 🧃
Speaking of corporate scum, how do their sworn rivals PepsiCo shape up in the ethical stakes? In their great tradition, not quite as well. While full-fat Pepsi gets a full vegan tick, Diet Pepsi does not and it's not entirely clear why. All PepsiCo will say is "We can confirm that regular Pepsi and Pepsi Max are suitable for vegetarians and vegans. Diet Pepsi is only suitable for vegetarians as it contains traces of ingredients that are not suitable for people following a vegan diet."8
I dunno, man. If you can even tell the difference between Pepsi Max and Diet Pepsi then you're a better man than The Savageb but apparently there's some massive life-changing difference – life-changing if you've got four legs and live on a farm, that is. You learn a new thing every day.
Fruit juice 🍍
But fruit juice is OK, yeah? It's so natural! And so healthy! It's as natural and as healthy as white psychopath fruit fetishist Freelee The Banana Girl and what's more natural and healthy than that ignorant cracker?
In a quite stunning twist, it turns out that following the habits of orthorexic goons is not quite the guarantor of ethical good health you assume it will be. Some fruit juices out there come from fruits covered with shellac, resin harvested from the lac beetle. So, for example, Wagamama will be lac-king a vegan tick for the foreseeable future. And don't even get me started on Golden Circle a.k.a. Golden Shower and their beefy fruit juice.
Conclusion 💫
So there you have it. Follow these guidelines and you'll have liver cirrhosis, delirium tremors, clinical depression and an increased risk of stroke, diabetes and cancer but you will have a clear conscience something you cannot, at the time of writing, buy.
I've been The Savage and you've been a disgusting rummy wreckhead. Keep at that.
Endnotes 📕
a Counterpoint: not everybody loves a good head on beer.
b Fuck you. There is no such thing as a better man than The Savage.
Footnotes