Listen up nerds, living in the kind of hovels I can only assume you do, it is a racing certainty that at some point the shame and self-loathing that your stepdad beat into you will manifest itself in an unquenchable desire to redecorate. Who could legitimately have any problem with that? We all know that environment affects mood, diet and suicide rates which, if you've ever spent longer than 30 seconds speaking to a PETA member, you'll know is an ever-present threat. When you're fixing to reboot your bullshit life, a lick of paint, varnish and wallpaper that doesn't look like it was designed by Helen Keller could be just the trick.
And how about that paint? What do we fancy? Freshly ground chick yellow? Cow guts crimson? Piglet brains beige? Yeah, that's right you filthy skunks. That magnificent decor project you've got planned is built on a pile of hollowed-out skulls of 100 million American Bison. My God, you're appalling. So, before you go full Ed Gein and splatter death all over your walls, how about you do the knowledge on exactly what you're dipping your brush in. Why don't you make like Brad Pitt blubbing like a little bitch in SE7EN and scream "What's in the box tin?"
Screw that – just show me the paints
Animal products in paint
Casein point
So, what have we got in the paint killing fields? Let's begin with that old stalwart of dumb questions bloodmouths ask "where do you get your protein???" In the case of paint, it's usually with casein, a protein derived from cow's milk. Casein is breathable, fast drying and durable, making it a popular component in paint. But as you can imagine, no record exists of cows' permission for the daily sexual assault of their udders, lifelong theft of their milk and intergenerational slavery of their families so casein produce comes very firmly under the category by-products of the dairy industry which have elements most vegans would find problematic.
Shellac
Not to be confused with Steve Albini's post-hardcore outfit, shellac is a resin often used as an undercoat (or primer) in painting as well as an excellent wood finish. Who doesn't love a good undercoat? It provides a neutral colour, an even surface and creates greater adhesion. But resin doesn't just grow on trees (except when it does), it is frequently drawn from insects. In the case of shellac it is derived from the female lac bug, scraped from the bark of trees where the lac bug shits out shellac like dipshit contrarian Brendan O'Neill shits out hot takes on Spiked. Now, whether puritans like it or not, the fate of the lac bug and its endless stream of shellac shit is not particularly high on the priority list of most vegans. So, if you're thinking of naming and shaming a comrade for that old shellac tin under the stairs then you best believe that this is not a hill you'd want to die on. That said, shellac cannot be said to be vegan in the strict sense. The Savage will leave that decision up to what passes for your conscience.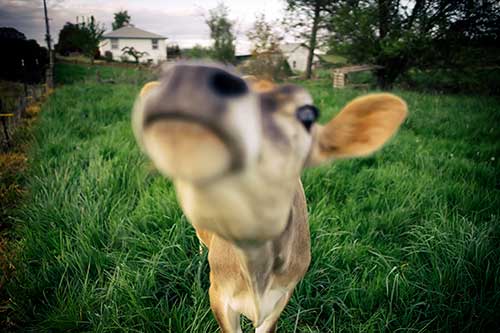 Beeswax
Better mena than The Savage have been through the "is eating bee poo vegan?" wars and lived to tell the tale so let's not dwell on that particular turd joust any longer than we have to. So when you learn that many household paints use beeswax as a binder, you will, being one step ahead of the game as a PBS regular, be crowbarring the lid off that 18-gallon barrel of Dulux off-white to empty the contents over the heads of some passing schoolchildren in protest. Literally, who do these people think they are?
Won't someone think of the animals?
Further to what's actually in the paint, it should surprise you not one jot that some paint materials are tested on animals. If we are talking about raw materials, then all latex-based paints have elements that have been tested on animals prior to manufacturing. So even when the paint itself has not been animal tested, it is difficult if not impossible to give it a fully clean bill of health.
This does not mean that you simply throw your hands up in despair and proceed to paint the walls with your own shit like an IRA prisoner seeking political status. The most widely accepted vegan definition only requires that you do what is "possible and practicable". "Do the least damage you can," should be your guiding principle. Think you can handle that? Sure you can.
When eco-friendly is bad.
Never let it be said that The Savage is not eco-friendly. Being eco-friendly is in this site's very DNA, founding principles and daily practice. Paints described as eco-friendly, however, are generally not vegan (and they may not be entirely eco-friendly – a discussion for another time). Typically, eco-friendly means a minimal level of volatile organic compounds or VOCs and toxic chemical compounds like titanium dioxide. All of which is to be applauded but while those eco-friendly paints are being tested on Mister Ed, Rin Tin Tin and the entire cast of Green Acres they are worth a swerve if you're serious about ethical decorating.
---
Recommended paints
So, with all that said, what are your best bets? Of course, you will get companies doing a single vegan paint, sitting there alone on the shelf like Princess Diana at the Taj Mahal. Kreidezeit offer an organic vegan wall paint and Auro do the same in multiple colours but companies that pump them out as part of an ethical policy? Your boy The Savage has you covered.
---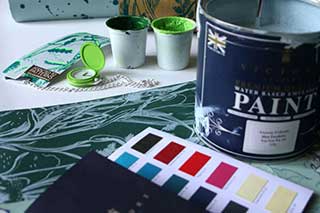 Victory Colours
Based in Lancashire, England, brother-and-sister run family business, Victory Colours pride themselves on their environmental record and they do seem to be walking the walk. Rather than flog you a shitty sample pot to stink out your kitchen, they give you a free hand-painted sample panel which you can order online. "We have embraced new and innovative technologies to formulate water-based paints which have the lowest environmental impact as possible," says managing director Victoria Yardley, "We can truthfully claim that our products have never been tested on animals". Beyond having no animal products and no animal-tested ingredients, they also tick the boxes of solvent-free and virtually VOC-free with a respectable range in their palate. In a victory for any house pets you may have, Victory paints are virtually odour-free which is more than can be said for you after 30 seconds painting in this, or indeed any, weather.
---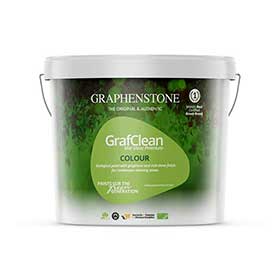 Organic and Natural Paint Company
The company was set up by normal-for-Norfolk father-of-two Chris Ridley in 2012 after cracking open tins of paint set his family struggling for breath like Jeffrey Epstein every time a cheerleader squad passes by. Organic are the people that Meghan Markle reportedly went with when she was decorating the nursery for Prince Joffrey, first of his name. That's the kind of publicity you can't buy (unless you know Sarah Ferguson) and features in Vanity Fair, Elle, Grazia and Vogue have made them the front-runner in this growing niche. Reports in the British press suggest that Markle is destroying the monarchy from within so keep an eye on this trailblazing vegan influencer. Expect more stink pieces in the press as her leverage grows.
Even before the intervention of the republican psychopath though, Organic earned their props with detailed and transparent policies and a decent range of vegan colours. Each paint on their website comes with a free downloadable tech sheet containing green features, technical properties and instructions for use.
---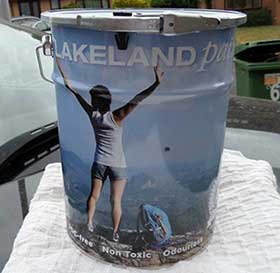 Lakeland Paints
Lakeland have been in the game for a minute – over 30 years if you're counting. They can legitimately claim to be the O.G. of ethical painting. Even in the early days, they set about creating the world's first odourless VOC-free paint and they continue that tradition today by making all their products vegan. They promise "No casein, shellac, beeswax, tallow, gelatine, isinglass etc," and that "All of our products are totally vegan nor, as far as we can reasonably ascertain, neither have any of the ingredients ever been animal-tested, at least as far as records go back, i.e. the last 25-30 years". Given that 30 years ago vegan paint was as small a niche as James Corden/Johnny Vegas slashfic, it's a pretty good indication that Lakeland are in it for the long haul.
Their satisfied customers include Westminster Abbey, the Sorbonne and Liverpool's Women's Hospital so they seem to have the god botherers, nerds and moms demographics sewn up. If you were inclined to stick your brush in a strange tin, they have 180 colours to choose from.
---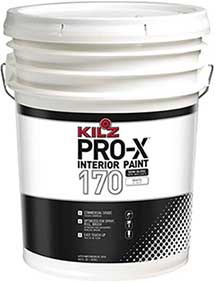 KILZ®
The KILZ® brand has been around since 1974 and is owned by the Masco home improvement giant (currently 373 on the Fortune 500, if you're counting). Most ethical consumers will have an instinctive mistrust of your common-or-garden transnational but don't let their E-Corp from Mr Robot status fool you – KILZ's ethical chops are pretty strong. "We do not test any of our products on animals, nor do any of our ingredients come from animals," they assure fretful punters.
Like all American companies, it is required to comply with Registry of Toxic Effects of Chemical Substances (RTECS) testing guidelines so their hands will be tied on some substances but they are happy to provide a Safety Data Sheet for any given product you're considering purchasing. KILZ® is stocked in Walmart so it shouldn't be too hard to track down.
As an aside, they are subject to the California Transparency in Supply Chains laws so you can rest easy – you won't find Solomon Northrop and Jim from Huckleberry Finn heading up their Missouri operation.
---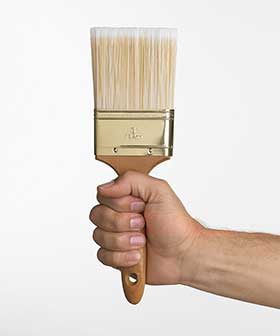 Brushing up on ethics
You knew this one was coming. Because unless your name is Jackson Pollock, you'll be using a paintbrush and paintbrush manufacturers use BARE animal fur, blood. The chances are, that paintbrush under the sink is made with Chinese boar bristle and you don't have to be a psychotic racist like Morrissey to believe that being of Chinese origin doesn't bode well for brere boar. Horses, badgers and squirrels also have their fur harvested to wind up on some homo sapiens sap's brush. So, when you come upon a paintbrush that has the cosy-sounding "natural bristle" in its name, you are fully justified in ripping it out of the packaging and brutally beating the salesperson around the head with it.
We like to keep things simple here at Plant Based Savage due to our limited energy, finite patience and heartfelt belief in eco-efficiency. In a nutshell? Synthetic bristle is the way forward. The received wisdom was always that natural was the better option for painting, particularly among paint professionals but technological advances mean that this is no longer the case. Often, synthetic will now be the more practical and ethical choice, particularly for water-based paints. Although many pros will still favour natural bristle for oil-based and solvent-based paints you can still do a bang-up job with oil paints and a synthetic brush. We are vegans, blood. We make do and mend. What is lost in convenience is gained in clear consciences and healthy cholesterol levels.
Newsome Tools
So, hats off to Newsome Tools trade paintbrushes which, much like you with your girlfriend, offer a range of half-an-inch to 4 inches, on brushes with sustainable bamboo handles and 100% synthetic bristle. Rise up with a full heart and get painting, you animals.
---
Endnotes
a Fuck you. Even if there were such thing as a better "man" than The Savage (which there is not) he would have tracked him down and murdered him in front of his family, taken up with his widow and raised his kids to face him like a MAN.
b This is possibly not the case.