Old dirty bastard
After an emotional week two, we enter the finale like a Catholic priest entering an altar boy – roughly, haphazardly and with no remorse at all. If we have learned anything at all from this absurd clusterfuck it is that the Merthyr regulars don't like being told what to do. "We don't like being told what to do," says one, "We will not 'ave it – WILL NOT 'AVE IT!"
No one is more acutely aware of the collective failure to win hearts and minds than Jodi. These are her people, more or less, yet they seem further apart than ever. No despair infects her mind, though, for Jodi has one last ace left to play. She happens to know a local legend celebrity vegan, popular with everyone, just champing at the bit to be thrown into the fray. Say hello to Matt Pritchard, The Dirty Vegan – exactly the kind of bags-of-personality character you want on your side in the culture wars.
Spit the dog
When the gang fill him in on their journey so far, Matt is unsure about the pledges. It may be that they are incoherent, unverifiable, fatuous or a reliable index of precisely nothing. Maybe all of the above. In any event, Matt prefers to make vegan food as appetising as possible then give it away. Say, you know what would be an idea? Nab one of the stalls on Merthyr Market Day and force-feed those yokels vegan hotdogs till they burst. The plan is put in motion.
But of course, a day's not really a day if Joey isn't enacting some naff stunt and today is no exception. He constructs a small display with a toy husky dog being spit-roasted over a barbecue. There's just a touch of fake blood around the neck to let the public know that this was once a living, breathing creature.
Once it's done, Rikki scuttles over and spunks Asda ketchup over the dog to really give it that Halloween molester clown vibe it was missing. Everyone silently crosses off another item on the ever-diminishing Things Rikki Can't Fuck Up list and goes on their way.
When they get to market, Matt and Jodi discover that their pitch in the markets is opposite a butcher's van. Oh my God! What are the odds? Well, given that it's a market and the popularity of meat vs. veg is I'd say roughly 2-1, indicating a 33.33% chance of it happening. So, not that exceptional really.
Still, they hit the ground running with Matt showing his worth pretty quickly. He bellows out, advertising their wares with the kind of relish the vegan hotdogs are served with: strong. They are not half bad. Rikki tries to bully a hungry local fat lad into eating one but he won't have it. Jodi talks to a fat girl who apparently knows a ton about nutritional education, mostly the bit about beef dripping being its own food group. At the turn-of-the-century, Merthyr was named the unhealthiest town in Britain and by the look of these two, sod all has changed.
Matt's celebrity status though, ensures that the hotdogs are flying off the stall. The worthless pledges reach 101 and even the most sour of begrudgers would have to chalk this one up as a win.
What about Joey though and his spit roast of doom? It's hard to say. The market regulars shuffle around it and regard it with a look that seems to say "that appears to be a toy dog with what looks like budget ketchup poured on it, being fake spit-roasted over a barbecue. I wonder what that's in aid of. He must really hate dogs. It's at times like this, you start to wonder about your own place in the scheme of things. Christ, no wonder we are all so bloody depressed."
Joey looks on all "made u think" and he's right, he did.
Love is the drug
With a bit of free time to kill and no one pleasant to do it with, Matt and Joey hang out to see if they can't find some dank commonalities. As it turns out, their addictions to booze and drugs prove fertile ground for bonding. Between them, they've done more 12 Steps than a Barrymore and are both well drilled in the endless self-analysis and narcissism vital to any recovery programme. Matt takes Joey to the nearby Gurnos estate, a place more readily associated with baby killing than vegan activism. It feels like a punishment.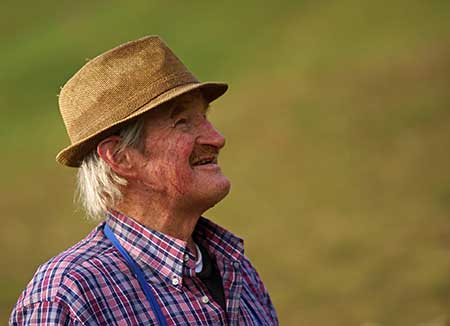 Nonetheless, Matt assures him that the Gurnos natives are the very salt, slate, sand and gravel upon which Wales is built. A young likely lad wanders up to talk, chomping on a kebab. They get chatting about why a typical estate resident might not be that arsed about veganism and yer man explains that being poor, uneducated, despised and malnourished comes with attendant challenges thrown at you daily. These drain the finite resource that is your energy, leaving you with less of a fuck to give than a casual observer might ever imagine.
It's a big epiphany for Joey. People have lives! Often shitty ones! And concerns that understandably have priority over those of a wokescold psychopath they've never met! He starts to realise that his online massive of vegan stormtroopers might not be representative of society at large. He confesses that he is often a lonely person, one without many real-life attachments.
"I have to be ready to annoy people anywhere in the world at a moment's notice," he says. "The meat industry doesn't sleep so neither can I."
Soy boy
Joey's journey of self-discovery continues when he is invited into the home of lone parent Gemma. Joey's done a lot of good work in the community back home with unmarried mothers so this should be right up his street. He gets to work right away, cooking up a storm with dehydrated soya protein, the bargain basement meat replacement many overlook on the grounds of it being shite. In no time at all, he rustles up a cost-effective vegan spaghetti bolognese which he feeds to an eager Gemma.
 "It's not a bad taste, I'll give you that," she says. As ringing endorsements go it's up there with "you don't sweat much for a fat lass". Video nasties of mommy cow chasing after baby cow stolen by Big Dairy don't sway her as she declares them fake news. Sad!
"I won't be turning vegan anytime soon," she says.
"Another partial success," says Joey, Professor Piehead style before exiting stage GTFO, proverbial tail between his legs. It's the Cube of Truth all over again.
Farmer Dan
But soft, what is this whisper carried on the wind? An invitation to the belly of the beast? You try getting Dan to turn that down. Farmer Abbey has kindly allowed the cameras and a baldy northerner into her dairy operation. Dan walks through the gates like he's entering 1944 Belsen and clearly expects his experience to look like a PETA montage of cows being kicked in the tits, whacked in the noggin and forced to lez off for the entertainment of the farmhands. Abbey though, presents a sanitised, almost humane-looking process where smiling cattle sign lengthy nondisclosure agreements before being petted, milked and grazed. It's all quite disarming and, being new to the activism business, Dan lacks the machine-gun stats and rapid rebuttal skills of Joey. He may have made a new friend but the Stepford Cows of Abbey Farm are all dead by the time you read this sentence.
College education
Perhaps that's because in the end it always comes down to the food. You can talk about cows getting slapped, forests going up in smoke and impending apocalypse but nothing turns heads like a vegan sausage roll that doesn't taste like ass. With this in mind, Jodi bum rushes the local college and bullies them into turning their kitchen fully vegan for a day. There's fish fingers, sausages and burgers, all of them plant-based. 79 vegan meals are sold and the dinner lady tells them that, from September, they will have vegan options on the menu. There's no need to sugarcoat it – one of their bullshit ideas actually worked! Not even Joey's washout talk with the students can spoil the mood. The pace may be glacial but change gonna come.
Wrapping things up
As the three-week odyssey comes to an end, it's time for the big reveal. Exactly how many worthless pledges did they get from the Merthyr massive? 197. Yes folks, 197 – the 45th prime number and just three short of the double century. It is impossible to underestimate how fatuous this moment is.
Like Christ and the disciples, they have a last supper together. Everyone tells Rikki how proud they are of her and she starts crying. She vows to destroy the family business from within, leaving herself, her siblings and her mother destitute. She is carried aloft by the gang through the streets, chanting "fuck the burger van!" and "die, bloodmouth scum!" It is a fitting end.
With depressing predictability, farmers have complained about Veganville. It was probably doing something right.