Only way is up
What up, fam? Take a moment if you would and assess the current state of play in this thing of ours. Circumnavigate the vegan sphere and you'll see multiple responses to the cucknivore problem, the meat catastrophe, the omni fallacy. Berating dopey influencers? Don't mind if I do! Schooling young 'uns on how the pengest chicken caused the coronavirus? Always an option. We might add the adoption of lab-grown meat, lab-grown dairy and pineapple leather to the list. That's all swell and hip but have your thoughts ever turned to the air around you? Chances are they haven't. Some people say not to worry about the air. Some people never had experience with aiiiiiiir. Such people can be safely ignored, shunned even.
I get it. You probably give Earth's atmosphere less thought than malfunctioning fembot Jameela Jamil gives to any given thing that pops into her head on its way to her mouth, Instagram or Twitter account. Yet it is precisely to the sky above us that cutting-edge scientists are looking in the quest to clean up the mess the carnist beasts made. With venture capitalists backing their play it's starting to look like more than just castles in the air.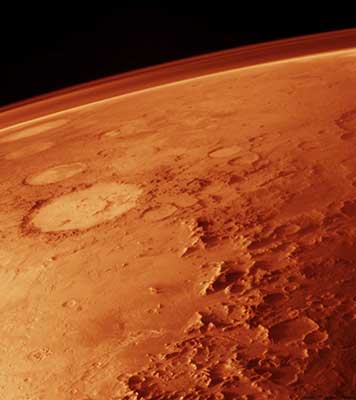 Dyson cleans up
California start-up Air Protein has been in the news recently after it raised $32 million in Series A funding for its Frankenfoods experiment attempting to create meat from the air around us. Co-founder Mary Dyson comes with an impressive CV. She has a PhD in theoretical high energy physics from MIT and has researched at Stanford, Berkeley and Princeton. She has done the science. She has given the TED talk. She has been mentioned on Joe Rogan Experience.¹
BRENDAN SCHAUB: You know this vegan lady who's eating air?
ROGAN: Whoa! She should train jujitsu, man. Has she tried DMT?
Space oddity
Sounds like a crazy idea, right? Like a Black Mirror episode written by Tim Shieff. And yet its provenance goes way back to another time, half a century back – a time of Grace Slick, oil slicks and pick-n-mix. During the 60s and 70s, NASA scientists picked up the bag of shit President Kennedy dropped in their lap with his literal moonshot speech and ran with it. They searched for a way to feed astronauts on long-haul flights to destinations like Mars, Venus and the Outer Planets Alliance. The answer came in the form of single-celled organisms called hydrogenotrophs. These wonderful little bastards, the theory ran, would capture the carbon the oxide breathed out by the astronauts and convert it into a "nutritious, carbon-rich crop". The crop would be consumed by the astronauts and then the carbon dioxide they breathed out would create a virtuous circle closed-loop carbon cycle, as explained by Mic the Vegan here. The results were incredible. Nobel prizes were dished out like candy, America first landed on Mars in 1978 and a carbon bolstered super race of Martians colonised the Red Planet in the 1980s.
Don't eat Mars
*touches earpiece* Ah. Apparently, that didn't happen. We got about as close to Mars as Dwight Yorke gets to Harvey Price, about as close as Toby Young gets to fulfilling male friendship, about as close as a cucknivore does to making his girl cum. Elon Musk had not yet started making electric Tonka toys for grown-ups or banging manic pixie dream girls and so mankind lacked sufficient incentive. The research was shelved and largely forgotten about until Dr Mary Dyson and her collaborator Dr John Reid were looking for big ideas to tackle climate change. Like flared jeans, sexually transmitted diseases and sodomy, carbon recycling was a derided 70s relic that, all of a sudden, seemed to have massive contemporary relevance.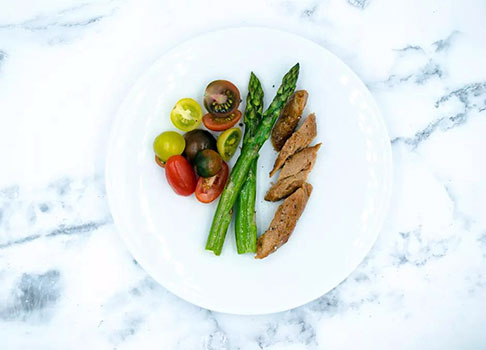 Dyson and Reid discovered that they could use the microbes to form amino acids – the very building blocks of life. Instead of resurrecting John F. Kennedy Junior to save the presidency Sleepy Joe stole from Trump, they elected to make a protein flour with a profile containing all nine of the essential amino acids. The flour comes from a fermentation process, similar to that used in yoghurt production. From there, the powder can be reconstituted into alternative pork, beef, chicken or seafood. "It will look like the standard meat you see on shelves today," says Dyson.
They didn't stop there. They made an oil similar to citrus oil which could be used in fragrances and flavouring or even jet fuel. Oil's a slippery thing, figuratively and literally. If the palm oil substitute they came up with were to catch on how much ecological destruction could that prevent? Well, I'll tell you how much: quite a lot.
Oh, what an atmosphere!
It may feel implausible but Air Protein are already working with manufacturers to bring some of these products to market. Microbe-made leberkäse in retail would indeed be quite the thing but Dyson has a bigger plan long-term. She sees the ultimate goal of the technology as transforming agriculture. Crops produced by hydrogenotrophs (which she calls 'supercharged carbon recyclers') have attributes that make conventional crops look like the incel cucks they increasingly are. They can produce in hours rather than months and can grow in the dark which means any place, any time of year. They will need 2000 times less water. They can scale vertically, massively increasing the amount of product. Dyson estimates 10,000 times more output per land area than you would get with soybeans. No more rainforests would have to be cut down to accommodate our ravenous appetites. And by "our ravenous appetites," I mean of course those of filthy rasclaat bloodmouths.
Foment fermentation
Microbial food, crops and by-products are more weapons in our arsenal and Air Protein aren't the only player in the game. In Sunnyvale there's NovoNutrients, in the Netherlands there's Veramaris, in Denmark there's Unibio. The research and development labs are hives of innovation. Some say it is evidence that the tide is turning. Naw dawg – the tide has turned. The Sun has a campaign to encourage its readers to eat less meat. Rupert Murdoch has been veganpilled. It's over for omnis. LOL at being a cucknivore in 2021. Just LOL.
¹ Citation needed