Introduction
Hey, you filthy skunks. You know, one of the things you will run up against in our line is the harsh truth that bad things are often good. Maple-cured bacon? Indefensible, but also awesome. Philly cheese steak? Saturated deathtrap, born of torture, but more appetising than three Estonian hookers whose only English is "yes, we do the weird stuff!" Nazi uniforms designed by Hugo Boss? Abominable, but goddamnit check those silhouettes and killer cuffs.
The lesson is that at heart we are filthy animals, no better than we ought to be. Bear in mind too that transgression itself has its own inherent appeal. That petri dish for warts and STDs Lemmy from Motörhead may well have claimed that he collected Nazi memorabilia purely for its aesthetic appeal but if you believe that then you're dumber than a BBC3 documentary presenter. Yes, I'm sure that if the United Nation's peacekeeping force had a cute iron cross as its logo, you'd be rocking that on your bass guitar too.
So fuck you, Lemmy and fuck you too if you doubt me when I say that the appeal of leather goes beyond its durability and immaculate aesthetics. You don't have to be a private fetishist or full-on Tobias Fünke leather daddy to be seduced by its bad boy appeal. You see young Brando or prime James Dean looking like a chump in a black biker jacket? Nah, man. You know this and you feel its pull despite the fact that as a staff, a record label and as a motherfucking crew, leather is pure shit-sucking evil.

Leather is sexually attractive
It's also evil
Faux leather has a long history
Plastic kills animals
Cork and mushrooms are boss
Vote LEAVES
Pineapple biomass can be reused
Ethics is growing
The Evils of Leather
While I am aware that this will be coals-to-Newcastle territory for many of you, Plant Based Savage exists as a permanent record, authority site and walking Wikipedia for the ignorant humble masses – a poor righteous teacher if you will. As such, he is duty-bound to cover material that will be blindingly obvious to his hardcore. Don't get aggravated or entitled, broseph. Feel free to skip ahead to the meat of the piece.
The conditions
It might be a cow in India, trafficked, beaten and poisoned with copper sulphate.1 It might be a shot and decapitated kangaroo in Australia.2 It could be a snake nailed to a tree and skinned alive,3 an ostrich punched in the face on its way to slaughter in South Africa,4 or a dog buggered, battered and skinned in China.5 Whichever circle of Dante's Inferno you happen to find yourself in, if you're an animal designated as leather you are as fucked as an altar boy in a room full of Christian Brothers. There is no such thing as humane slaughter.6 It is as corrupt and barren a concept as scientific homoeopathy, ethical influencer or funny Twitter parody account.
Tanning
Tanning is the process where the unhaired, degreased, desalted animal hides become leather. This is not a gentle or easy procedure. Chromium is the most popular tanning agent in the industry and it's got a toxic rap sheet as long as Flavor Flav's list of DUIs. Tannery workers exposed to chromium experience high levels of skin rashes, chronic bronchitis, gastritis and conjunctivitis.7 There is further evidence of them having an excess risk of multiple cancers.8 The foaming toxic wastewater from chromium tanning is pumped straight from the tanneries into farmland, poisoning the soil, vegetation and water table.9 Once it's in the water system, large amounts of chromium can cause respiratory problems, infertility and birth defects.10
It's a dirty business, poisonous to its core.
People still like leather
And here's the kicker: people still dig leather. It looks great, lasts forever and makes you feel like some noble savage who took out a charging bison with your bare hands to protect your family. You can berate the masses with creepy PETA videos featuring skinned dogs with their skulls caved in if you like. That's about as effective as demanding a MAGA rally use gender-neutral pronouns to describe their pets. Campaigning and consciousness-raising have their place no doubt but in the interim, like a team 2-0 down in the 70th minute with a front-pairing of Ricky van Wolfswinkel and Jozy Altidore, we need substitutes.
Enter vegan leather
And motherfucker they've BIN going on. One of the earliest faux leathers Presstoff dates back to the 19th century.11 Made from wood pulp, it was used to make things like straps, cases and belts. It was serviceable enough for accessories but anything heavy duty and it would fall apart like your boyfriend when he finds out what happened at your friend's wedding at the castle with the bride's brother. The 1920s saw the advent of Naugahyde, a composite made of a knit fabric backing with a PVC plastic coating. More durable than Presstoff, it took off as a cheap, long-lasting, easy-to-clean leather alternative for upholstery. As the popularity of faux leather skyrocketed, animal leather production all but ceased, the tanneries closed down and cattle across the globe spontaneously jigged with their captors.
The plastic problem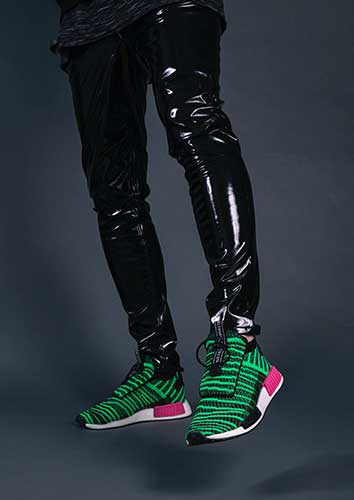 OK, that didn't, in the strict sense of things, happen. The problem is that the fossil fuel derivatives used to create plastic come with a toxic payload all their own. Petroleum is a finite resource, growing more finite by the hour and the drilling destroys wildlife and habitat like your infidelity destroys your borefriend's sense of self-worth. Then, the toxic chlorine from PVC is nonbiodegradable and the dioxins produced by chlorine production accumulate in the food chain. Those dioxins are linked to impairment of the immune system, nervous system, endocrine system and reproduction function. So every time you wear that PVC skirt you're leaving the planet with a cauliflower arse and a face full of cum. Thanks for that, Doris.
Wait, were you expecting cancer? Oh don't worry, our old friend shows up in the research. Dioxins are also linked to multiple cancers, particularly lung cancer, soft-tissue sarcoma and non-Hodgkin's lymphoma.12 Typically, this would be the point where you read about a marine mammal with one of his flippers permanently trapped in a Tesco bag, his vision impeded by plastic sunglasses and his blowhole bundle up with straws but I will assume that's already 98% of your Facecrook timeline and spare you the horror.
Putting a cork in it
So increasingly, ethical manufacturers have tried to limit the amount of fossil fuel-based faux leather they pump out. Many have opted to go down the tree route. Cork has been a favourite for vegans and eco-fiends over recent years, particularly for accessories. It is light, durable, waterproof and recyclable and the process of harvesting just the inner bark leaves the tree alive, just a bit skinned like Theon Greyjoy kept captive by Ramsay Snow. Cork bark regenerates itself and despite the claims of painfully unfunny vegan baiters, trees do not feel pain so it's all good. Jimmy Choo, Calvin Klein, Prada and Stella McCartney have all launched cork shoes, totes and wallets. It's what all the cool kids are up to.
Shroom, you take the day away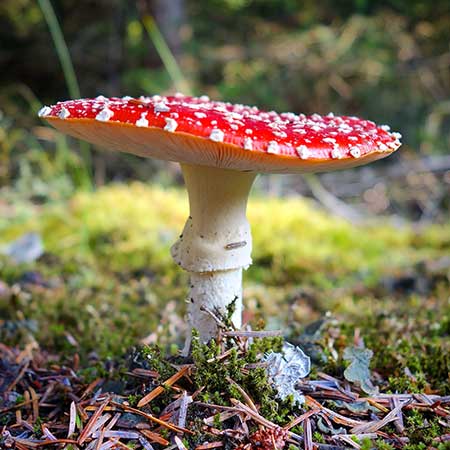 But what about the forest bed? Isn't that where the dank intriguing stuff really happens? Mycologists would agree. If you have ever come across the works of Paul Stamets13 you will be familiar with the idea of the mushroom as simultaneously a solution to depression, PTSD, industrial waste, oil spills and carbon storage. Fungus is a fun guy but for now we will deal with one of its more prosaic applications, mushroom leather.
Several shroomheads have been working on the fungus angle. Italian prototyping company Zero Grado Espace pioneered muskin, a material harvested entirely from the caps of gigantic parasitic fungus Phellinus ellipsoideus, which grows naturally in the forests of China.
Going underground
As fun as decapitating mushrooms to end fast fashion undoubtedly is, the killer properties of mushrooms lie in their underground root system mycelium. The world's first mycelium leather Mylo™, is harvested not from some faraway Chinese forest but grown in the lab, with mycelium cells growing on beds of agricultural waste and by-products. Developed by bioengineering company Bolt Threads, mycelium has the advantages of being strong, biodegradable and waterproof. Our boy Paul Stamets speaks on its ability to generate: "Once you have a mushroom strain in the lab, you can create cultures for hundreds of years. We can grow mycelium en masse, by the tonne, from a tiny piece of mushroom tissue that is one-hundredth the size of your little finger nail. We will never 'run out'."
Wine, like a little bitch
Intrigue deepens as we learn that The Group 1 Carcinogen it's OK to like alcohol has its part to play in the revolution. Milan architect Gianpiero Tessitore has developed Vegea, a leather produced with byproducts from winemaking. Grape marc or pomace is the remains of grapes after they have been through the pressing process. The wine industry produces about 5 million tonnes of pomace14 worldwide annually so it is not likely to be in short supply anytime soon. Picture those Euro boozehounds turning away from Beaujolais and Rioja? Yeah, about the same time they turn away from seasonal affective disorder, ethnic cleansing and sex offender film directors.
The pomage is dried, chemically treated, compounded, coated and finished in patented processes by Tessitore's company (also called Vegea) when it is then turned into fabric, fashion and furniture. Vegea recently announced a collaboration with Bentley15 to provide Vegea interiors for the Bentley EXP 100 GT. Getting the automotive industry on board is a big deal. Just like with Ted Kennedy, once you get inside a car you never know where it will take you.
Push pineapple, shake the industry
But it is not cork, mushrooms, or crushed grape pulp that offers the most promise. In a twist nobody saw coming, pineapples may be the most sustainable solution. The woman driving the pineapple revolution spent years ears-deep in the animal leather trade and saw for herself the damage done. You can think of Dr Carmen Hijosa as a gamekeeper turned poacher. Much as idiotic start-up bosses like to talk about being disruptors, disruption is exactly Hijosa's game. Her trademarked Piñatex material is the most plausible leather alternative fashion has.
The origin story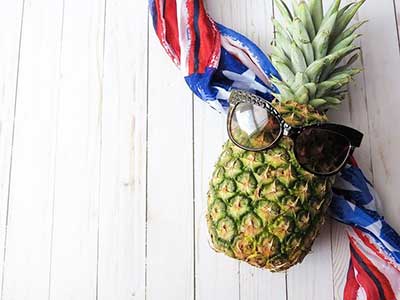 Hijosa began her start-up aged 63 when most people her age are splitting their time between collecting their pension and traumatising their grandchildren. Her road to Damascus moment came in the 1990s in the Philippines where she was sent to develop the leather industry. Her mission uncovered a few unsavoury facts. Firstly, the quality of the leather was pure dog shite but also that the industry was wrecking the workers, the locals and the environment. What kind of bozo operation were they running here? And, more pertinently, what was the solution?
Like the crying girl with the missing lollipop, she discovered the answer was under her nose all along. The pineapple waste produce that weighs down the Philippines – in the region of 2.5 million tonnes annually – was the living, breathing raw material she needed. Hijosa was already aware of the grand Filipino tradition of making garments from the fibres of discarded pineapple leaves. The national dress of the Philippines, the traditional barong, was often made with Piña cloth. A radical, transformative idea was born: create a sustainable leather alternative from the gigantic pile of leaves the pineapple industry leaves behind.
How it is made
Like your girlfriend's infidelities though, such Eureka moments are ten a penny. The actual alchemy to turn pineapple into papes takes the kind of donkey work Sisyphus himself would take one look at and say "can't be arsed, mate – where's that fucking rock?" Seven years of research and development doing a PhD in Textiles at the Royal College of Art in London followed with Hijosa refining the Piñatex concept and process.
The material is made by extracting long fibres from the leaf which are then bonded together to create a mesh. The result is a material that like leather is water resistant, flexible, breathable and can be printed on and stitched. It's been used in Hugo Boss sneakers, Altiir biker jackets and HFS bags. Although it's touted as a leather alternative, Hijosa's company Ananas Anam are fine with it not being a like-for-like imitation. "People come in, they'll touch it, they're attracted to it. At first, most of the time, they think it's leather and then they feel it and it doesn't feel like leather," says creative director Timothy Turner-Sutton.
Of course, the advent of Piñatex leads to a very welcome new income stream for pineapple farming communities. The recycling doesn't end there, though. Once the fibres have been stripped from the leaves, the leftover biomass is used as biofuel or natural fertiliser. The advantage of using pineapple is that it is already abundant across the world so no additional land, water, pesticide or fertiliser is required.
Dirty plastic secret
Perhaps predictably, there's a slight asterisk next to Piñatex's ecological credibility. It comes coated with nonbiodegradable petroleum-based resins but Ananas Anam are working with Dutch leather coatings company Stahl on a bio-based coating to make the material even more eco-friendly.
Leather demand is failing
"That's all really enviro and hip man, Savage, but people will always love the good feel of an animal on their back, right?"
Maybe but, equally, maybe not. It may surprise you to learn that despite its historical place at the cold black heart of the food pyramid, the American cowhide industry is currently taking a brutal cornholing from the rigid cock of supply-and-demand. Bloomberg reports that a hide that went for as little as $4 in 2019 was going for $81 merely five years ago.16. Synthetic fabrics have had their impact but it is mostly vegan clothing and accessories putting leather to the sword. Textile industry forecaster Helen Palmer says that the plant-based fashion market grew by 54 per cent between 2018-2019 and that looks set to continue. The tit-for-tat trade war between the USA and China and the tariffs it imposes on leather exports mean another kick in the balls for the purveyors of cow corpses. Trends come and go but at the time of writing, the American cowhide hustle is tailspinning like your aunt after her fourth G&T at your uncle's second wedding.
The Savage does not want to be David Steel all "go back to your constituencies and prepare for government," nor the Decca record label in 1962 telling The Beatles "guitar music is on the way out," or even the captain of the Titanic saying "I tell you what guys that absolutely doesn't look like an iceberg to me – full steam ahead!" But it is just possible that we stand at a historical crossroads. The vegan population of the US grew from 1% to 6% between 2014 and 2017. Britain's vegan population grew from 150,000 to 542,000 between 2006 and 2016.
The U.K.'s ethical industry is growing faster than almost any other ethical sector. Google searches for 'ethical fashion' and 'sustainable fashion' have more than doubled over the last five years. Bill Gates has pumped $1 billion into Beyond Meat. Lab grown meat is set to make the world's largest industry obsolete. There are vegan burgers in McDonald's for the love of God. We are in the belly of the beast. This sweet spiky little fruit may just be how we kill it for good.
---
Footnotes