The history boys 📕
When history books are written 500 years from now they will undoubtedly ponder the depravity of the meat industry. How did this barbaric practice continue for so long? "These were civilised people. They had free access to public domain media that showed the cruelty of factory farming. They knew the filthy disease-ridden racket caused a global pandemic killing millions. Many knew the moral, ecological and health arguments for a plant-based diet were irrefutable. Nevertheless, they persisted. LOL, nobs."
It's a puzzler, right enough. They will, for example, take a look at slaughterhouses and imagine what it must have been like for the terrified doomed beasts as they were led to their deaths. As far as we can get into the mind of a cow, we can conclude they'd rather be some place that's else. In a field, perhaps, as nature intended. Ruminants gon' ruminate. This focus on the animals is understandable – they are the ones doing the dying, after all. But what about the slaughterhouse workers? What's our response to them – anger, pity, contempt? Dare we spare them so much as a thought?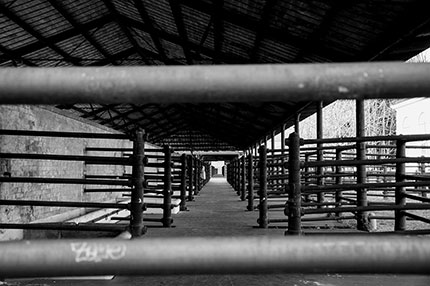 Shunned down 👤
Sure, we do. Outside of Leatherface's fam in The Texas Chainsaw Massacre, no one really wants to work in a slaughterhouse. It is largely unskilled work, associated with lower social status and you come home smelling of sweat, bile and shit. Candidly, that's not much of a winner with the ladies.
At social gatherings, your response to the "so what do you do?" question is like an abscess crawled out of your mouth and attached itself to the face of the questioner. Polite society? You would be shunned from it if it knew of your existence. The simple fact is you're a killer. Not a cool Liam Neeson in Taken type avenging angel of course, nor a fêted military sniper with three dozen confirmed kills. Not for you even the tarnished glamour of the underworld assassin, silently bumping off his boss's foes.
No, for you are a coward – the worst kind of killer. You sneak up like a little bitch behind a defenceless creature and take its life. You don't kill for country, company or Christ. You kill for money and a pittance, at that. You don't even enjoy it. You're even shite at being evil. God damn you; you are the lowest.
Don't lose your head 😶
Don't imagine that the Savage is here to judge. He has a huge heart, boundless compassion and sees all human history in an instant. He would no sooner pass judgement on you than he would pass 10 minutes in the company of Lames Cordung. The plight of slaughterhouse workers is a complex conundrum into which he is about to insert his empathy. Brace yourself, this could be rough.
Firstly, listen to testimony from someone who once dwelled in the belly of the beast. A former quality control manager says "At the end of the slaughter line there was a huge skip, and it was filled with hundreds of cows' heads. Each one of them had been flayed, with all of the saleable flesh removed. But one thing was still attached – their eyeballs. Whenever I walked past that skip, I couldn't help but feel like I had hundreds of pairs of eyes watching me. Some of them were accusing, knowing that I'd participated in their deaths."1
Dunno about you but that doesn't sound like a positive work environment. Spend some time around the abattoir and you'll see a murderously high staff turnover. The grisly repetitive work of cutting throats and caving in skulls is as monotonous as it is soul-destroying. Huge lethal cutting tools spin at high speeds, injury rates are among the biggest of any sector. The work is exhausting, workers are treated for carpal tunnel syndrome, tendinitis and the much less fun than it sounds trigger finger. There is next no support for the psychological stress. Workers submit to substance abuse, alcoholism, domestic abuse2 and violent and sexual crime.3 Joyous bonhomie? Thin on the ground.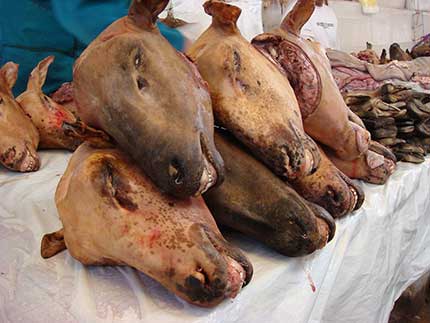 Breaking sad 〽
No wonder the work is linked to an increased prevalence of PTSD.4 In keeping with the ethic of an industry that kills the most vulnerable, slaughterhouses employ the most vulnerable. The increasing use of migrant workers is often an excuse to avoid unionisation. German companies use networks of subcontractors to hire workers from low-wage countries like Romania, Bulgaria and Poland and dodge legislation on workplace conditions.5 The holy trifecta of long hours, backbreaking work and filthy conditions could almost have been designed to break the spirit of the already marginalised migrants.
Chancing your arm 💪🏻
It's no better in the States. Iowa pig sticker, Ed Van Winkle quoted in the minutes of the Tyson Foods Annual Shareholder Meeting in 2006 says "'The worst thing, worse than the physical danger [of on-the-job accidents] is the emotional toll,' Winkle said. 'Pigs down on the kill floor have come up and nuzzled me like a puppy. Two minutes later I had to kill them – beat them to death with a pipe. I can't care.'"6 Damn. That's about as dark as it gets. I don't see it getting any grisly than that unless, I don't know, poultry workers are wearing nappies7 because they've been banned from taking toilet breaks. Get a job in a chicken factory and come home smelling of your own piss faster than Tim Shieff on a bender. Have a sentimental attachment to your limbs? Careful with that. The meat racket averages two amputations a week.8 What a world. What a life.
Infectious slaughter 🧫
And when Covid rained down like God's vengeance on the omni hegemony who was in the front line? The knackered, traumatised, exploited slaughterhouse workers of course. Only prisons and nursing homes can hold a candle to their infection rates.9 In Brazil, unions say that as much as one-fifth of abattoir workers have been infected.10 Are the bosses concerned? Maybe about as concerned as they were when a 2017 study demonstrated respiratory diseases were 3 to 4 times more prevalent in poultry workers than office workers. 11
From pig to man again 🐷
So yeah, let's allow ourselves a little sympathy for the devil. If they had better options, they'd be taking them. No one's getting fat on the killing room floor. It's a daily diet of lacerations, shit and viscera, turning you into a deadly automaton who will in time make Private Pyle from Full Metal Jacket look well-adjusted. Let's not forget that they make daily eye contact with the wickedness of animal husbandry at proximity very few vegans ever will. We surely owe them grudging respect for that at least. Contrast that with your typical normie cucknivore with their sanitised cellophane-wrapped sausages that they know they simply can't give up, despite having never seriously tried.
There's a reason the hogs in the boardrooms don't want any of this getting out. Ag-gag bills passed by cunt-for-hire sponsors in The Senate outlaw whistleblowers and cover up the scale of the abuse, both of animals and workers.12 Some of these laws have been ruled unconstitutional in the courts, but some remain. We can at least acknowledge the workers' truth from the killing room floor and see that slaughterhouse blues is a real thing. Indifference to suffering, human or animal, comes as part of the package. Killing diminishes and leaves a husk where a human being used to be. Understanding that is a key part of killing the meat scam for good.
Footnotes