You are offal but I like you
Just exactly who is The Liver King, Internet sensation and vascular phenomenon? The ripped organ eater your mother warned you about, Brian 'The Liver King' Johnson now has more than 1.8 million followers on TikTok and 1.2 million on Instagram. Is he right that a diet rich in nutrients like salmonella, E. coli and staphylococcus is optimal for humans? Can the raw corpses of the animal kingdom be the parts our bodies and lives are missing?
It's all too easy to dismiss Brian Johnson as a mentally unstable clown performing to an audience of dipshits. It is remarkably simple to point out that he resembles a giant lump of sausage meat wrapped in a condom. It is incredibly straightforward to acknowledge that his LARPing as Conan the Barbarian while promoting a diet condemned by the medical community is a tatty sordid spectacle that needs to be ended forthwith. So that's precisely what I intend to do. On the real though – exactly who is this catastrophe and why do we care?
Ancestral manoeuvres in the dark
Have you ever wanted to meet your ancestors? I'm not talking about your slave-owning great-great-grandpappy, your Peaky Blinders namesake or any one of countless faceless street urchins whose rat jism DNA is currently fouling up our gene pool in the form of you. No, my friend, I am talking about your ancestors from the Palaeolithic period between 2.5 million and 10,000 years ago. Have you ever wondered what it would be like to hang out with your past times brethren? Perhaps even pondered what it would be like to live like them? Because the ancestral living movement thinks of little else and they are very keen for you to learn about their thoughts on the subject.
In a nutshell? You're eating raw meat, no veg and living a chemical-free life (we'll get to that last part). The Cliffs Notes is that The Liver King is an entity you should cross state lines to avoid and here are the top 25 reasons why.
1. Eats a pound of liver every day 🥩
As exposés go, it's not quite Watergate. The clue is in his name after all. But if like The Savage, you grew up eating liver and onions fried in lard you will be aware that it is a dish worth avoiding even in small doses. The shitty bloody gamey flavour makes you feel like a blood demon has bust a nut in your mouth and then bitch slapped you. Its proponents say it's an acquired taste and if they mean acquired like you acquire an STD, leave it untreated then become so delirious that you are no longer aware of it, Toulouse-Lautrec-style, then it's a fair point. Otherwise, GTFO of here with that 'acquired taste' noise.
But liver is indisputably nutrient-rich. So the more the better, right? Nutritionist Lisa Stollman disagrees.
"Common pesticides and hormones fed to animals now all accumulate in the liver. This is a diet where you'll increase your risk of heart disease, as well as many types of cancer due to the content of saturated fat."
Marion Nestle, Professor of Nutrition at New York University is of a similar mind, telling GQ "A pound [of liver] a day sounds excessive, mainly because of the risk of vitamin A toxicity. I doubt our ancestors ate that much." So it's a shaky start for Brian but I'm confident he'll come back.
2. Drags giant weights with his teeth 🏋🏻‍♂️
Like many miscer-adjacent influencers, Brian believes that modern men have become too soft, causing many of the problems we see in society today. Such thinking inevitably ends aligning with the soy boy conspiracy theory which holds that there is a concerted program by lib Illuminati to emasculate men. Brian's personal contribution to this issue is to perform several tasks of strength that emulate Geoff Capes while winning the 1983 World's Strongest Man competition. One such task is to drag an unholy deadweight of cast iron on a sledge using only the strength of his jaw muscles, muscles fortified by years of resistance fellatio on barbells. What better way to honour the struggles of our Palaeolithic ancestors?
3. Works out on the subway 🚇
They say New Yorkers are rude but they're only saying that because it's true. People keep themselves to themselves in The Five Boroughs and they ain't trying to hear your needy bullshit. You have to think of rudeness as a corrective, particularly in a congested metropolis where the Tragedy of the Commons is an everyday reality and attention-seeking behaviour is about as welcome as the 30 litres of sarin pumped into the Tokyo underground in 1995 by the Aum Shinrikyo cult.
So you can just imagine how well Brian turning up in his pum-pum shorts and doing pull-ups on the handrail of the 7 Train went down. He is roundly ignored by the clinically depressed New York crew, to their eternal credit. It may be the city that never sleeps but it's absolutely the city that cocks a deaf 'un to woeful narcissists.
4. Even Joe Rogan is embarrassed 💫
Say what you will about The Liver King, he certainly cuts an impressive figure. He makes the cast of 300 look like they skipped abs day, with a torso so shredded you could slice prosciutto with it (and knowing this weirdo, he probably does). He looks like he can crack walnuts between the cheeks of his arse and crush beer kegs between his thumb and pinky as a party trick. And the most incredible thing? He has sculpted his carcass entirely naturally WITHOUT the use of anabolic steroids.
Or so he claims. Interestingly, the dudebros of the online bodybuilding community are not convinced. On the r/moreplatesmoredate subreddit, for example, AdEquivalent4018 sums up the prevailing mood "Anyone that thinks this guy is natty knows nothing about working out.. When he gets off the juice he will have the testosterone level of an 8 year old girl… i dont care if you are a juice pig, its real douchy when these guys dont admit it though."
How about our boy Joe Rogan? He's platformed white supremacists, Sandy Hook truthers, Covid deniers and is known to push the paleo agenda at every opportunity – surely he'll have a sympathetic word for The Liver King?
"No that's a gimmick, that guy. He's got an ass filled with steroids is what he's got. That's not a natural body. That guy is shooting all kinds of shit into his system to achieve that kind of physique."
What the hell, Joe?? Brian shot back that he 'doesn't touch' steroids and would be incredibly grateful to be on Joe's podcast. I wouldn't hold your breath, dude. If you haven't terrorised the grieving parents of slaughtered children, you'll have to get to the back of the queue with everyone else.
5. Eats balls ⚽
They say you are what you eat and while this folksy wisdom may not be 100% guaranteed true in any literal sense, there is a kernel of truth in there. Better men than The Savage¹ have demonstrated the links between meat-eating and our major killers and the broad principle that eating shit will turn you to shit is not one he'd run a mile to oppose. But Brian's "Eat testicles not vegetables" mantra reveals a Fisher-Price level of logic that would get a toddler sent to the naughty step. "Vegetables don't have the raw material required to produce a healthy set of testicles," he explains, "Testicles do have everything required to produce and support and strengthen them."
Professor Marion Nestle is not convinced "That's hilarious if nutritionally suspect." Who to believe? I guess we'll never know.
6. Blows up beds 🛏
By which I don't mean that he blows up the inflatable My Little Pony Junior ReadyBed he got from Amazon on a special discount code from one of the many brony forums he frequents. I mean that he uses explosive devices similar to the kinds used by terrorists like Al Qaeda, dissident Irish Republicans and Sleepy Joe Biden in the wild to blow a perfectly good piece of sleeping architecture to bed heaven. It's obvious that modern beds are for fannies but there's so much more to it than that. He explains:
"When free radicals are not absorbed by the earth, they store in the body as inflammation. Inflammation creates chronic disease, and thus, so does the man-made cast we call a bed. Soft mattresses are just as lethal. When they're not releasing hormone-disrupting chemicals and off-gassing flame retardants, they're locking us into one position, impeding on natural twists and turns that assist in building a robust muscular structure."
The Liver King sleeps on wooden slats having extensively researched the issue by watching episodes of Spartacus: Blood and Sand. As they are fond of asking on the show "HAVE YOU LOST MIND??"
7. Named his sons Rad and Stryker 👶🏻
Children are a precious gift from the Creator – on this, all people are aligned. And yet, and YET with the preciousness of that gift comes a certain fragility. Exponents of nominative determinism date back to biblical times when your Lord and Saviour Jesus Christ said to Simon of Jonah "I tell you that you are Peter, and on this rock I will build My church, and the gates of Hades will not prevail against it." Two millennia later Johnny Cash revealed the shocking violent consequences of trans-inclusive baby naming on A Boy Named Sue. What's in a name? Quite a lot, it turns out.
So I'm not saying that naming your children Rad and Stryker as The Liver King has done is going to lead to them subsisting on hair metal, bathtub crank and trailer park skanks for the rest of their lives but I will say that it behoves a parent to spend a little more time naming their offspring than sticking a pin blindfolded in the 1996 WWE roster and hoping for the best.
8. Was inspired by Sally Fallon 🏃🏻‍♂️
Patrolling the vegan sphere as you pretty much have to once you're in the lifestyle, you'll get used to a few familiar faces on the way. "Hello, Fully Raw Kristina – good looking out. Platformed any Nazis recently? Oh hey, Jon Venus – which diet are you following this week? Sv3rige! Haven't they locked you up yet, you rapey rascal?"
One organisation you will bump up against is the Weston A. Price Foundation, a crank pseudoscience non-profit co-founded by Sally Fallon who The Liver King cites as a key inspiration in the genesis of his mission, particularly her book (deep breath) Nourishing Traditions: The Cookbook that Challenges Politically Correct Nutrition and Diet Dictocrats. The brain wrongs of Sally Fallon are many including her book The Contagion Myth where she argues that viruses do not cause disease, vaccines do not work and that 5G was behind the coronavirus pandemic shamelessly blamed on the coronavirus. "Humanity is at a crossroads," she writes "and although we can present mitigation strategies that transform the energy fields that constitute 5G technology, we should be clear. "Covid-19" is the first wave of disease created by the introduction of this new technology."
Okay but r u sure? Fallon wrote the book with disgraced MD Thomas Cowan. This bozo gave up his medical licence in 2020 while on a five-year probation for prescribing an unapproved drug to a breast cancer patient without telling the patient it was unapproved, examining her or her notes. I mean, as long as no one got hurt right?
Harriet Hall, MD from Science-Based Medicine took a look at the website of those dirty filthy skunks of the Weston A. Price Foundation and declared it "one of the worst on the internet". In its own way, that's kind of impressive.
9. Shot up a tub of margarine 🔫
Here's a question for you, fam: What's your butter substitute of choice? The Savage favours whichever supermarket own brand sunflower spread happens to be on the chilled section shelves although that's become significantly harder since that dipshit framecel Vladimir Putin began his death spiral and screwed up production of the world's biggest sunflower oil exporters Russia and Ukraine.
Perhaps you prefer a nut butter, Vitalite or even hummus. Whatever you choose it's all good. No one is going to get an attitude about what you spread on your own bread. I mean, I say no one. The Liver King, apparently enraged by increasing consumer choice, pulls out a rifle and pumps a tub of I Can't Believe It's Not Butter full of lead in an Instagram video. I don't want to get prescriptive about how people critique food but I feel that when you start treating supermarket produce like O-Block affiliates treated FBG Duck after 'Dead Bitches' dropped, you may have some anger management issues.
10. Won't carry shopping 👝
"I don't think that's a man's job," The Liver King says of carrying shopping when the subject comes up in an interview with GQ. Oh really? What about personal shopper and sometime bin pisser Sandy from Big Brother 3? Is he not a man? How about Rajeev from the local Asda who frequently collects online orders from the shelves? Should he not carry shopping based on his gender? How is that going to sound at the employment tribunal? The Liver King could not even stay consistent on his own insane terms. He capitulated, betraying his principles, carrying groceries like an emasculated victim of soyciety in what is likely his most shameful moment yet.
11. Is a manlet: CONFIRMED ⛹🏻‍♂️
The existence of the heightmog once and for all disproves the existence of God or at the very least proves that if She does exist that she hates men. No compassionate creator would allow the humiliation and suffering short of stature men endure when juxtaposed next to a manmore. Nature in all her savagery has dreamt up no crueller outcome.
So please don't imagine that just because he is 6'3, 185 lbs of prime Birmingham-Irish beef, The Savage gets any pleasure from pointing out that the only King that The Liver King is likely to emulate is King Goldemar the dwarf king from German mythology. Because while Brian Johnson claims to clock in at 5 "7, photo evidence suggests that he is 5'2 maximum and is quite possibly sub 5. It was Billy Connolly who once sang on Song for a Small Man "There's more to height than inches". That, I'm afraid to say, is categorically false. The Liver King must embrace his status like a man if he wants to be taken seriously in these parts.
12. Drinks 95% alcohol like a meths head 🥃
The Savage typically drinks tap water on a night out but he takes a drink every now and again. In fact, he has written a guide to vegan boozing which you might want to check out. The Captain Caveman caricature that the ancestral living "movement" believe in scorned alcohol on the grounds of it not existing at the time but that hasn't stopped our organ-eating buddy from taking a pro-alcohol stance on his website. "Liver King has no room in his schedule for hangovers, so when I drink, I drink like a man: 95% ethanol on an empty stomach."
So Brian is encouraging the kind of alcohol abuse that lethal frat house hazing ceremony bros would consider "a bit out there". Let's raise a glass to avoiding this kind of thing.
13. Is anti-fluoride crank 😷
Wackjob cranks have a real boner for fluoride, particularly when it winds up in our drinking water as it has in some parts of the United Kingdom since 1964. Fluoride reduces tooth decay and if there's anywhere on the planet that needs its teeth sorting out it's some parts of the United Kingdom since 1964. Chill with that though because The Liver King is very firmly on the anti-fluoride bandwagon. I'll let him explain. "Our early ancestors didn't brush, didn't floss, didn't get cavities… and I'm 100% sure they didn't consume fluoride, the leading cause of chronic metabolic bone disease (teeth defects, back and joint pain, vertebral fractures, you name it)."
That sounds pretty bad man and the anti-fluoride movement doesn't stop there making multiple claims about fluoride calcifying the pineal gland, killing rats and poisoning the mandem. Fact-checking organisations reveal these claims to be a big bag of old shite however and Brian's attacks on toothpaste are, well, toothless.
14. Takes massive action TO THE EXTREME ❌
In the world of sales and marketing, there's a concept called "call to action". It's a directive aimed at the mark (YOU) written by Sales and Marketing Scum (hereafter referred to as SAMS). It might be "click here to subscribe to my mailing list" or "smash that Like button" or "purchase my course" – whatever it is that you don't want to do that they (SAMS) want you to.
In a 39-page e-book The 9 Ancestral Tenets – a Guide for the Modern-Day Primal he uses the phrase Take Massive Action 16 times. Having discovered the call to action principle he really has run with it.
The phrase also crops up in his Instagram posts quite a lot. What Take Massive Action means can vary on the context but the general gist is stop being a pussy, lift some weights and buy my supplements. Take Massive Action does sound suspiciously like a hypnotic trigger phrase. Massive does make it onto lists with titles like 401+ Ridiculously Useful Power Words To Increase Conversions. TMA seems to have originated with motivational speaker, coach, author, SAMS maven and philanthropist Tony Robbins. Power's a good thing right? I guess so, maybe less so when you're using it to nonce your way across the world as BuzzFeed suggest Robbins has been doing for years.
Brian is innocent of any sexual malpractice as steroids have long since shrivelled his winky to the size of a baby prawn but still, I'd watch who you align yourself with in the motivational speaker realm.
15. Exhorts followers to pick fist fights 🥋
Celebrating the benefits of ultraviolence is very much a feature in the raw meat movement. Failed spree killer and sex case Sv3rige was seen not long ago on his YouTube channel instructing his followers in the ways of primal scrapping. The video showed that rapey Gatis knows about as much about fighting as he does about nutrition. And while Brian doesn't seem a particularly belligerent sort he nonetheless tells his Primal herd to seek out the smoke at every opportunity.
"Pick a fistfight (that's worth fighting for). A meaningful life is defined by moments of intensity and overcoming. When the opportunity arises, unleash the inner beast!"
I feel almost embarrassed pointing out that encouraging easily influenced people who don't usually fight to get into fights is fraught with almost limitless dangers for everyone concerned. All of a sudden, getting your bank account emptied by the supplements grift could be the least of your worries.
16. Shoots defenceless Beyond Burgers 🍔
Look, it's quite possible to have issues with the nutritional profile of Beyond Meat – it is not the best. The Savage himself makes seitan from scratch and typically scorns pre-packaged substitutes of the vegan aisle. He does not have a problem with Beyond Meat – far from it. He thinks it's a wonderful thing and would say the same for anything specifically designed to convert rasclaat bloodmouths to the righteous path. No one is claiming the Beyond Burger is a health food of course so when The Liver King viciously murders a Beyond Meat patty because of its 'health halo' he is essentially slaughtering a straw man (who he would also kill given the chance).
17. Is a rank chemophobe 💉
In the Slate podcast All Hail the Liver King, science communicator at the McGill Office for Science and Society, Jonathan Jarry (author of a quite glorious takedown piece The Liver King Wants You to Dominate Your Health Like a Caveman) gets to the heart of madness of The Liver King. "(He) has a fatal case of chemophobia, which is this irrational fear of chemicals, which we see quite a lot in the wellness industry where the things that you don't like their chemicals and are bad and we need to avoid them. Of course, the entire universe is made up of chemicals. Our bodies are made up of chemicals or their chemicals are good for us. Our chemicals are not good for us. It's a question of dosage. And so he was making the point that there are bad chemicals in modern bedding that you should basically sleep on a slab."
It's quite something that a man who claims to have a degree in biochemistry is either not aware of this or chooses to look the other way for reasons unknown.
18. Believes "like supports like" 👍🏻
The moment you hear the phrase "Like Supports Like" you can be assured that you are listening to a three-flush turd of the crank health movement. So-called alleged "Doctor" Axe is a big believer in it which is immediately throwing up more red flags than an epileptic matador. The idea is that eating a heart will improve your heart health, chomping on eyeballs will do wonders for your eyesight and gorging on lungs will 10X your respiratory system. Remember all that stuff about testicles supporting testicles earlier? Well, that's very much Brian's position on this one. That there's no evidence for this will not budge him one bit. As Jonathan Jarry points out "Organs are made of tissues, themselves made of cells, and they are all broken down into their basic building blocks in our gut."
Amino acids are the building blocks of protein and if you're wondering how to get your essential amino acids on a vegan diet then you better ask somebody.
19. Won't use sunscreen 🌞
Strolling around shirtless in booty shorts in the baking Texan sun all year, Brian regards the sensible precaution of sunscreen as a really terrible idea. He explains it "defeats the purpose of pre-existing biological mechanisms" and that "nutrient-dense foods" are all you need. It all inevitably ends with him machine-gunning some sunscreen bottles like Bolsheviks stumbling upon a roomful of Romanovs.
Predictably, The Skin Cancer Foundation takes a very different view, somehow arriving at the conclusion that sunscreen will "Decrease your risk of skin cancers and skin precancers. Regular daily use of SPF 15 sunscreen can reduce your risk of developing squamous cell carcinoma (SCC) by about 40 percent, and lower your melanoma risk by 50 percent."
I dunno man. It's all fun and games laughing at Brian strapping cauliflowers to rockets or whatever it is he's doing this week but when he's encouraging his followers to increase their exposure to cancer, it kind of becomes less funny.
20. Is a gun nonce 🔫
Stacking more straps than the Barksdale crew during the war for the Franklin Terrace towers, The Liver King is a firm believer in the second amendment rights. This, we believe in civilised Europe, makes him complicit in the mass murder of children caused by American gun culture. What a dirty rotter.
21. Sells supplements to dopes 🧃
Part of you would be disappointed if The Liver King were not on the supplement grift. He has the kind of followers who live to spend lots of money on worthless things that affirm their identities. Why should Brian subsist on YouTube ad revenue after all the work he's put in dragging sledges across the streets of Houston like a demented frigging husky? You can't knock the hustle!
And yet, I'm going to knock the hustle. The entire multivitamins and supplement sector is a rank scam and as Australian Medical Association president, Michael Gannon points out they are nearly always simply "very expensive urine"
What is it about anti-vegan dons and piss? They can't seem to get enough of it.
22. Believes humans evolved to eat meat 🙊
This may be the least of Brian's sins and it is a widely held fallacy. Nonetheless, it does get to the heart of the paleo clown college ideology so it is worth flagging up. Christina Warinner points out in her "Debunking the Paleo Diet" TED Talk how "Humans have no known anatomical, physiological, or genetic adaptations to meat consumption. Quite the opposite, we have many adaptations to plant consumption." Then of course there is the fact that paleo diets necessarily varied wildly geographically as the inset below shows. Our paleo ancestors tragically lacked access to bone broth and ground kidney supplements so ate whatever was available. For all that Brian talks about honouring his ancestors, he doesn't really know them that well. Were he to go back in time and meet them there is a significant amount of circumstantial evidence to suggest they would fuck him, kill him and eat him, on a bed of roast root veg.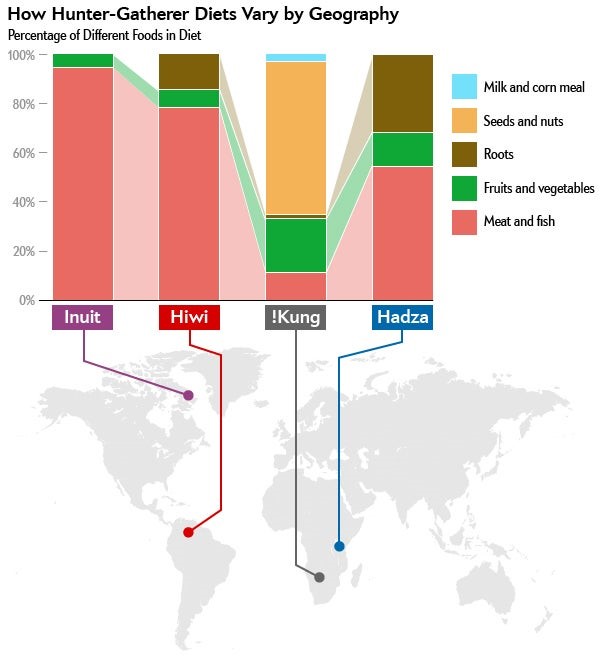 23. Is anti-vaxx 💨
What's wrong, Bri? You haven't touched your Covid booster? Ah, The Liver King don't get down like that. He reveals on Ancestral Supplements About Us page "Avoid danger like our ancestors did (think lions, trans fats, sugars, fluoride, excessive wifi, emfs, VACCINES, mercury fillings, toxic people, pollution, non-native water, plastics, [he goes on – and on and on.]"
Palaeolithic hunter-gatherers did not have access to vaccination programs. This is probably one of the reasons why they had an infant mortality rate of 1200%. Medical care was at best rudimentary in those times. This is why most of those who survived childhood spent the majority of their pathogen-blitzed adult lives squirting diarrhoea out of every available orifice before dying in a puddle of their own doo-doo. I'm sure there's a metaphor in there somewhere.
24. Bonds with animals by killing them 🔪
Every now and then when you're talking to a cucknivore they will let you know that they fully respeck your dietary choices. This is good. It's always nice to receive respeck when you haven't asked for it. They will then however inevitably follow up with how they buy their meat from butchers so they can look Peppa Pig in her remaining eye, let her know that it wasn't personal and thus achieve tremendous connection with the dead animal they are about to feast on. "I wanted to know that I really respeck you, Peppa – and I intend to honour your noble sacrifice by eating you tail-to-snout. 😭😭😭"
Cognitive dissonance is a hell of a drug. You thought that Brian Johnson's blood-crazed campaign against ruminants, porkers and poultry excluded him forever from the category animal lover but there are always those who must have their cake and eat it. On an Instagram post featuring him riding a non-consenting horse, he says "🐎 The bond between horses and sapiens is powerful and enduring.
They carried us from one location to the next, allowing us to avoid danger and relocate, herd cattle, and sustain ranching efforts.
Honoring our animal brethren goes beyond eating nose-to-tail…. it's also about deepening your bond with them as well."
Nothing deepens a bond like caving someone's skull in with a rock and then gorging on their entrails so we probably should have seen this coming.
25. Is business partners with Paul Saladino 💲
I don't bring this up as if it's surprising in any way. Turds of a feather flock together and you are best off thinking of Paul Saladino as Doctor Jekyll to Brian's Mr Hyde – a more respectable front to present to polite society likely to be scandalised by The Liver King turning up at the dinner party and bench pressing the table. Both are committed, photogenic zealots whose brains have been scrambled by the rigid identity politics of the cucknivore right. Saladino's mistakes, cherry-picking and inconsistencies are very well covered here.
But with Brian at his side, he is a very different proposition. Individually, they are bad but together? Also bad but making crazy moolah from expensive piss. Bro, I am most definitely in the wrong game.
¹ Fuck you. There are no better "men" than The Savage.