Can I get a whut-whut? Swifty Frisco up in this bitch, dishing out bouquets and brickbats like Al Capone dishing out Thanksgiving turkeys in your mom's neighbourhood. If you don't know my steez by now then, frankly, where you been at? I blessed you with skank knowledge on formal dresses, sweaters, jeans, swimwear and borefriends like that sussed big sister you never had or a much better version of the one you did. And right now? I'm all about the shoes.
Yeah, you heard. Because sourcing ethical shoes in an industry largely built on the back of cow murder is a challenge more anxiety-inducing than the one Lindsay Lohan faces every time she has to walk past a liquor store. But, like your best friend taking on the rowing crew at college, it's a challenge that your girl is up to.
Vegan may not be sustainable and vice versa
Let's get this one out of the way real quick. Vegan is good. Sustainable is good. They have similar goals and often similar outcomes. But only a dirty goddamn fool would use the two interchangeably. It is entirely possible to have a beautifully made, ecologically sustainable, artisan-made shoe from a locally sourced family business, using vegetable tans, paying fair wages to workers from marginalised communities, employed in charming workplaces with eco-labels up the wazoo and back slaps from every dickless eco-turd on social media and still be made from the skin of a dead once-sentient being. Oh, Team Sustainable – you filthy murdering skunks!
But how about we view that from the other end of the telescope, hm? Let's take animals out of the equation and conceive the platonic ideal of the vegan shoe. Not one Daisy or Arnold was hurt in the making of this magnificent creation, nor any animal glues used in its adhesion. Let's all enter an infinity symbol-shaped circle jerk to celebrate our ethical awesomeness and reach simultaneous climax as we achieve karmic ascension together.
Plastic fantastic
Well, you plant-based punks can get the dicks slapped right out of your mitts if you think that's gonna happen. Because that pair of vegan shoes you just ejaculated into are made with polyvinyl chloride (PVC) and if you had spent three seconds contemplating the issue before pumping your ropey jism into its immaculate innards you would have remembered that PVC is Satan's preferred anal lining, which The Center for Health, Environment and Justice (CHEJ) calls "the most toxic plastic for children's health and the environment."1
Vinyl junkies
The first problem with PVC is its toxic ingredients. Pure PVC is 57% chlorine, the only plastic made with this tricky chemical. A by-product of chlorine production is the release of dioxins into the environment. Dioxins are persistent environmental pollutants (POPs) meaning they are resistant to known environmental degradation processes and therefore stick around in the food chain for long periods and bioaccumulative2, as they build up in organisms over time, mainly in the fatty tissue of animals. The WHO classify dioxins as a human carcinogen3 and when you take into account the harmful effects on the reproductive system4 you have the kind of pollution profile Looten Plunder, the eco-villain from Captain Planet and the Planeteers, would be proud of.
PVC is of course petroleum-based with 40% of the molecule coming from petroleum and if you don't know the environmental imprint of the petroleum industry yet, then may I introduce you to my friends acid rain, climate change and Deepwater Horizon.
So, given that Team Sustainable might want to look at how they treat animals and Team Vegan could stand to look at how they treat the planet, let's take a peek at those sustainable shoe sources for vegans you'd really be rather foolish to overlook.
---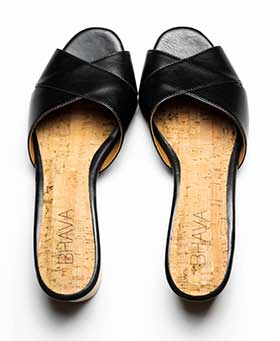 Ethical chops: Organic cotton, REACH-certified vegan leather.
Location: New York City.
Price: $199-269
After studying fashion at Parsons School of Design and putting in over a decade at the coalface of the conventional fashion industry, Francisca Pineda ran into some health issues as a result of her immersion in the toxic soup of leather production. As a result, she started the Bhava brand with fellow designer Rushali A. Sanghani with the intention of becoming part of the solution to the problem of fast fashion.
In that spirit, Bhava support organic farmers by only using organic cotton in their linings, using exclusively artisan labour and preferring recycled and reclaimed components. Pineda travels throughout Europe and India to source fabrics and has also started the Ethical Fashion Academy which is committed to raising awareness of ethics and sustainability among fashion professionals.
Cork insoles form the base for this sturdy 2-in-1 criss-cross sandal for a super chic low-key effect when you attend your guidance counsellor's sexual harassment tribunal.
---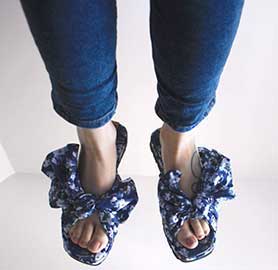 Ethical chops: PETA-approved vegan, biodegradable materials.
Location: Paris, France. 
Price: €35-225
Fashion boss Coline Burckel is a relative newcomer to the ethical sphere. Her Cemele label only came into being in 2018 but she's making big waves in the conscious clothing niche. Branding themselves as "vegan but without plastic" means they have to think outside the box with their materials, so expect pure rubber milk soles, cherry wood softened by laser engraving in the uppers, vegan wax in the waterproofing and metal in the zippers. Like Donald Trump when his daughter's around, Burckel is exceedingly hands-on, designing and sourcing all the components herself.
Standouts include these dazzling floral mules, finished off with a deadly bow like King Harold at the Battle of Hastings.
---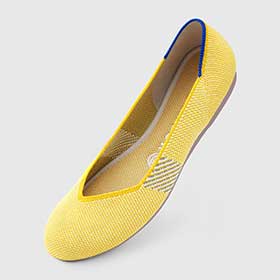 Ethical chops: Eco-friendly 3D knitting technology, recycled plastic bottles.
Location: San Francisco, California.
Price: £120-140
Kicked off by investment banker Stephen Hawthornthwaite and commodities trader turned creative Roth Martin, Rothys seem an incongruous pairing in the women's footwear space. Unlike PVC-faced calamity Mickey Rourke, Rothys don't claim to be plastic free but they have diverted 38 million plastic bottles from landfills and turn them into epic zero waste shoes. Given that the already existing plastic can no more be wished away than Bill Cosby's troublesome Rohypnol period, this is an essential part of the green project ecosystem. They also use recyclable rubber in their souls and make sure their adhesives are vegan with low environmental impact.
These yellow and cream round toe flats deliver a fierce pop of colour to whatever ensemble you're bodybagging the opposition with today.
---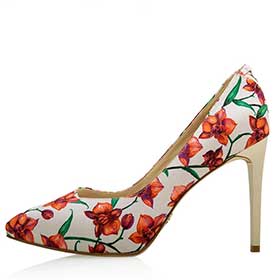 Ethical chops: Bio-based vegan leather, offer one-year scholarships to She's the First scholars.
Location: New York. 
Price: $228-328
Founder Stacey Chang launched Veerah in 2016 with the intention of bossing a cruelty-free fashion line that would empower women while avoiding the mass slaughter that the shoe industry seems particularly adept at. It took two years of travel and intense research to get the operation off the ground. The all-women outfit makes shoes from materials as bizarre as apple peels but also more familiar offerings like cork. Chang also pioneered the 1-10-100 VEERAH Warrior Battle Plan and donates a percentage of profits to social impact causes.
So if you were thinking on splashing out on these filthy stylish stilettos, you could absolutely do so with a clear conscience.
---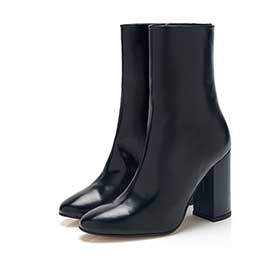 Ethical chops: Recyclable linings, use of durable dinamica.
Location: Brighton, England.
Price: £50-350
Founder, Natalie Dean kicked off Beyond Skin in 2001 when some of you were still swimming in your daddy's balls, before this ethical hustle was all cool and everything. The brand received an early boost when Nathalie Portman wore them to the Oscars in 2003. Their innovative adoption of the faux suede dinamica material made from 100% recycled PET plastics – the first footwear manufacturer to do so –is a neat USP. Beyond Skin are furthermore committed to using 100% recycled, or fully sustainable materials by 2025.
So you could do worse than slip into their blaise black block heel boots to nail down that outfit of the day like the crucified Christ.
---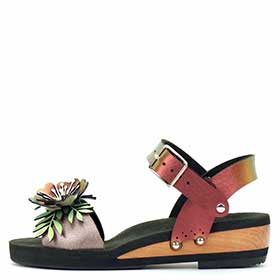 Ethical chops: Water-based dyes, sustainable rubber tree wood.
Location: Chicago, Illinois.
Price: $68-238
Like Randian hero Howard Roark, Mohop founder Annie Mohaupt first manifested as an architect but unlike Roark implausibly switched to footwear entrepreneur in 2005 after months cobbling away on bent plywood in a basement like an elf. Too bad – The Fountainhead would have been a much better novel with that development. Sustainable wooden sandals are the nub of her master plan and the wood for Mohop sandals comes from the wood of Pará rubber trees which are grown for latex production and then usually burned down after they are tapped out.
A pair of futuristic-looking ergonomic wedges in rose and ruby create daring silhouettes when you roll up to the steampunk panel at Comic-Con.
---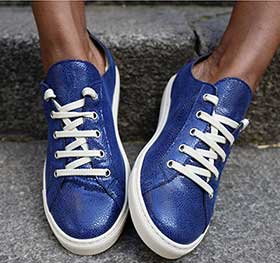 Ethical chops: PETA UK Award 2016, VeganFach Award 2018.
Location: Altfeld, Germany. 
Price: €29-259
German outfit NOAH have been 10 years up in this bitch, opening their first vegan shoe boutique in 2009. Focusing on small-scale production of classic Italian footwear, their shoes contain no animal products, attaining the PETA stamp of approval. The material is biodegradable too, so no need to worry about it ending up choking some porpoise to death in the next David Attenborough doc. NOAH have also annexed the ethical accessories niche. Ask nicely and they'll hook a sister up with bags, belts, hats and caps to combine and complete/supercharge your look.
These deep blue microsuede sneakers are exactly the kind of kicks you would wear to that bullshit art show your friend put on where everyone ignores her bullshit installation to admire your next-level footwear.
---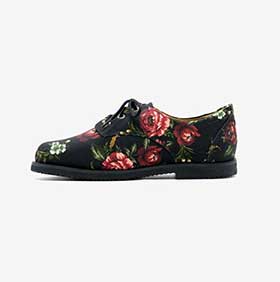 Ethical chops: EuReciclo recycling certification, PETA vegan approved.
Location: Porto Alegre, Brazil.
Price: $119-139
Home to the rainforests and colossal ecological destruction, Brazil has a particularly vested interest in ecologically aware processes. Porto Alegre outfit Insecta have made such awareness a core value. Owner and co-founder Barbara Mattivy refers to their striking, colourful patterns as "eco-sexy". Her M.O. is to take one vintage dress and make five shoes out of it, the like of which will obviously never be seen again. It sounds like a bizarre business plan but they made their first million reais ($300,000; £230,000) in 2015. In addition, Insecta advocate for the emancipation of women, adopt fair practices with local manufacturers in Brazil and won Best Brand for the Planet at the Vogue Awards.
So there's literally no reason why you shouldn't find yourself in a pair of these outrageous unisex Oxfords made from recycled plastic bottles.
---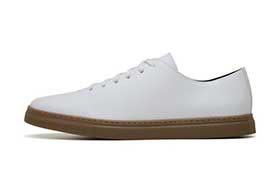 Ethical chops: Named Most Influential Designer of 2015 by PETA.
Location: New York City. 
Price: $260-310
It's token dudes' shoes diversity hire time! To give you an idea that it wasn't always so hip to be vegan it was as recently as 2010 that Brave GentleMan became the world's first vegan menswear brand. Founder Joshua Katcher even wrote a book Fashion Animals on the history of animal use and abuse in the fashion industry. Most of their product is produced close by in New York's historic garment district from materials like organic cotton, recycled polyester and recycled water bottles.
So maybe get these slick and clean weekend sneakers for your boyfriend so he can spend at least one day a week not looking like he was dressed by his mom.
---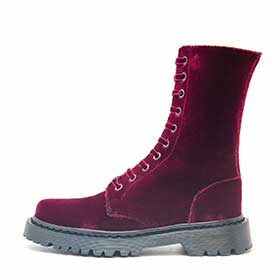 Ethical chops: OCCGuarantee certified, extensive use of sustainable Portuguese cork
Location: Portugal.
Price: £40-157
In a triumph for nominative determinism, Nae stands for No Animal Exploitation. Fortunately, these Portugeezers live up to their moniker by cobbling together their shoes out of materials as diverse as natural cork and pineapple, synthetic materials like ecological microfibres and left-field options like recycled car airbags. They do say airbags save lives – there's some six-month-old lamb gambolling around a Sussex field right now who owes their life to an NAE airbag.
Particularly impressive are their velvet biker boots, a striking statement to put an exclamation mark on that rock-chic look you stole off Joan Jett.
---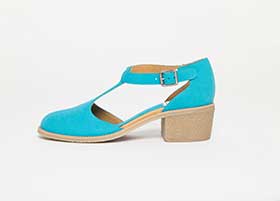 Ethical chops: Fashion.Net Award for 'Best Vegan Brand of 2015', PETA Award for 'Best Stylish Casual Shoes'.
Location: France.
Price: €15-150
France's first vegan shoe company, GOOD GUYS DON'T WEAR LEATHER came into being in 2011 when French shoe designer Marion Hanania decided to take a stance against her horse-eating countrymen and kick it animal friendly. The produce is mainly made from microfibre-based vegan leather and suede with rubber and wood on the soles. The brand got traction when Emma Watson wore their trainers and boots on the promo tour for Beauty and the Beast in-between apologising for white privilege probably saying something about Beyoncé, I don't know.
I don't know exactly what you did Emma but you know what might take the pain away? A pair of baby blue vegan suede T-strap sandals. DM me for my postal address, girl.
---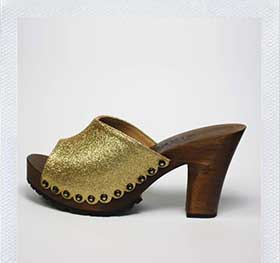 Ethical chops: Partnership with PETA, uses vegetable-based bioplastics.
Location: Italy.
Price: $140-490
Not many people have been at this hustle longer than Rebecca Mink, who founded Mink Shoes when she was working as a celebrity wardrobe stylist in 2000. Mink is the aborigine of high-end vegan shoe brands and although it began as a very small-scale operation it has gradually grown. Miley Cyrus asked Mink to personally create vegan versions of her designer footwear and partnerships with Kat Von D and Too Faced Cosmetics show that she's looking to be a facilitator more than a competitor in the niche.
If you're feeling adventurous, there's a pair of glam chunky clogs in their online boutique that are kind of glorious.
---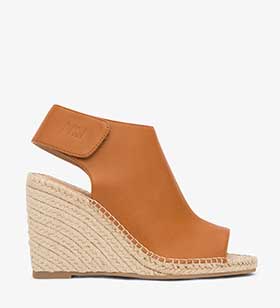 Ethical chops: Factory is signed up to the Social Accountability International's SA8000® Standard. Bags made out of 100% recycled plastic bottles.
Location: Montréal, Canada.
Price: £36-120
Like bandanna-clad fake Brit Greg Rusedski, douchebag jailbird newspaper proprietor Conrad Black and incel spree killer Marc Lépine, Matthew and Nathan are coming straight out of Montréal. Their commitment to eliminate animal products goes back to their 2007 founding, garnering them brand ambassadors including Nathalie Portman, Fearne Cotton, Olivia Wilde, Charlize Theron and Tobey Maguire. Although they do employ some plastics, they do their best to favour the less harmful polyurethane over PVC and where possible use sustainable cork and rubber.
You got a hankering for a pair of espadrille wedges to put up the ass of the next soy boy who asks you "hey, what you reading??" when you're minding your own goddamn business? Matt & Nat have you covered.
---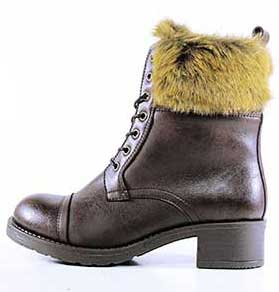 Ethical chops: PETA-approved vegan, certified carbon neutral.
Location:, London, England.
Price: £43-132
Will Green established Wills Shoes in 2012 and has worked hard ever since to ensure that all their products are PETA-approved vegan, packaged without plastics and delivered through a carbon-neutral supply chain. They have garnered enough plaudits to be worn by celebrities of the calibre of Alicia Silverstone, Chrissie Hynde and Meg Matthews. Yeah, fair enough there was quite a big drop-off after those first two – was kind of hoping you wouldn't notice.
I tell you what though. If you were planning to channel your inner Amelia Earnhardt then there's a pair of rugged insulated aviator boots from Wills with your name on them.
---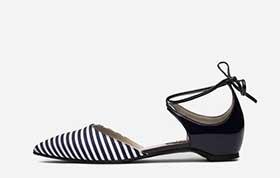 Ethical chops: PETA-approved, LAV-approved
Location: Italy. 
Price: £75-95
The artists formerly known as Opificio V changed their name to Nemanti upon the internationalisation of their brand at the 2017 Milan Fashion Week. Nemanti like to use the suede-like microfibre Alcantara, a durable cruelty-free synthetic alternative to pigskin but you'll also find wood, linen and waxed cotton in their collections. They were one of the first shoe manufacturers to use the apple eco-leather pellemela, picking up the apple core leavings of big agribusiness like the Wombles of Wimbledon Common.
While we are avoiding cruelty, these blue leather and cotton sandals would be perfect for that summer spritzer gathering, ensuring you don't sweat out your body weight in those high-street heifers that leave your feet looking like giant blocks of ham.
Footnotes