Tommy, gone
You can say what you will of your definitive image of the 1960s. Perhaps it's President Kennedy getting his noggin popped by Lee Harvey Oswald.a Maybe it's Tommie Smith and John Carlos giving the Black Power salute at the Mexico Olympics or Paul McCartney with a string of indistinguishable 6/10's on his arm. For The Savage though, it will always be the iconic grainy footage of an amphetamine-blitzed Tommy Simpson on Mont Ventoux in the 1967 Tour de France whispering "put me back on my bike"b, before succumbing to the elements and his own psychotic will. The scenes are epic confirmation of the two-wheel manual bicycle, not its absurd combustion engine-driven cousin the so-called "motorbike", as the ultimate symbol of freedom, transgression and subversion.
French dissing
Those sadistic Frenchies who put him back on his bike, guaranteeing his death, were really saying "we salute you, you insane rosbif! Despite the chances of you surviving this climb being as slim as France winning a war without England's help, you continue undaunted, not swayed by common sense, medical knowledge or any sense of perspective. Allez, you crazy diamond, allez!"
As they peeled his broken body off Ventoux's cruel slopes they took with them certain knowledge that cycling was for real G's only, a truth that holds to this day. It is therefore far from surprising that it is a highly popular pastime among the physically fit, spiritually enlightened and health-conscious vegan community.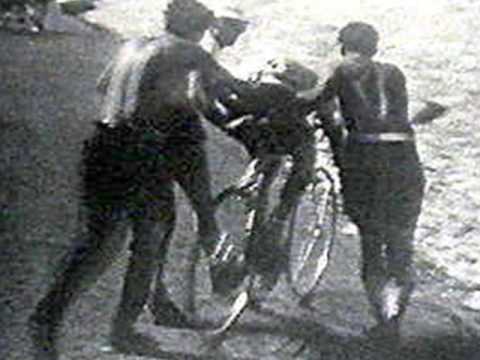 But what particular dietary challenges do vegan cyclists face? How can they ensure their equipment is cruelty-free? Will they end up like Tommy Simpson, surrounded by chanting Frenchmen, as fucked as an unattended Catholic schoolboy in a sacristy? These are the questions this article PROMISES to answer.
DIET
Protein
Let's start with the big. The most important macronutrient is protein, taking up 15 per cent of body mass. Proteins are made up of amino acids and there are nine essential amino acids the body can't synthesise, meaning we must get them from our diet. For the plant-based athlete that means a focus on legumes, nuts, seeds and grains.
Proteins that contain adequate proportions of all nine amino acids are called complete or whole proteins. That's why whole proteins like quinoa, buckwheat and soya are always being raved about by that whole foods dork playing touchbutt in the park. Yes, he's wicked annoying – he's also got a point.
If we're talking numbers (and we are), the typical recommendation for an average adult is 0.75g of protein per kilogram of body weight per day.
But you're not your average person, are you? No, you're a fricking biking demigod. Cycling breaks down proteins like life breaks down Ricky Hatton – brutally, remorselessly and with no compunction whatsoever. These are the protein requirements cyclists are looking at:

Get your BCAAs
Fingers on the pulses
Leaf it in
Carb load trip
Hard to stomach
Uber cleats
Helmet cool
Friendly tyres
Men: 1.2-1.6 g per kg of body weight.
Women: 1.-1.36 g per kg of body weight.1
Particularly crucial in muscle synthesis and repair are the three branched-chain amino acids (BCAAs) leucine, isoleucine and valine.2 Bearing in mind that during every ride or workout your muscles are taking the kind of pounding your girlfriend takes from her Pilates instructor every time she tells you she has to stay late at work, you can see how supplementation becomes a tempting option. If you need it fast, soy protein powder has 5.5 grams of BCAAs per scoop. This could be a lifesaver because it's either that or sharing a buckwheat casserole with touchbutt park dork.
Iron
As for micronutrients, let's begin with iron. If you're not a grotesque slob living off goodwill, Poundland noodles and stale bread, there will already be plenty of iron in your diet. But as you already know if you've spent any time around vegans in real life, a worrying proportion are grotesque slobs living off goodwill, Poundland noodles and stale bread so this is for them (you).
First on your ironing list, we have your pulses: that's chickpeas, beans, black-eyed peas, lentils, soybeans (and her derivatives tofu, tempeh and natto). Mastering even the basics of cooking with vegan staples will save you money, quite possibly save your eyesight and generally improve your nutrition immeasurably.3
Moving on, we have your seeds which will mean some judicious sprinkling of ground linseed, chia, pumpkin, sesame and hemp seeds over cereal, salads, curries, whatever. Pretty much every supermarket packages all of these very conveniently for you – they are practically spoonfeeding you. Including them in your diet really couldn't be simpler.
Then, much like your mom in her freshman year at college, it's all about gobbling nuts. That means macadamia nuts, pine nuts, almonds and cashews are the order of the day. That they are packed with fibre, protein and polyunsaturated fats means you will feel fuller longer. Being satiated is a wonderful feeling, one that your mom in her freshman year tragically never got to experience.
Be leaf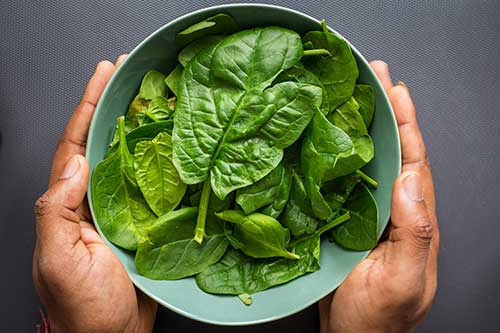 You knew that leafy greens were going to be mentioned at some point and that point has now arrived. Spinach has a higher iron content than meat but as any tryhard Joe Rogan bro science imbecile will tell you, haem iron (derived from animal sources) absorbs more easily in humans than non-haem iron (derived from plant sources). Non-haem iron comes with high levels of oxalic acid, which binds with iron, blocking its absorption in the gut. Bioavailability can be a real punch in the tits.
Still, don't go cutting your throats just yet. Vitamin C increases iron absorption, so simply have a glass of orange juice with your kale kebab and you'll be grand.
B12
Like all the B vitamins, B12 is particularly important to athletic endeavour as it plays a big role in energy production and muscle repair. Unlike the other vitamins though, B12 is produced solely in animals and vegans need to get theirs through supplements or B12-fortified food. 2.4 μg (micrograms) is the RDA in the EU, which is crazy easy to get in supplement form. Alternatively, two bowls of cereal with B12 fortified milk will just about cover you. Another option is Marmite if you happen to love it but if you can even tolerate it, an 8-gram serving gives you 80 per cent of the RDA for B12.4
Creatine
Popular amongst the knuckleheads and incels of the bodybuilding community, creatine is a substance that occurs naturally in human muscle cells. Priceless for adding redundant and aesthetically repulsive muscle onto angry short men, it also has legitimate roles that may interest both normies and endurance athletes.
Stores of creatine supply phosphate molecules that allow energy to be produced in our muscles very quickly, making it valuable for explosive bursts of energy. If you're not a competitive cyclist you may not feel this is super essential and you are likely super right. That said, if you are looking to strengthen your legs in the gym, then creatine is definitely worthwhile. Just like that filthy beast B12, creatine is not available from plants so supplements are the way to go.5
Calories and carbs
Load up on carbs before an endurance event – sounds obvious right? But particularly in the early days of transition to a plant-based diet, people often find themselves consuming significantly fewer calories. Great news for people who want to drop a few pounds and lose that hideous burrito gut but not so great for people who are burning 1000 calories on their ride to work each day or those whose training load burns even more.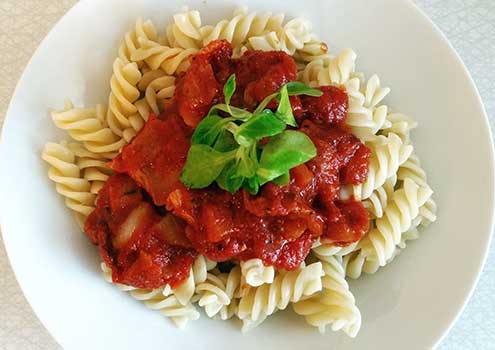 Tour de France cyclists are looking at getting through 6000-7000 calories per day. We'll assume you're not quite there yet but let's look at a bold 100-mile outing.6 Which calorie-dense carb-rich foods should you consume? Try cereal, toast and fruit for breakfast. Then, a large jacket potato for lunch is a good option or maybe a pasta salad or a tofu stuffed wrap. Slam yourself full of rice in the evening for supper and you'll be good to go the next day.
If you really want to deep dive on pre-ride preparation then you'll need to gen up on glycaemic indexes. Vegan cyclocross rider Christine Vardaros has you covered here.7
Omega-3
You think lowering bad cholesterol, lowering blood pressure, reducing inflammation and improving heart health might be useful for the cycling massive? Then you'll want to get up on omega-3 fatty acids.
There's a sizeable body of research that shows they reduce muscle damage and increase oxygen uptake.8 Blood claat bloodmouths get theirs in fish but for us linseed, chia and hemp seeds are once again our friends. The NIH recommend 1.6 g for males daily and 1.1 g for females and sourcing it is not an arduous task. Each tablespoon of ground flaxseed contains about 1.8 grams of plant omega-3s. The Savage personally swears by Alesto's inexpensive range of Fruity Linseed Mix and Super Seed Mix in Lidl. You'll be reaching your omega-3 requirements with Teutonic efficiency.
---
CYCLING GEAR
So you're a carbed up, ironed out, nutrient-rich killing machine set to make peak Lance Armstrong look like a club rider. Congratulations. But exactly how many pigs died squealing for their mammies to make your bike and gear? We may never know but if you want to ensure everything is as cruelty-free as is practical and possible then read on.
---
Shoes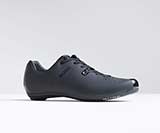 Of the three points of contact a rider has with his machine – the seat, the bars and the pedals – the most important is that with the pedals. That's why specialised cycling shoes have stiff soles and cleats that snap directly into the pedals for efficiency and aerodynamic gains. They will typically be made from breathable material with strategically placed vents to allow air to circulate, keeping your feet cooler than regular trainers. Like your sister during the nightclub years, they are built both for comfort and speed. Well, that's cool and all but do we strictly need to cornhole a cow to get them?
Naw dawg. The right shoes can be found if you dig around. Quoc's night shoes are 100% vegan as are Pearl Izumi X-Alp Canyons. You do of course have the option of cycling barefoot. I really wouldn't though. There's one dumb animal who will be suffering unnecessarily – the one you see in the mirror each morning.
---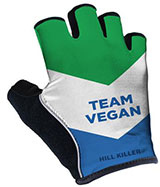 Gloves
Cycling gloves are there to maintain a good grip on the handlebars, keep the hands dry and protect them against vibration, pressure, calluses and blisters. A bonus is they will offer a next layer of protection should you go arse over tit when that parked Audi driver kicks out his front door right in your path.
They may not look like much but if you've ever skidded for a quarter of a mile on your bare palms you will know that those tiny mitts are all that is saving your hands from looking like Theon Greyjoy's after a night in with Ramsay Bolton and a chisel.
Fortunately for grass chompers, most gloves are made from synthetic materials these days. Check out Hill Killers for a glove range guaranteed free of animal products.
---
Helmets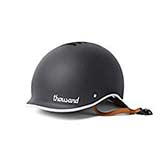 Let's agree on one simple truth – a cycling helmet is the difference between you walking away from a crash with a mild concussion and being wheeled away strapped to a gurney with brains the consistency of that scrambled tofu that shitty vegan YouTube channel you accidentally subscribed to keeps on pushing. Seriously, what is it with these people and scrambled eggs? Sounds like their mom's ovaries had some scrambled eggs. Real talk.
Anyway, with regard to ethical helmets, you will mainly run into issues with the chinstrap but Thousand's helmets all come with vegan leather straps. Check out their surprisingly chic Poplock Anti-theft Bicycle Cycle Helmet – it will make you feel important on the rides to and from whatever soul-destroying 9-to-5 you're currently embarrassing yourself in.
---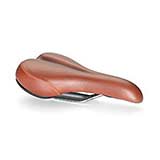 Saddles
The art of the saddle is to successfully distribute your weight upon the sit bones (or ischial tuberosity to your GP and Sol Campbell). There should not be pressure on the perineum or pubic bone, lest you end up with haemorrhoids, chapped anus and erectile dysfunction that leave you walking like Max Wall and crying your eyes out like Tony Bellew. You will need to measure the width of your sit bones to ensure a comfortable fit.
Gone are the days of leather saddles with rivets chafing your undercarriage like a triathlete's nips as you weave your way through unforgiving country lanes. Today it's laughably easy to get your hands on a comfortable vegan leather saddle that won't leave you functionally paraplegic every time you attempt a 3 km ride. Progress is a beautiful thing.
---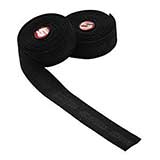 Handlebar Tape
In the litany of bike accessories, handlebar tape is more overlooked than a fat girl during Fashion Week. It provides shock absorption for those rockier rides and an effective grip for maintaining optimal handling and safety. Less enlightened cyclists will go for leather tape apparently unaware that, while it may look nice, it provides less padding.
So what are the vegan options? Old school cotton cloth tape, while ethically more sound, has the same lack of padding problem. Nylon, silicone, faux leather and polyurethane tapes are all popular but why not go for cork? It's sturdy, provides good shock absorption and is super sustainable as only the bark of the tree is harvested with the tree continuing to grow afterwards. Put a cork in THAT mothertruckers.
---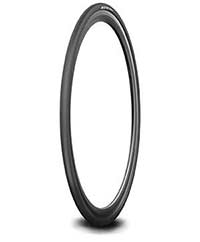 Bicycle tyres
This is where the literal rubber of your bicycle tyre meets the literal road upon which you are cycling. You would have thought that you were on fairly safe ground with rubber, particularly with the sustainability initiatives already up and running. Yet if the practice of conscious consumerism will consistently teach you one thing it's that you're wrong about everything and you should keep your stupid mouth shut. Stearic acid is frequently used in the manufacture of bicycle tyres and while it can be got from plant sources, it is most often derived from the rendered fat of farm animals. Dirty, stinky, filthy bloodmouths – will they never learn?
But don't ride yourself off a cliff just yet. In his research for this piece, The Savage received personal confirmation from Michelin, Mavic, Schwalbe, Continental, Ritchey and Kenda that their bicycle tyres are 100% free from animal products. The Kenda Kountach, for example, is a puncture-resistant clincher tyre, easy to mount on your road bike, perfect for your weekend racing. Challenge too are doing their bit, telling us "all our tires are vegan except the top of the line Handmade Ultra (Silk) casing tubulars".
Furthermore, the good people at the /r/vegan subreddit put together a Google Docs spreadsheet of which tyre manufacturers put ethics first and which care less about animal welfare than Michael Vick. No one is saying "boycott these companies, camp out on their shareholders' lawns and shove shit through their letterboxes".
No, no one is "saying" that at all.
---
Endnotes
a Who by the way indisputably acted alone and all conspiracy turds claiming otherwise eat dick on the daily.
b Like Jim Callaghan's "crisis, what crisis?", Jimmy Cagney's "you dirty rat" and your girlfriend's "I just came" he never said it but you pretty much get the picture.
Footnotes